Fire breaks out at controversial army barracks housing hundreds of asylum seekers
Police and fire brigade responding after blaze spotted at Napier Barracks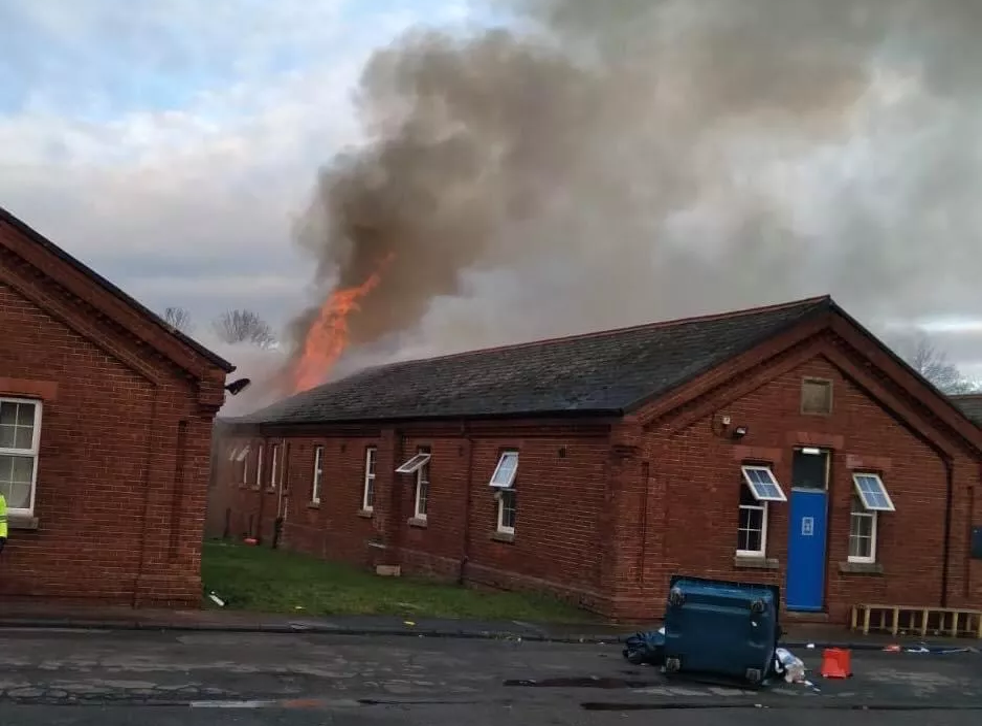 A fire has broken out at a controversial army barracks in Kent that is currently housing hundreds of asylum seekers, 
Images shared by the advocacy group Care4Calais show flames and smoke coming from buildings at Napier Barracks in Folkestone.
The site has been used to house about 400 asylum seekers since September, but has recently been battling with an outbreak of Covid-19. 
MPs and activists have described the conditions inside the barracks as "inhumane" but the Home Office has insisted the accommodation on the Ministry of Defence-owned site was of a good standard. 
Police and fire services responded to the incident and the fire is now thought to have been brought under control.
The Napier Barracks accommodation has seen a series of protests by the asylum seekers living there in recent weeks, with some insisting they will sleep outdoors until the government improves the conditions.
Demonstrations outside the buildings in Folkestone have also been held, with some telling The Independent there had been suicide attempts, very little access to healthcare and almost no efforts to protect the refugees from coronavirus.
Since an outbreak of Covid began two weeks ago the authorities have banned anyone from leaving the camp, despite up to 28 people being forced to share dormitories and little more than bed sheets hung up to separate individuals. 
Campaigners and immigration lawyers decried a statement by the Home Office minister Chris Philp - which appeared to blame the residents for a rash of positive tests - as "disgraceful" and "absolutely inhuman".
One charity, Choose Love, has claimed as many as 120 asylum seekers have now caught Covid at the barracks, although the Home Office has refused to comment. 
Care4Calais said shortly before the fire broke out the residents were given letters which told them they would be moved into new bubbles and would have to self-isolate for a further 10 days.
"With many people still suffering from Covid and little treatment having been received, the news of internal moves caused a great deal of shock. For those not yet infected being told they would be locked inside and at risk for another ten days was a blow," the charity said on its website.
"They have been kept in this military setting too long. They say they feel like they are in prison."
One asylum seeker, who did not want to be named, told The Independent he was not sure how the fire started but believed it was the result of "psychological distress", adding: "We've been in this prison for four months and we don't know our fate."
Bridget Chapman, of Kent Refugee Action Network, said the incident confirmed the barracks were "unsafe".
"Those inside were at risk and becoming more and more desperate at the lack of action. It should have already been emptied and closed down," she said.
"Had the Home Office heeded the calls to act urgently we would not be in this position now. We hope all residents, staff and emergency workers responding to the situation are safe."
The home secretary, Priti Patel, released a statement on Friday evening claiming that the "damage and destruction" at Napier Barracks was "deeply offensive to the taxpayers of this country who are providing this accommodation while asylum claims are being processed".
She said this "type of action" would "not be tolerated" and that the Home Office would support the police to "take robust action against those vandalising property, threatening staff and putting lives at risk".
Join our new commenting forum
Join thought-provoking conversations, follow other Independent readers and see their replies