Home Office accused of 'callousness' after blaming asylum seekers for Covid outbreak in camp of hundreds
Immigration minister Chris Philp responds to reports that over 100 people in Napier Barracks – where 28 sleep to a room – have contracted Covid-19 by pinning blame on asylum seekers his team placed there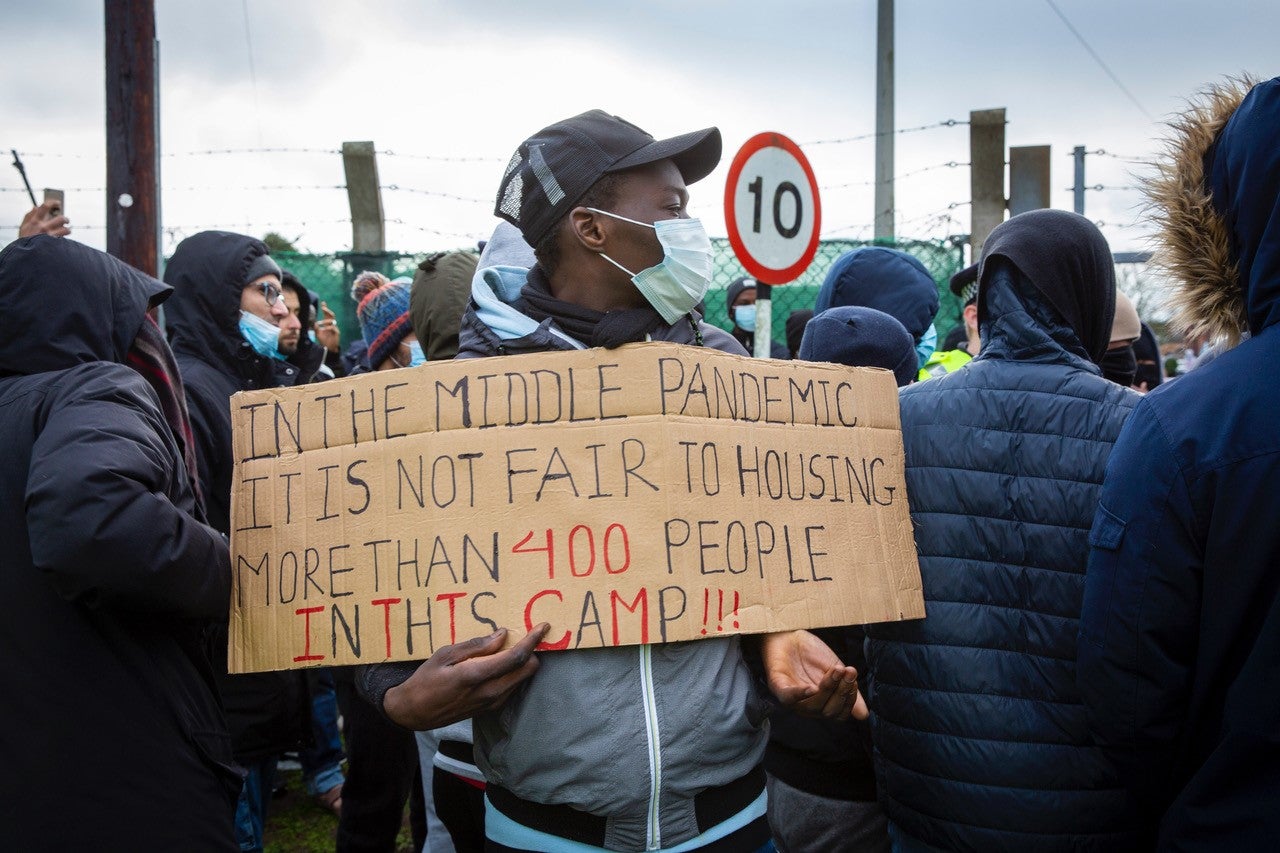 The Home Office has been accused of "callousness" and "inhumanity" after blaming asylum seekers for the spread of the coronavirus in a military camp where hundreds are being held, with dozens to a dormitory.
Residents have been banned from leaving Napier Barracks, in Kent, since Saturday after a number of individuals tested positive for Covid-19. They were told they were "not to leave the site under any circumstance" and that if they did they could face arrest.
Those living in the former army base, which was turned into accommodation for asylum-seeking men and is now thought to be housing about 400 people, sleep in dormitories of up to 28 individuals, often with only sheets hanging between their beds. A number of them are said to be over 50, placing them at higher risk if they contract Covid-19.
Since residents were prevented from leaving the site last weekend, a considerable number more are said to have contracted the virus. The Independent has seen letters confirming positive test results for six individuals, and residents say there are more than 100 confirmed cases.
Humanitarian groups and health professionals have been warning for months that the decision to house hundreds of people in a former army barracks risked an outbreak of the virus.
Dozens of asylum seekers in the camp mounted a protest last week over the conditions in which they were being held, warning that being there was putting them at risk.
When asked by The Independent about the scale of the outbreak, the Home Office refused to provide numbers, but confirmed that "a number" of people at the site had tested positive "despite [the department's] best efforts".
The minister for immigration compliance, Chris Philp, then proceeded to imply that residents were to blame for the spread, saying: "It is incredibly disappointing that prior to this a number of individuals refused tests and have been either refusing to self-isolate or follow social distancing rules, despite repeated requests to do so and these being national guidelines to protect the NHS and save lives.
"These individuals could face enforcement action and are not only risking their own health but the health of staff looking after them and the communities who are accommodating them."
Lawyers and campaigners condemned his response, saying it was wrong for the Home Office to pin the blame on the asylum seekers when it had decided to place them in a camp among hundreds of others and with no way to effectively self-isolate.
Immigration barrister Colin Yeo said: "I'm sorry to say this, but this government and these ministers are increasingly treating asylum seekers as if they were not full human beings."
Chai Patel, legal policy director at the Joint Council for the Welfare of Immigrants, said Mr Philp's response was "appalling", adding: "In any normal government, he would have to resign for such a callous statement.
"He has trapped people in a deadly situation and is now blaming them for succumbing to the disease his policies exposed them to."
Two asylum seekers in the camp told The Independent on Monday that they were feeling unwell with Covid-19 symptoms and were waiting to receive test results, but that they and their roommates had been permitted to walk around the site freely if they wished. Both individuals subsequently tested positive.
Labour called on the Home Office to commission a review of Covid-19 safety in asylum accommodation in December, but the department has refused.
Responding to Mr Philp's remarks, the shadow immigration minister, Holly Lynch, said: "It is of the utmost importance that we do not leave anyone behind in our fight against the coronavirus. Yet government incompetence is leading to dangerous outbreaks in its own accommodation, furthering the spread of this awful virus."
Bridget Chapman, of Kent Refugee Action Network, said the immigration minister's response was "disgraceful" and "appeared to try to blame the residents of Napier Barracks for the dangerous situation they have been placed in by the Home Office".
She said: "How can people socially distance when over 400 people are packed into a few dilapidated buildings. How can they socially distance when 28 people share the same bathroom? 
"I cannot imagine the horror of being locked into a space, knowing it's only a matter of time before you get Covid. It's absolutely inhuman.
"Rather than blaming residents, Philp needs to act to close the barracks, move people into safe and appropriate accommodation, and ensure their claims are processed swiftly so that they can put this ordeal behind them."
It comes amid reports that the Home Office is considering extending its use of Napier Barracks to house asylum seekers, despite the calls to shut the facility down.
Emergency use of the site was secured for six months in September, and the Home Office is considering extending the measure beyond that, according to the PA news agency.
Join our commenting forum
Join thought-provoking conversations, follow other Independent readers and see their replies