Folkestone treasure hunt: German artist sparks 'British gold-rush' by burying £10,000 in sand at coastal art festival
It's 'finders keepers' for whoever can dig up the hidden gold first
Nick Clark
Thursday 28 August 2014 20:02 Comments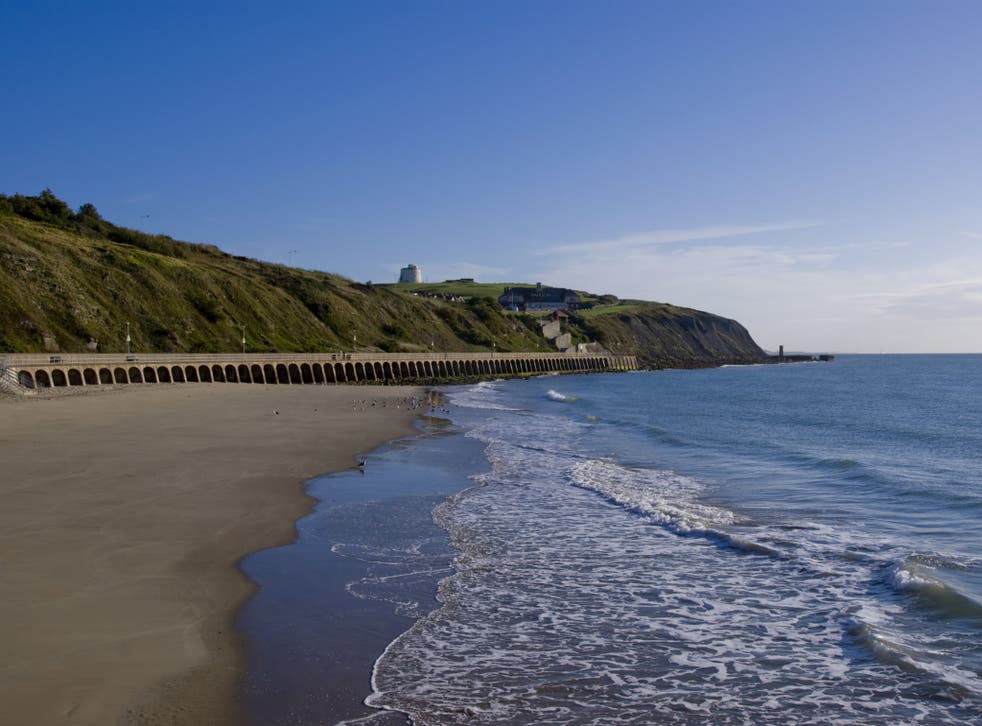 The gold rush came to Folkestone today as old men armed with metal detectors and little girls with buckets and spades searched the beach for buried bullion.
While the Kent town is no stranger to hidden treasure from the days when smugglers used to land on its shores, the idea to put 30 gold bars under the sand was the brainchild of German artist Michael Sailstorfer.
As news of the unusual artwork spread, and crucially as the tide went out, the sea-front at the old harbour was awash with people hunting for the bars worth a total of £10,000.
Amongst the hopeful were those taking it more seriously, arriving with equipment worth more than £2,500 that they believed would give them an advantage in the search.
Rob Walker, 32, was in a friend's apartment in north London when he saw the news on social media. He went to Argos and bought a spade and metal detector and headed for the train station. "I know it's ridiculous but it's a real adventure. How often do you get to dig for gold. And you never know."
Organisers of the Folkestone Triennial had managed to keep the project, dubbed Folkestone Digs, secret until news of Sailstorfer's work was announced today.
Claire Doherty, director of arts producers Situations which commissioned the work, said she thought it was a joke when the idea was first suggested.
"When I first heard what he wanted to do, I said: 'You're kidding.' Then he explained why, and that he wanted to create a new story for Folkestone.
"It's about how people react. Do they dig together or keep to themselves? Do they watch and refuse to take part? It has the sense of fun and a desire for wealth."
People debated the best places to dig. Tom Botley, 30, had been digging for 90 minutes and found one of the decoy washers that had been scattered to throw the metal detectors off.
"I've not seen or heard anyone who's found anything," he said.
"It has got people talking, so it has worked. People have come down here. I did wonder if there is anything buried at all."
Matt Welsh, 40, is a metal detector enthusiast who has found ancient brooches, said: "I thought I'd give it a go. I wasn't expecting there to be this many people."
Lewis Biggs, curator of the Folkstone Triennial, said: "The wonderful thing is this is what people do anyway on the beach, now they are motivated in a different way. That is what art can do, it can shift your perspective."
He said he was very happy with the idea: "It fits so naturally with Folkestone's history of buried treasure.
"It does change the landscape. The magic thing is it is like an Etch a Sketch every time the tide comes in it wipes it out and there's a new one."
The artist was not there, or at least he said he was not. Some of the locals suggested he may have been watching from afar.
Lucy Winchester, 35, said she had heard from the arts festival newsletter. "When my daughters heard there was buried treasure, they wanted to find some. That idea of pirates and gold bullion is a dream come true for a six year old."
But as dusk fell no one had struck gold, or at least no one revealed that they had.
Register for free to continue reading
Registration is a free and easy way to support our truly independent journalism
By registering, you will also enjoy limited access to Premium articles, exclusive newsletters, commenting, and virtual events with our leading journalists
Already have an account? sign in
Join our new commenting forum
Join thought-provoking conversations, follow other Independent readers and see their replies