Food bank use across UK at record high, reveals report
Alarming rise in demand for three-day emergency food supplies comes amid 'significant problems' with roll-out of new Universal Credit system for administering benefits, warns charity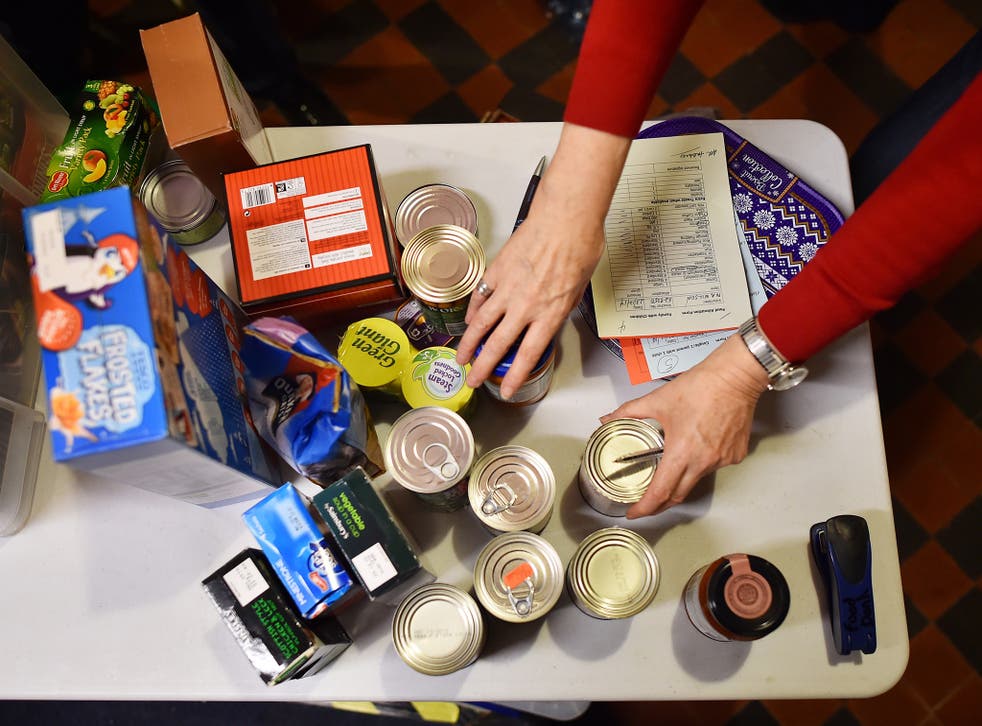 The number of people using food banks in the UK has risen by seven per cent in the last year, according to new data from the country's biggest provider, offering a stark indication that food poverty is continuing to rise across the country.
The Trussell Trust's Foodbank Network, an anti-poverty charity that runs more than 420 food banks across the UK, said the alarming rise was largely due to "significant problems" with the roll-out of the new Universal Credit system for administering benefits that was introduced last year.
According to the data, the charity provided 1,182,954 three-day emergency food supplies to people in crisis between April 2016 and March 2017, compared with 1,109,309 the previous year, a report by the charity has revealed. Of these, 436,000 went to children.
The report, Early Warnings: Universal Credit and Foodbanks, highlights that although the introduction of Universal Credit has been piecemeal so far, food banks in areas of partial or full roll-out are reporting significant problems with its impact.
This is shown by the fact that food banks in areas of full Universal Credit roll-out to single people, couples and families, have seen a 17 per cent average increase in referrals for emergency food in the past year – more than double the national average of seven per cent.
Benefit delays and changes remained the biggest cause of referral to a food bank, accounting for 43 per cent of all referrals, a rise on last year's 42 per cent, according to the report. The proportion of referrals due to low income meanwhile increased from 23 per cent to 26 per cent.
The effect of a six-week waiting period for a first Universal Credit payment can be serious, leading to food bank referrals, debt, mental-health issues, rent arrears, and eviction, the charity warned. It added that these effects can last even after people receive their Universal Credit payments, as bills and debts pile up.
The report also found that people in insecure or seasonal work are particularly affected, suggesting the work incentives in Universal Credit are not yet helping everyone. Navigating the online system was also found to be difficult for people struggling with computers or unable to afford telephone helplines, with the system at times not registering people's claims correctly and invalidating them.
In light of the findings, Adrian Curtis, director of the Foodbank Network at the Trussell Trust, told The Independent: "What people being referred to food banks are telling us is that it's primarily because of the six-week delay between the Universal Credit going in and the first payment being received by that person.
"What very often happens is during that time people will go into debt in order to pay their household bills during the six weeks. The effects of that debt on the family's finances can be a lot longer than the six weeks itself.
"The findings shock us every year. There are just shy of 1.3 million three-day food supplies needed by people in short-term crisis. That certainly shouldn't be the case.
"We try very hard, along with other services to empower people to address some of the issues behind their crisis to the best of our ability by providing housing advice and debt advice within the food bank centres, but it takes for politicians across the political spectrum to play their part to and develop a robust and effective benefit system that works well for people who need to use it."
In light of the new findings, the Trussell Trust has recommended a reduction of the six-week waiting period for Universal Credit, which it said would make a significant difference to people's ability to cope with no income.
The charity also called for more flexibility in the administration of Universal Credit in order to support people moving onto the new system, such as more help for people applying online who are unfamiliar with digital technology, and support to improve people's ability to move into work and stay in work.
UK news in pictures

Show all 50
David McAuley, chief executive of the Trussell Trust, said: "The move to simplify an often complex welfare system is a welcome one but any large reform can have unforeseen consequences. Food banks see first-hand how changes to the welfare system affect people on the ground, and so can offer an early warning to decision-makers.
"We are sharing our early observations with the Department for Work and Pensions to ensure any adverse side effects Universal Credit can have on people are addressed before full roll-out is completed.
"We hope our insights can inform efforts to make sure the values on which Universal Credit is built are delivered in practice. To stop UK hunger we must make sure the welfare system really does work for everyone."
The Trussell Trust is calling for help from the public to make sure people in crisis get the support they need, which can be done via their website
Register for free to continue reading
Registration is a free and easy way to support our truly independent journalism
By registering, you will also enjoy limited access to Premium articles, exclusive newsletters, commenting, and virtual events with our leading journalists
Already have an account? sign in
Register for free to continue reading
Registration is a free and easy way to support our truly independent journalism
By registering, you will also enjoy limited access to Premium articles, exclusive newsletters, commenting, and virtual events with our leading journalists
Already have an account? sign in
Join our new commenting forum
Join thought-provoking conversations, follow other Independent readers and see their replies