Former Isis militant's message to young Muslims: 'This is not the path to paradise, it is the path to hell'
Harry Sarfo was born in Germany but went to school in London and briefly worked as a postman
Lizzie Dearden
Tuesday 03 May 2016 16:04 Comments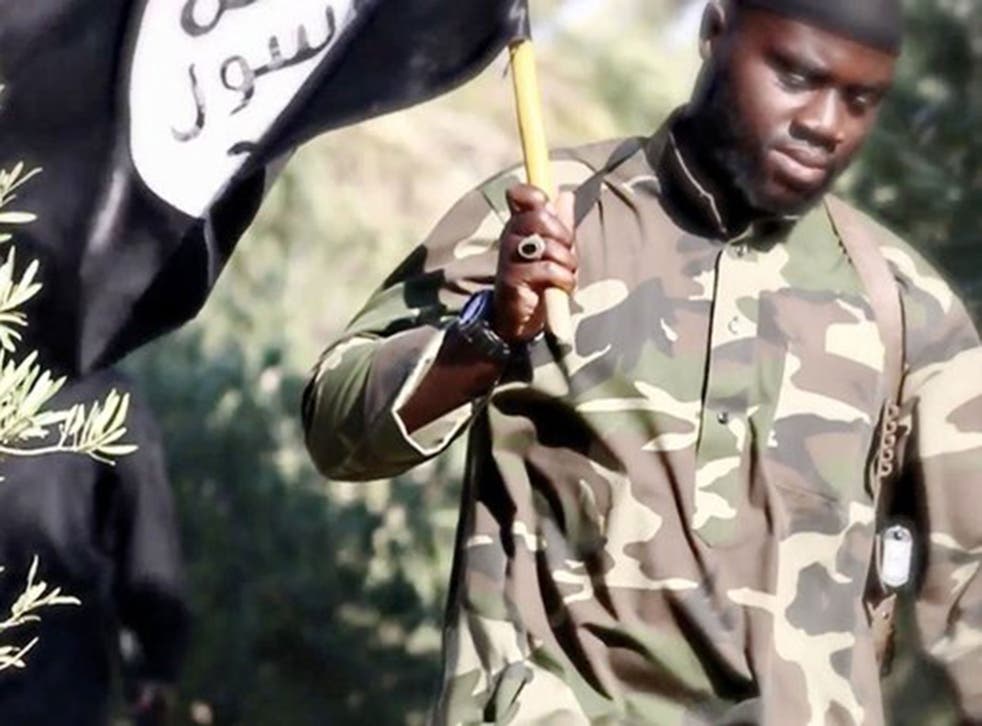 Isis is propagating a warped version of Islam that will send its followers on the "path to hell", a former jihadist has told The Independent in a message to young Muslims considering travelling to the so-called Islamic State.
Harry Sarfo joined the terror organisation in April 2015 after being lured in by propaganda videos seemingly showing Isis recruits helping Syrians tortured, killed and oppressed by Bashar al-Assad's regime.
But Sarfo, who is now in a German prison awaiting trial on terror charges, says the bloody reality he found was far from the jihadist fantasy presented in the videos that initially attracted him.
In a wide-ranging interview conducted with The Independent via his lawyer, Sarfo warned individuals not to be deceived by propaganda that claims to show the "daily life of the Islamic State".
Isis has become notorious for gory footage showing the murder of foreign hostages and prisoners but the group's extensive media network is careful to temper the extreme violence with rosy depictions of life under its rule, and the promise of freedom for Muslim recruits.
Many videos show its militants surrounded by children, giving out sweets or benevolently distributing food among the families remaining in its territories, while others attempt to portray friendship between fighters and their lifestyle under the protection of the "caliphate".
But Sarfo described a brutal reality that he risked his life to escape, after training as a special forces fighter and appearing in a propaganda video.
Former London student in Isis execution video
As well as regular stonings and beheadings, he described daily bombardment on bleak cities confined by checkpoints, where Sharia was enforced by Isis militants patrolling the streets with machine guns.
Citing the Quran, the former postman said Isis violates the teachings of the Prophet Mohamed with its persecution of religious minorities and insisted knowledge was "the key" to unravelling the terrorist group's ideology.
"I came to the conclusion that this is not the path to paradise, it is the path to hell," he said.
"I knew that if I died there I would never be able to enter the gates of paradise. Instead of freeing the Syrian people and uplift them, they've created another regime."
Sarfo managed to escape the group's territories but was arrested on his return to Germany in July and is now in prison awaiting trial for terror charges.
He said he wants to dissuade young Muslims from repeating his mistake, adding: "If one day I get released, I would love to work with young men and women who have been radicalised in Germany and the UK and tell them my story."
Here is his full message:
First of all, fear Allah. Fear your creator, who also created every living thing on this Earth. If you are a true believer in Islam, you will stay far away from the ideology of IS, because you won't serve Allah as they claim, you will serve them.
When I mean them, I mean the people who created IS. Learn your religion and you will find out that most of the things these people are doing are in-Islamic.
We Muslims have a great history, a great example in our Prophet Mohamed (s.a.w). Just look into his story, the way he treated other people of different religions. Compare what these people are doing to see if it is the same - it is not. Brother killing brothers - it is not just un-Islamic, it is inhuman.
A blood-related brother killed his own brother on suspicion of being a spy. They gave him the order to kill him. Friends killing friends.
The one who kills one man is like killing the whole of mankind, the one freeing a man from captivity is like freeing the whole of mankind. Sayings like these of our beloved Prophet should remind us of our nature. I know it all looks like an adventure and it makes young men feel a certain way, sometimes guilty or like cowards.
When they speak in their videos with weapons, it feels like they're calling you. We need you here! Our brothers and sisters need you! We bring peace, dignity and honour!
Timeline: The emergence of Isis

Show all 40
But in reality it is all a lie. Once there, you'll realise but it is too late to turn back. They know you can't leave.
Most videos are staged, I know what I'm talking about, I was inside one. People are telling other people to kill but themselves they don't fight at all.
It's like a movie, everyone is playing their role. But you young men and women at home in Europe don't know, no one tells you the truth.
Women come to the Islamic State think it is a romance, that they will get married and live happily ever after. The reality looks different. No freedom locked up in a house, your child will be born to die for nothing.
If your man dies, you will have to remarry if you want to see the sunlight again. When they realise, it is too late and there's no more returning back. If you try to leave, imprisonment and execution will be your fate. So my beloved brothers and sisters, think carefully.
Is it worth throwing your life away and killing innocent people? You will never end up in paradise, don't let people brainwash your mind and destroy your soul. Knowledge is the key, find the truth and you will find the people of truth.
Register for free to continue reading
Registration is a free and easy way to support our truly independent journalism
By registering, you will also enjoy limited access to Premium articles, exclusive newsletters, commenting, and virtual events with our leading journalists
Already have an account? sign in
Join our new commenting forum
Join thought-provoking conversations, follow other Independent readers and see their replies