Former Ukip candidate and Pegida UK leader says 'Muslims should not hold political power' and claims Syrian refugees do not exist
He spoke as Pegida UK prepared for its first official march in Birmingham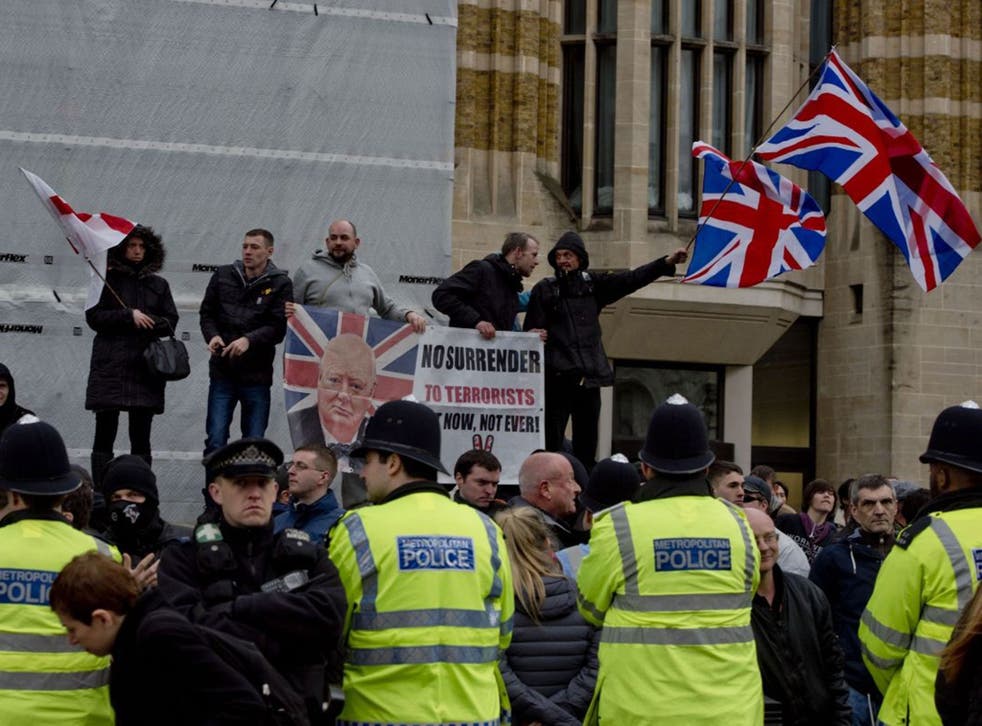 A former Ukip candidate who now heads anti-immigration group Pegida UK has said Muslims should "not hold political power" in Britain.
Paul Weston, who will be leading a march through Birmingham on Saturday, also described all asylum seekers as "migrant invaders" and claimed "there is no such thing as a Syrian refugee".
He was speaking to LBC radio as the station's correspondent Tom Swarbrick followed Pegida UK around Europe, where the group's different factions are staging mass protests.
Germany: EDL founder Robinson addresses thousands at PEGIDA rally in Dresden
"I don't want Muslims in areas of political power because they put Islam as their primary allegiance," Mr Weston added.
He will be joined in Birmingham by Tommy Robinson, who founded far-right group the English Defence League (EDL) but left in 2013 after claiming he was concerned by the "dangers of far-right extremism".
But the activist – real name Stephen Yaxley-Lennon – has resurfaced at Pegida rallies in Germany and has now risen back to prominence as part of the group's UK offshoot.
Pegida (Patriotic Europeans Against the Islamisation of the West) started in Dresden in October 2014, staging thousands-strong rallies that sparked counter protests and condemnation from the highest levels of German government.
In pictures: Anti-immigration demonstration in Dresden

Show all 8
Angela Merkel urged citizens to reject "hatred in their hearts" and one politician described the group as "Nazis in pinstripes".
Numbers turning out for its demonstrations dwindled early last year but the intensifying refugee crisis, which saw Germany take in 1.1 million asylum seekers in 2015, breathed new life into the movement.
Supporters going under the Pegida UK banner have been vastly outnumbered by counter-demonstrations in the past and were ridiculed in December after the man named their new leader, former soldier Tim Scott, struggled to elaborate on the "truth" about radical Islam in the UK.
He quit hours after the "car crash" interview and was released by Mr Weston, who stood as a Ukip Parliamentary candidate in 2010 before leaving for the now-defunct British Freedom Party, and then founding Liberty GB.
Standing as an MP for the far-right party in Luton South, he polled just 158 votes in last year's general election and announced his appointment to lead Pegida UK on 4 January.
The group is staging a "silent walk" through Birmingham on Saturday in opposition to the "silencing of British people" and the "rising influence of radical Islam".
It has banned supporters from covering their faces, chanting, carrying flags and banners from other groups, alcohol and "violence" in an apparent attempt to prevent the clashes with counter-demonstrators and police seen at previous demonstrations.