Gary Connery lands safely after 2,400 ft helicopter jump without parachute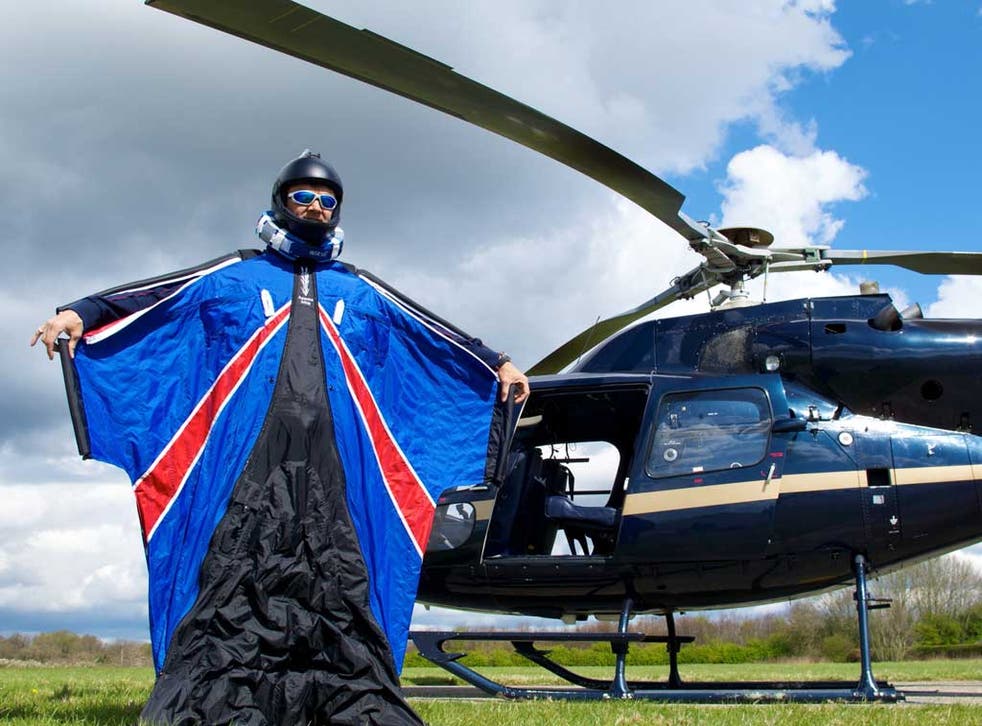 The countryside around Henley-on-Thames is well-known for an abundance of red kites, large birds of prey that soar over the wide green fields and circle on the thermals of a summer day.
Today the kites were keeping strange company. Gary Connery, 42, a veteran film stuntman, became the first man to leap out of a helicopter and land safely back on earth, without using a parachute. He did it with the aid of a specially designed "wingsuit": a contraption that, on land, makes Gary look like a flying squirrel, but in the air allowed him to come closer to natural flight than a human being has probably ever come.
Speaking to The Independent before the stunt, which took place in and above a farmer's field near his hometown of Henley, Mr Connery admitted to being "a bit scared", but assured onlookers – not among them his long-suffering but supportive wife Vivienne – that he would tell them whether or not wingsuits are dangerous, once his jump was over.
Two test jumps later and he was hovering 2,400 feet above the ground in a helicopter, preparing to make stunt history. To succeed, he would need to leap from the aircraft, then guide his suit like a magic carpet down to earth, where a giant landing strip of 18,600 cardboard boxes, 350 feet long, 50 feet wide and 12 feet had been constructed for him, nearly a mile from the jump site. During the test jumps he released his parachute just before landing. This final time, it was just him, the wingsuit and a lot of clear blue sky. Organisers estimated that Connery would be hitting the boxes at 50mph.
"No-one's ever done this before," said Connery. "So we don't really know what's going to happen but I've got every confidence in the boxes."
Looking on nervously were a crew of dozens of fellow stuntmen and friends who had worked for hours to construct the box rig, along with Connery's wife, his two children Lydia, 19 and Kali, 15, his brother John, his father Chris, and his (slightly exasperated) mother, Hazel.
"He was a stuntman from the age of five," she said, recalling various incidents from Connery's youth, including an bicycle crashed into a river and a visit to a dry ski slope that ended up with her son spread-eagled in the car park after an enthusiastic ski jump. "If you told him something was impossible, he'd insist on proving you wrong."
Before the jump, the helicopter hovered for what seemed an eternity, then out dropped two tiny shapes, Connery and his cameraman, 2,400 feet up, tiny specks on the summer sky. For the first few seconds they plummeted through the air then the wingsuits inflated and they began their descent, gliding like birds of prey riding on air currents. On the way down Connery appeared to be losing control of the suit and the crowd below held their breath: a freak gust of wind and he would miss the boxes. But a matter of seconds later, it was clear that he was going to make it. Sure enough, Gary Connery returned to earth with an almighty crash, tearing through the boxes at 50mph. He emerged, completely unscathed, moments later.
"I'm overwhelmed," he told the people on the ground. "It was an amazing feeling. There was a bit of turbulence and I experienced a lot of bouncing, but the landing was comfortable and soft. These suits are amazing." And are they dangerous? "Absolutely no! Do I look hurt?"
Connery's wife Vivienne, who greeted him with a kiss and bottle of champagne said she was "relieved it's all over."
Join our new commenting forum
Join thought-provoking conversations, follow other Independent readers and see their replies