Gay ex-Army officer wins Supreme Court fight for husband's pensions rights
John Walker's husband is entitled on his death to a spouse's pension, provided they stay married, judges rule
Jon Sharman
Wednesday 12 July 2017 11:14 Comments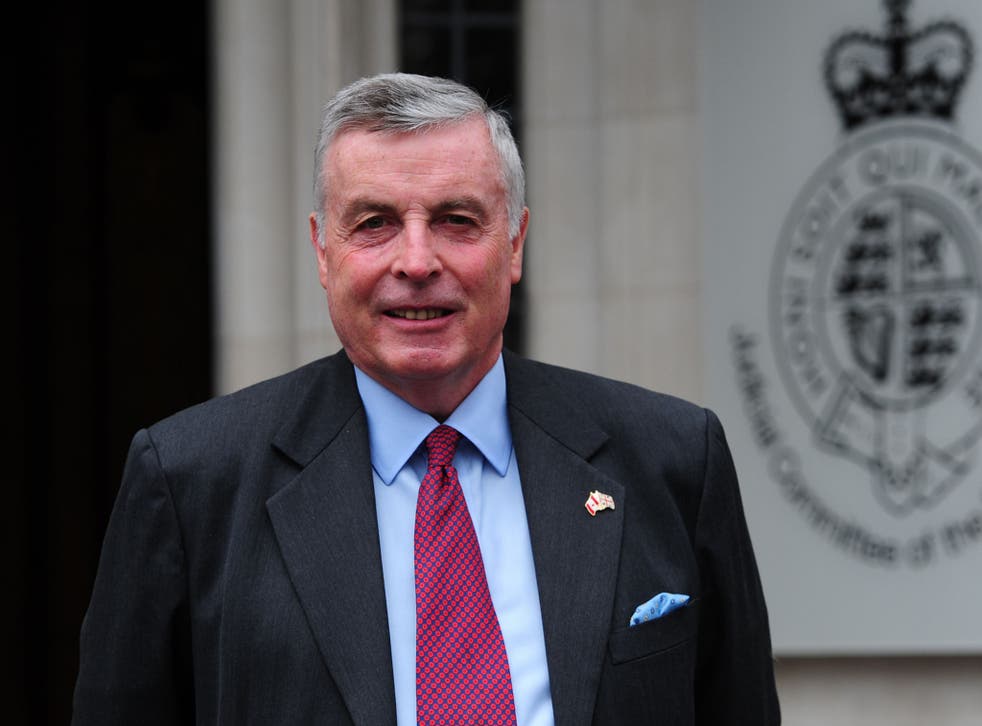 A former cavalry officer has won a Supreme Court fight to secure his husband the same pension rights a wife would have in a heterosexual relationship.
John Walker, 65, saw an earlier ruling against him overturned on Wednesday.
Mr Walker suffered a defeat at the Court of Appeal in 2015, when judges ruled that his claim failed because it applied to a period before gay civil partnerships were recognised by the law.
But on Wednesday, the Supreme Court justices ruled that Mr Walker's husband is entitled on his death to a spouse's pension, provided they stay married.
Mr Walker launched legal action because he wanted to ensure that, should he die first, his husband, who is in his fifties, will be adequately provided for.
Human rights organisation Liberty said before the ruling that a successful outcome could "dramatically change the lives of thousands of same-sex couples".
Mr Walker said: "I am absolutely thrilled at today's ruling, which is a victory for basic fairness and decency. Finally this absurd injustice has been consigned to the history books – and my husband and I can now get on with enjoying the rest of our lives together.
"But it is to our Government's great shame that it has taken so many years, huge amounts of taxpayers' money and the UK's highest court to drag them into the 21st century. In the years since we started this legal challenge, how many people have spent their final days uncertain about whether their loved one would be looked after? How many people have been left unprovided for, having already suffered the loss of their partner?
"What I would like from Theresa May and her ministers today is a formal commitment that this change will stay on the statute books after Brexit."
UK news in pictures

Show all 50
Mr Walker had retired from chemicals group Innospec in 2003 after working for the company for more than 20 years. He made the same contributions to the pension scheme as his heterosexual colleagues.
Mr Walker and his husband, a former computer executive, have been together since 1993.
The Civil Partnership Act 2004 came into force on December 5 2005. Mr Walker and his partner entered into a civil partnership in January 2006, which was later converted into a marriage.
Human rights organisation Liberty, which is representing Mr Walker, said a successful outcome could "dramatically change the lives of thousands of same-sex couples".
Liberty said the case "challenges an exemption in the Equality Act that lets employers exclude same-sex partners from spousal benefits paid into a pension fund before December 2005, when civil partnerships became legal".
At a hearing in March, the justices heard from Martin Chamberlain QC, for Mr Walker, that the couple had been caused "distress and worry".
It was submitted that Innospec's refusal to provide a pension to Mr Walker's husband in the event of his death "amounts to discrimination on the grounds of sexual orientation, contrary to the Framework Directive, regardless of the dates of Mr Walker's service or pension contribution".
The court also heard argument on behalf of the Work and Pensions Secretary, who was represented at the proceedings as an "interested party", that the exemption at the centre of the case was "lawful and compatible with the Framework Directive".
A QC for the Government pointed out that the costs involved in "requiring all pension schemes to equalise entitlements retrospectively" would be £100 million for private sector schemes and a further £20 million for the public sector.
Additional reporting by agencies
Register for free to continue reading
Registration is a free and easy way to support our truly independent journalism
By registering, you will also enjoy limited access to Premium articles, exclusive newsletters, commenting, and virtual events with our leading journalists
Already have an account? sign in
Join our new commenting forum
Join thought-provoking conversations, follow other Independent readers and see their replies