'Gay cure' group takes TfL to court over banned advert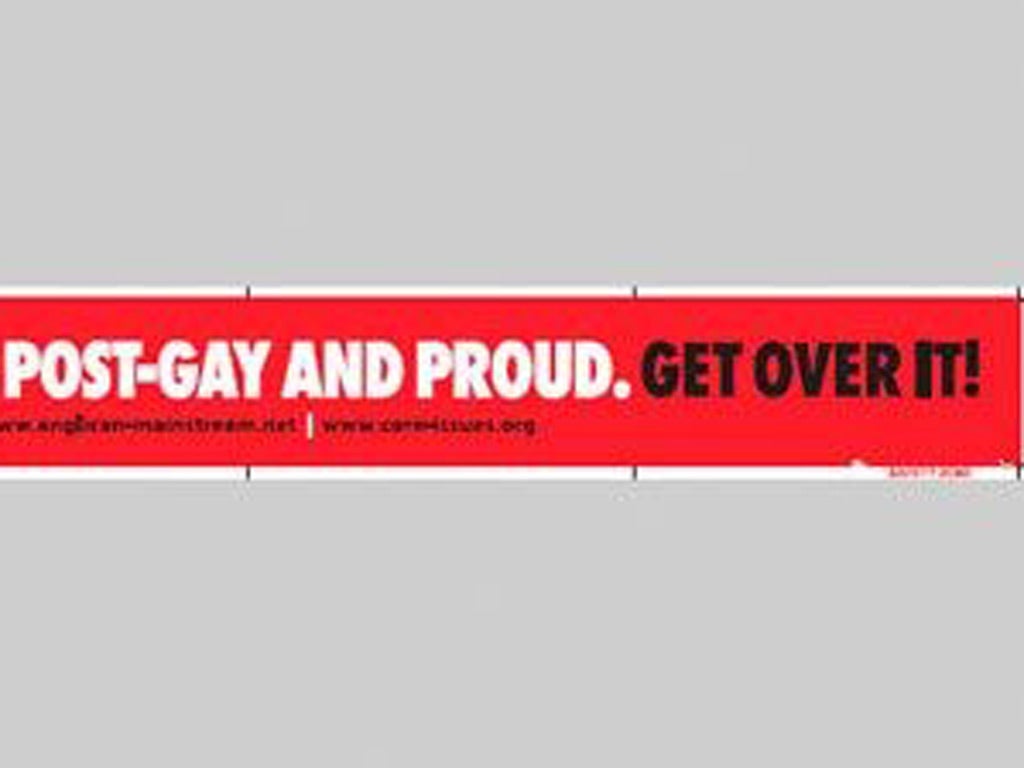 A Christian group who believe gay men and women can be "cured" of their homosexual leanings is taking London Underground to court over an advert that was banned from the city's buses and trains.
Core Issues Trust, a Christian charity which funds "reparative therapy" for gay men and women, wanted to put a series of adverts up on London's transport network in April 2012 which promoted techniques popular among some evangelical Christian who believe people can be cured of unwanted sexual attractions.
The posters read: "Not Gay! Ex-Gay, Post-Gay and Proud. Get over it!" and were a pun on a similar campaign run by the gay rights group Stonewall which used the slogan: "Some people are gay, get over it".
Core Issues say they had signed a contract with Transport for London advertising partner to run the adverts but they were pulled at the last minute following an intervention from London mayor Boris Johnson who is also chair of TfL.
At the time TfL said it had withdrawn the adverts once it had discovered their content arguing that they did not reflect the companies "commitment to a tolerant and inclusive London."
Lawyers for the group are going to the High Court today to argue that their right to freedom of expression was stifled by the ban.
The case is being supported by the Christian Legal Centre, which has launched similar legal battles over "religious rights" issues such as workers who were forbidden from wearing crucifixes at work and those who have refused to offer services to gay men and women on theological grounds.
Core Issues Trust director Dr Mike Davidson, who described himself as an "ex-homosexual", argues that TfL have been willing to air controversial adverts in the past that might have caused offence to some such as a campaign by atheists which used the slogan: "There's probably no God. Now stop worrying and enjoy your life".
"This is all about being free to talk about these issues, and the right of individuals to take a sexual identity that is consistent with other values in their lives," he said. "Those individuals who are post-gay or ex-gay are a sexual minority suffering discrimination because they are outside the purportedly 'normative' homosexual paradigm. It was a mistake to assume these views we were expressing came from entrenched homophobia, and failed to recognise that people who want to walk away from their homosexual feelings are a group in their own right."
When news broke that the adverts would run last year, Stonewall criticised Core Issues. In a statement, the charity's chief executive Ben Summerskill said: "It's sad that any self-styled "Christian" group promotes voodoo "gay cure therapy", which has been discredited by the British Association for Counselling and Psychotherapy, the UK's leading professional body for counselling psychotherapists. Life would be much easier if these organisations just admitted that they don't like gay people."
However the decision to ban the adverts caused criticism among free speech campaigners with no religious leanings.
At the time Padraig Reidy, from Index on Censorship, said that while many might have found the adverts unpleasant, banning them sent out the wrong message.
"There is an increasing rush at the moment by people demanding anything which they find unpleasant should be immediately banned, deleted or removed," he said. "We're closing down any trace of controversy or debate within public discourse and that is extremely dangerous."
The case will be heard by Mrs Justice Lang at the Royal Courts of Justice and is expected to last a number of days before judgement is reserved.
Join our commenting forum
Join thought-provoking conversations, follow other Independent readers and see their replies