Government plan to resettle up to 3,000 refugee children 'not good enough', say MPs and charities
Details of the plan were announced days before a crucial vote on a separate proposal from the House of Lords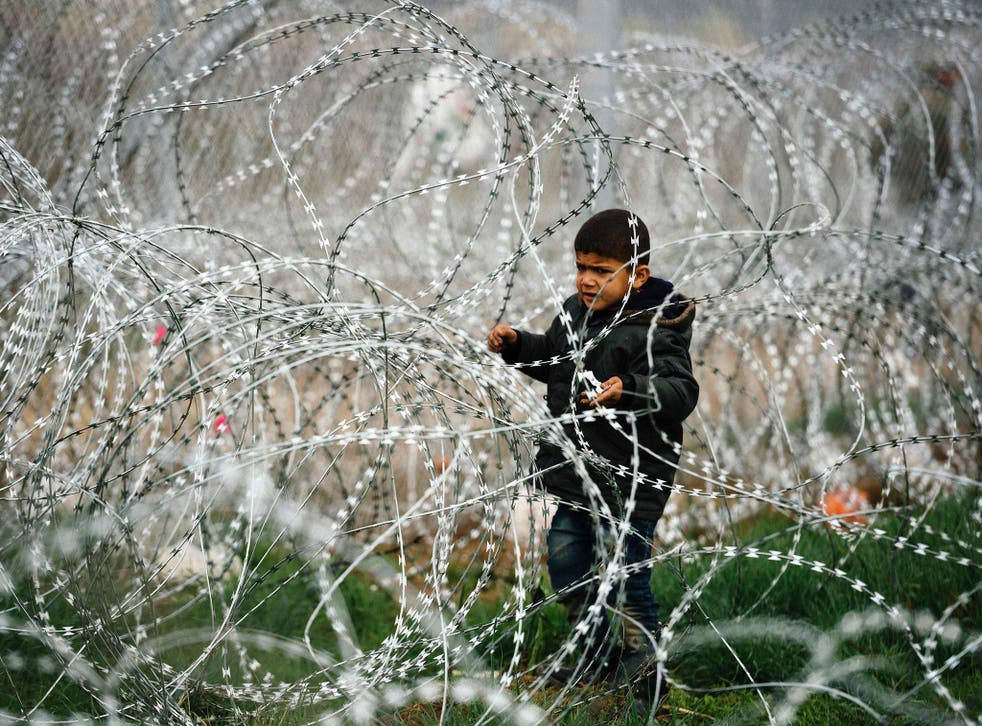 The government scheme to take in up to 3,000 refugee children has been dismissed as "not good enough" after it emerged it will do nothing to help the hundreds of thousands stuck in camps across Europe.
The Home Office announced details of the programme that will see the most vulnerable young asylum seekers resettled on Thursday, days before a separate proposal was due to be considered in the House of Commons.
Refugees who have already risked their lives to reach Europe are excluded from the plan, which applies only to those currently living in the Middle East and North Africa.
The limitation has provoked outrage from MPs and charities who have been campaigning for months for the UK to take in children trapped in detention centres and camps as Europe's borders remain closed.
Refugee crisis: Unaccompanied minors vulnerable in Greece
An amendment to the Immigration Bill to let 3,000 refugee children who have reached the continent come to Britain was adopted in the House of Lords last month and will be considered by the House of Commons on Monday.
Lord Dubs, who came to the UK as a child refugee on the Kindertransport, said the measure was needed to save children from exploitation and abuse.
He said he welcomed the proposals on Thursday but would continue to press the Government for action on his amendment as they did not "deal sufficiently" with the issues highlighted.
"You also have to wonder whether the use of the '3,000' figure is a deliberate ploy to muddy the debate," Lord Dubs added.
Yvette Cooper, chair of Labour's Refugee Taskforce, called for MPs to support his amendment regardless of the Home Office's announcement.
"The Government statement today has nothing new to help lone child refugees in Europe," she said.
"It is under pressure before the vote on Monday."
She was among the signatories to a letter backed by the Liberal Democrat leader Tim Farron and Tory Heidi Allen, among others, calling on David Cameron to help unaccompanied children.
"This is not good enough," Mr Farron said, dismissing the announcement as "pure calculation" ahead of Monday's vote.
"It is a blatant attempt to buy off compassionate Tory MPs in a desperate last-ditch effort to avoid a Government defeat next week," he added. "Our resolve on Monday will not be weakened."
Parliament's International Development Committee (IDC) recommended the resettlement of 3,000 child refugees from within Europe earlier this year, following warnings from humanitarian organisations that thousands of unaccompanied children were left vulnerable to exploitation and violence while living in appalling conditions.
Save the Children said the figure would represent Britain's "fair share" of more than 95,000 children estimated to have entered Europe as asylum seekers.
Steven McIntosh, head of government relations at the charity, told The Independent the Government's plan fell far short of what was needed for children stranded across Europe.
"The number of children who have reached Europe is far larger than previously estimated and they are facing an even more hostile environment," he said.
"Many are sleeping rough, or in detention centres and dirty police cells.
Refugee crisis - in pictures

Show all 27
"The Government needs to do more to respond to the huge suffering of refugee children in Europe."
Help Refugees, a charity working with asylum seekers in Calais, also voiced its disappointment.
"This is not enough for us," the group said in a statement, calling on MPs to continue support for the Dubs amendment.
"We have a moral duty to offer sanctuary and protection to these children and offer them a real chance at life," a spokesperson added.
Its own census has revealed that at least 129 unaccompanied minors have gone missing since French authorities started destroying parts of the "Jungle" camp.
The Refugee Council said the latest plan was "not good enough" when borders remain closed to refugees and drownings continue in the Mediterranean and Aegean seas.
Maurice Wren, the charity's chief executive, said: "This announcement is life-changing, if not life-saving news for the small group of children and their families who will benefit.
"However, it's also grim news for the majority of other refugees who are desperately trying to escape conflict and persecution who the Government is try to contain in Turkey and other, poorer countries.
"It's not good enough to offer a lifeline to one group of refugees while colluding to close off the escape routes of everyone else -all refugees need to be able to reach a place of safety."
The Government hailed its latest programme, which comes on top of a previous pledge to welcome 20,000 Syrians, as one of the world's largest resettlement programme for children.
A spokesperson for the Home Office said the new scheme would see "at risk" children from camps in the Middle East and North Africa selected based on advice from the United Nations High Commissioner for Refugees (UNHCR).
Several hundred children are due to be resettled over the next year, with the upper threshold of 3,000 due to be reached by the next general election in 2020.
Unaccompanied children are expected to be targeted but the figure includes adult relatives of some accompanied minors, who the Home Office said would be chosen in cases "where the UNHCR deems resettlement is in the best interests of the child".
Unlike previous British and European initiatives, the scheme is open to refugees of all nationalities, but it excludes those who have already reached Europe.
The inclusion of refugee camps in North Africa is notable, as the region is the departure point for refugees fleeing war and persecution in Nigeria, Gambia, Senegal, Mali and other African nations who have been excluded by previous programmes.
Gonzalo Vargas Llosa, the UNHCR's representative to the UK, welcomed the programme, which comes as refugees continue to be detained and deported from Greece, where the British Government is supporting the controversial EU-Turkey migration agreement.
Join our new commenting forum
Join thought-provoking conversations, follow other Independent readers and see their replies