Government pulls 'Stay at Home' advert showing only women doing chores after major backlash
'The imagery is clearly old-fashioned and out of date, but it is more about the fact they got as far as publishing the advert without stopping to think,' says Women's Budget Group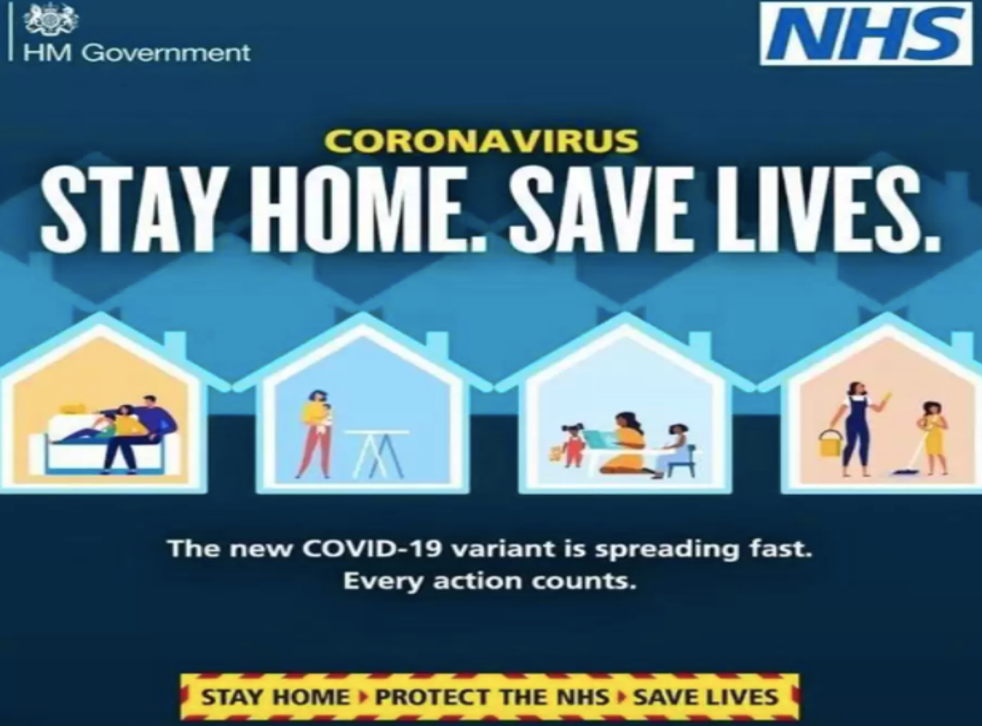 The government has removed a coronavirus advert urging the nation to "stay home and save lives" which was accompanied by illustrations of women doing household chores following a major backlash.
Four drawings - a family lounging on a sofa, a woman doing cleaning with a young girl, a mother home-schooling her two children and a woman ironing with a baby in her arms - were used in the official government advert.
The Covid-19 ad was condemned on Twitter as critics likened the illustrations to a 1950's household and argued the poster bolsters sexist views women should do the bulk of household chores, childcare and home-schooling.
Prime minister Boris Johnson's official spokesperson said: "It has been withdrawn and removed from the campaign. It does not reflect the government's views on women."
Mary-Ann Stephenson, director of the Women's Budget Group, told The Independent the images were symptomatic of an approach that has treated women as an "afterthought" throughout the pandemic.
She added: "Women and women's organisations have highlighted the ways they have been disproportionately affected by school closures. Each bit of support had to be fought for, but we are still not there. 
"The imagery is clearly old-fashioned and out of date, but it is more about the fact they got as far as publishing the advert without stopping to think. This suggests there isn't someone at the heart of decision-making that has a gendered analysis of the impact of the pandemic.
"While these images are tonedeaf, ironically they do reflect research which has shown women have carried out the majority of unpaid work such as housework or childcare irrespective of whether they were doing paid work or not."
Recent research found women are twice as likely to need time off work with no pay to look after children due to schools closing during the coronavirus emergency.
The report, released by Fawcett Society and Women's Budget Group earlier in the month, found 15 per cent of mothers say they would have to take time off work while not being paid as a result of schools shutting their doors or their child getting sick, whereas only 8 per cent of fathers reported the same.
Dr Pragya Agarwal, a behavioural and data scientist who works at a gender equality thinktank, tweeted: "Who made this? And who approved it? Heteronormative. Reinforcing the view that it is a woman's job to homeschool, clean, do the childcare. Are the men out there fighting a war or something?"
While a woman working as a cancer scientist added: "I didn't realise Covid-19 dated from the 1950! As a scientist working on this terrible disease, it feels like a kick in the teeth to see women represented like their only place is at home, by a government published advert. It is 2021!!!"
Many studies have found women have borne much of the brunt of the financial fallout from the pandemic due to being over-represented in sectors badly damaged by lockdown measures such as hospitality, retail, leisure, tourism and the arts.
Register for free to continue reading
Registration is a free and easy way to support our truly independent journalism
By registering, you will also enjoy limited access to Premium articles, exclusive newsletters, commenting, and virtual events with our leading journalists
Already have an account? sign in
Register for free to continue reading
Registration is a free and easy way to support our truly independent journalism
By registering, you will also enjoy limited access to Premium articles, exclusive newsletters, commenting, and virtual events with our leading journalists
Already have an account? sign in
Join our new commenting forum
Join thought-provoking conversations, follow other Independent readers and see their replies