Great council house sell-off scandal: Right-to-buy council houses leave nowhere for poor to live
Councils who have been forced to sell properties to tenants on the cheap are then having to rent them back at extortionate rates to house those in need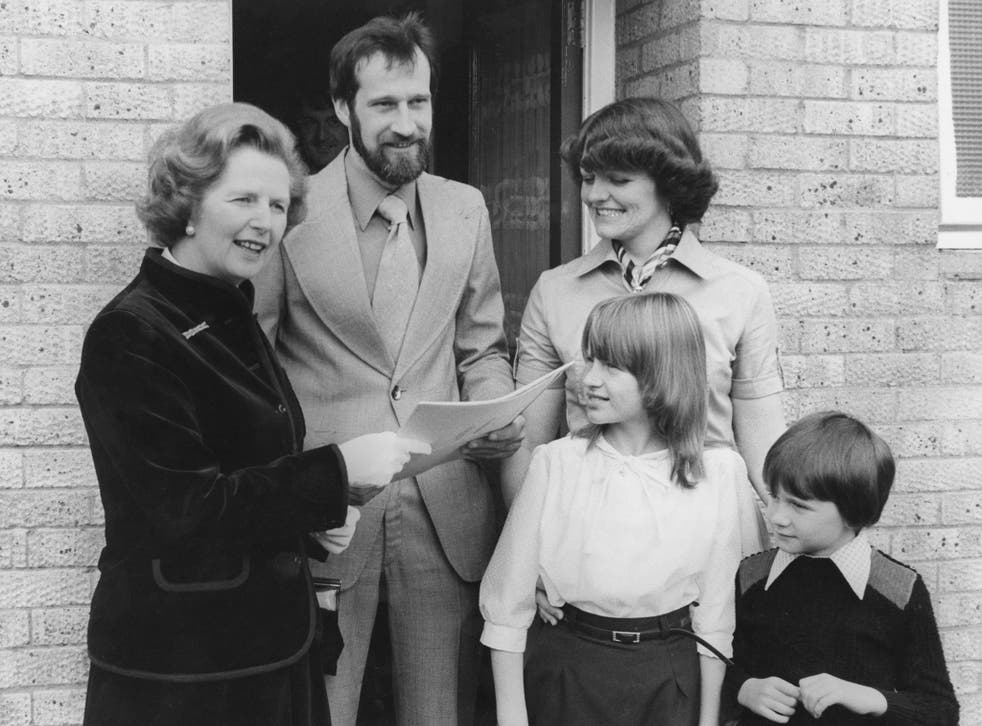 Council houses are being sold off on the cheap to people who immediately rent them back to housing benefit tenants, according to an Independent investigation that exposes a new "Right to Buy" scandal.
In echoes of Margaret Thatcher's drive to force local authorities in the 1980s to sell their properties at a cut price, the Government's new initiative to encourage councils to sell their houses is having a disastrous effect in allowing social housing to be exploited for personal profit.
Councils are selling off their already‑limited supplies of housing stock and allowing former council tenants to profiteer as buy-to-let landlords.
That is forcing local authorities to pay more to place deprived families in properties that used to be council-owned. At least 32 councils now rent or pay out housing benefit to tenants living in homes sold since the Government revamped the Right to Buy scheme in 2012, Freedom of Information requests show.
There are rules to deter the immediate sale of properties bought under Right to Buy but renting is unregulated, so the Government's hefty discounts on sales have turned former council tenants into buy-to-let landlords overnight. Council leaders have branded the situation a "national scandal".
In April 2012, David Cameron increased the cap on the maximum discount to £75,000, or £100,000 for London. In the borough of Haringey 396 homes have been sold under Right to Buy since April 2012; of those, 28 are already being rented out to people on housing benefit at a cost of more than £265,000 a year to the public purse.
Of 82 council homes sold under the new Right to Buy scheme in Corby, Northamptonshire, 25 are now rented by people on housing benefit, costing £85,063.95 since April 2012.
And in Dartford, Kent, seven of the 47 properties sold under the scheme in its new form are being rented out by people on housing benefit at a cost of £96,000 so far.
The figures for 33 councils could well be just the tip of the iceberg, as almost 100 local authorities responded to the FOI request saying they were unable to provide the relevant data because sales had been made to a private provider.
Darren Johnson, the Green Party's spokesman on housing, said: "It is outrageous that, when we have such a desperate shortage of social housing, Right to Buy council homes are going straight on to the market at vastly inflated rents."
The situation is exacerbating the crisis in social-housing stock. Money raised through sales is supposed to go to building more affordable homes, but building work cannot keep up with the speed of sales. More than 20,000 homes have been sold under Right to Buy since April 2012 while just 3,364 replacement social homes have been built.
Rachel Fisher, head of policy at the National Housing Federation, said: "Right to Buy has decimated the supply of affordable homes to rent at a time when we have a major housing crisis and a real problem of affordability. Social housing should be reserved for those who need it most but Right to Buy is perpetuating the belief that homes are an investment rather than somewhere to live."
Sales of council homes are likely to increase after the Government announced a further discount in July, raising the maximum discount for a house to 70 per cent of its value. Homes can now be bought at a discount of up to £77,000, or £102,700 in London, which will increase every year in line with inflation.
Ian Gilbert, deputy leader of Southend council, one of those which has discovered Right to Buy owners immediately renting out their homes, said: "We face a massive housing challenge in Southend, caused partly by the loss of property sold under Right To Buy. It is perverse that so many have ended up in the hands of buy-to-let landlords."
The Scottish Parliament was so concerned about the crisis in social-housing supply that it voted to end Right to Buy in the summer and no more homes will be sold under the scheme after 2016.
The Government argues that anyone who has bought their home under Right to Buy should have the same freedoms as other homeowners in the housing market.
The housing minister Brandon Lewis said: "Right to Buy helps social tenants get on to the housing ladder, increases housing construction and reduces social-housing waiting lists. Every additional home sold will be replaced with a new affordable home."
Authorities which rent or pay housing benefit to tenants in properties they sold:
Authorities which pay to put council tenants in properties they sold: Hillingdon, Central Beds, Rochdale, Sandwell, Dartford, Brighton & Hove, Greenwich, Haringey, Islington, Hammersmith & Fulham, Kensington & Chelsea, Ealing, Camden, Derby, Great Yarmouth, Cambridge, Gloucester, Kingston upon Thames, St Albans, Warrington, Winchester, Cornwall, Redbridge, East Riding of Yorkshire, Southend, Rotherham, Dacorum, Chesterfield, Gravesham, Lancaster, Stockport, Wiltshire, Corby
Join our new commenting forum
Join thought-provoking conversations, follow other Independent readers and see their replies