Greenpeace builds fracking rig outside Parliament as Cuadrilla inquiry begins
The rig is accompanied by lorry and drilling sounds and features a flare which fires up every hour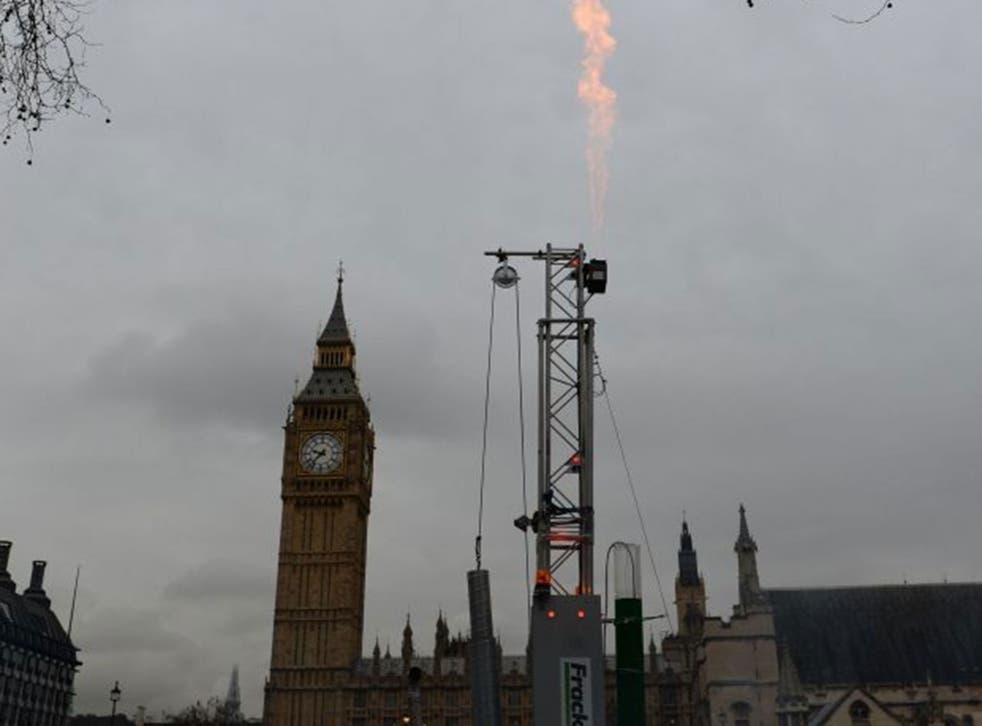 Greenpeace has built a 10-metre high mock fracking rig outside Parliament, to protest the Government's support for the controversial drilling method.
The rig, accompanied by lorry and drilling sounds and featuring a flare which fires up every hour, was erected to coincide with the opening of a public inquiry into Cuadrilla's proposals to frack for shale gas at two sites in Lancashire.
Although Lancashire county councillors rejected the firm's application last June, Cuadrilla has appealed against the decision and Greg Clark, the communities secretary, has said he will intervene to make the final decision.
How fracking works and where it could happen

Show all 2
A Populus survey conducted for Greenpeace found 62 per cent of people think local councils should have the right to permit or reject fracking applications in their area.
However, ministers have sought to justify the government's move, claiming the search for shale gas is in the national interest.
Greenpeace accuses the government of attempting to fast track fracking in the UK, by reserving the right to overturn local council decisions.
Hannah Martin, a campaigner at Greenpeace, said: "Ministers are pushing aside local democracy to bulldoze through their unpopular fracking plans.
"We have installed a life-like fracking rig and drill at Parliament Square to show them what people in Lancashire and beyond will have to endure if so-called communities minister Greg Clark forces fracking on a reluctant nation."
Join our new commenting forum
Join thought-provoking conversations, follow other Independent readers and see their replies