Austerity and privatisation by consecutive governments led to Grenfell tragedy, says fire union
Exclusive: 'Deep-seated culture of complacency' over fire safety by every government since Margaret Thatcher led to inferno that killed 72 people, say firefighters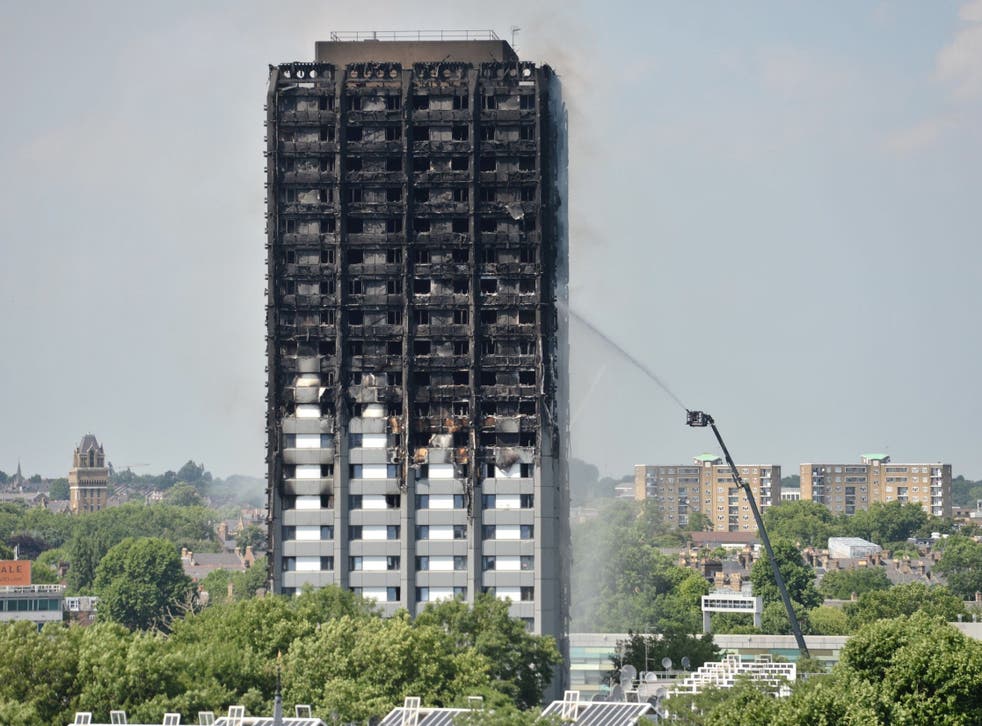 Austerity, deregulation and privatisation by consecutive governments bears ultimate responsibility for the Grenfell tragedy, the Fire Brigade's Union (FBU) has said.
In a document seen by The Independent, the union states that a "deep-seated culture of complacency" over fire safety by every government since Margaret Thatcher led to the disaster that killed 72 people in June 2017.
The FBU, which represents the overwhelming majority of firefighters in the UK, warns that this "dominance" of deregulation in the political ideology of central government over decades has also been fostered by the direct lobbying of private business interests.
The expertise of firefighters "has mostly been substituted with management consultants, industry lobbyists and chief fire officers" operating in a political climate that has "emphasised the need for reducing regulation driven by central government", the report concludes.
Matt Wrack, FBU general secretary, said: "For at least 40 years, policies relating to housing, local government, the fire and rescue service, research and other areas have been driven by the agenda of cuts, deregulation and privatisation.
Grenfell fire remembered two years on: In pictures

Show all 12
"A deep-seated culture of complacency has developed regarding fire policy and fire safety and central government bears ultimate responsibility."
Kensington MP Emma Dent Coad welcomed the report, telling The Independent it was time for governments past and present to accept responsibility for the results of the "decimation" of fire and building regulations and the privatisation of monitoring and testing services.
She added: "Their actions created the circumstances where an atrocity like Grenfell was inevitable. However, this lets no one off the hook at [the council] or Kensington and Chelsea Tenant Management Organisation. If they had listened to tenants' warnings, and dealt with the safety concerns raised, more people could have been saved.
"So I say to both national and local governments – stop playing pass the parcel of blame. Accept your responsibilities. Take action now to save lives."
The FBU report, to be distributed at the Labour Party conference on Monday, lists a series of policies and decisions made under numerous governments over the past 40 years that contributed to the deregulation of fire safety.
These included the Blair government's abolition of national standards for fire and rescue services in 2004 and the Thatcher administration's decision to cut building regulations from more than 300 pages to just 25.
Other policies and decisions of fire safety deregulation noted in the report include:
The decision by Edward Heath's government to remove a requirement for blocks of flats to have mandatory fire certification from the final Fire Precautions Bill 1970, due to the "very considerable expenditure" involved
A review from the Thatcher government which called for an overhaul of fire policy due to the "significant financial burden" of the legislation
The Heath government's failure to follow a recommendation that only those with "operational firefighting experience" be responsible for enforcing fire safety, paving the way for privatisation of the fire safety regime
The Major government's privatisation of the Building Research Establishment, opening a conflict of interest between its role providing advice to ministers and its commercial role in testing materials for construction firms
David Cameron's "one in, two out" policy on new regulations slashed regulations further
The coalition government's cutting of fire budgets by around 28 per cent in real terms
Failure to follow warnings from previous fires that raised risks seen at Grenfell, including the Harrow Court fire in 2005, the Lakanal House fire in 2009 and the Shirley Towers fire in 2010
It comes after Kensington and Chelsea councillors called on the Grenfell inquiry chief to interrogate former prime ministers David Cameron and Theresa May as well as a number of former ministers about "why they failed to take meaningful actions" that could have prevented the fire.
Cladding added to the Grenfell block in a refurbishment intended to improve the tower block in fact turned the building into a "death trap", the inquiry has heard. Hundreds of buildings in the UK are still clad in similar material, and are likely to remain so for at least another 10 years.
No criminal charges relating to Grenfell have been made so far and, according to a statement from the Metropolitan Police in March this year, none are expected until 2021.
There has been a delay to the second phase of the inquiry, which will not now begin until January 2020 when it will focus on how Grenfell Tower was allowed to become such a risk to its inhabitants.
A spokesperson for the Ministry of Housing, Communities and Local Government said:
"The government has taken immediate action on public safety following the Grenfell Tower tragedy. We've allocated £600m for the removal and replacement of dangerous ACM cladding on high-rise homes and are working with councils to ensure this work is completed.
"We made clear that we agree with Dame Judith Hackitt's Independent Review of Building Regulations and Fire Safety. We said that we will take forward her recommendations and outlined plans to do so in the Building a Safer Future implementation plan, published in December 2018, which will bring in a tougher regulatory system for the future."
Join our new commenting forum
Join thought-provoking conversations, follow other Independent readers and see their replies