Grenfell inquiry: Kitchen fire resident 'wishes he could have banged on more doors'
'I have been burning inside ever since' blaze destroyed tower, father-of-two says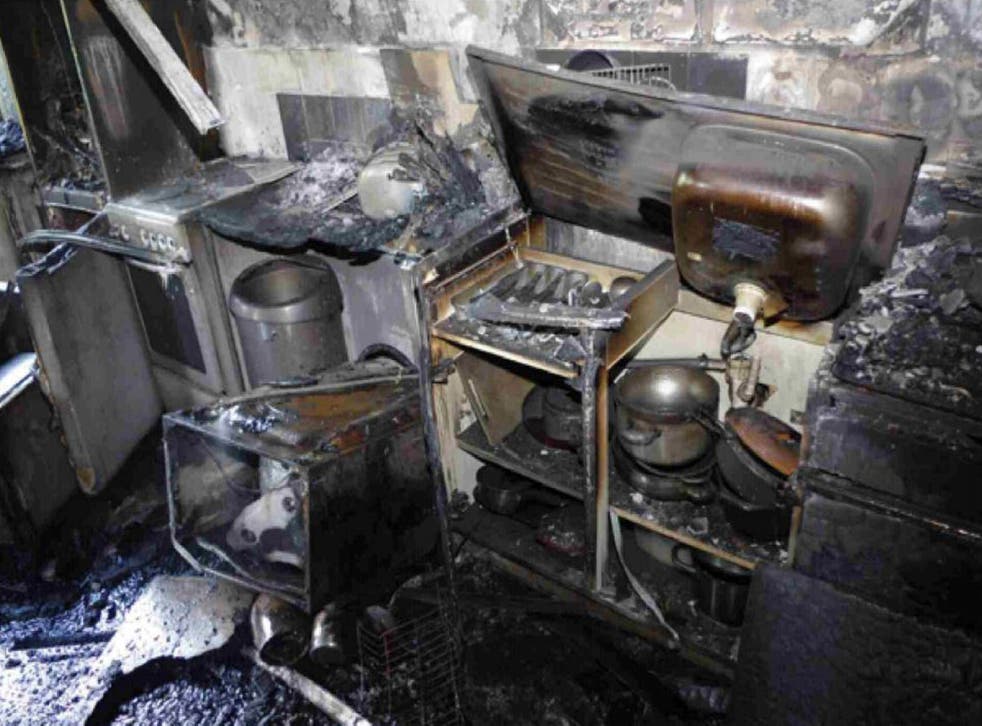 A resident of the flat where the Grenfell Tower fire started has said he wishes he had been able to alert more neighbours to the blaze.
Behailu Kebede, 45, said the fire and its aftermath had caused him to have insomnia and flashbacks, while the subsequent negative media attention left him fearing for his life.
"Even though my family and friends keep telling me that I am not responsible for the fire and I know they are right, I cannot help but blame myself," he said in a written statement submitted to the inquiry and published on Thursday.
Grenfell Tower: One year on
Earlier, the inquiry heard how Mr Kebede was woken by the sound of his smoke alarm shortly before 1am on 14 June 2017, and found white smoke billowing from behind his fridge-freezer.
He went to great lengths to alert his neighbours to the blaze and left only when he believed everyone on his floor had been alerted, he said.
But suggestions published by the media he had caused the fire by tampering with his fridge or he had taken the time to pack a bag before fleeing the blaze led police to be worried about his safety.
"They wanted to put me into witness protection because they were concerned about reports in the press that showed me in a negative light, reports suggesting that I was to blame for the fire.
"It was even suggested to me that I might need to change my name and not have any contact with my family.
"I told the police that I did not want to take part in any form of witness protection. Finally, they agreed to let me stay in a different part of London.
"As a result of the media intrusion, my partner and children were forced to move out of their home. The four of us have been living together in various hotels ever since."
Mr Kebede said before the blaze he was "feeling very hopeful" and was in the process of buying his flat in the high-rise.
"However, that dream died with the fire," he said.
In images taken from CCTV inside the tower's lobby and shown to the inquiry on Thursday, Mr Kebede could be seen leaving the building barefoot at around 12.58am. Within two minutes, the first firefighter is seen entering the building.
"I knew so many of those who died in the fire at Grenfell Tower," Mr Kebede said in his statement.
"I relive the horrific memories of that night all the time. I have not been able to sleep properly, thinking about those who died and seeing their faces when I close my eyes.
"I wish I could have banged on more doors and woken up more people. I am haunted by my failure to pick up my flat keys when I left and my inability as a result to get back into the building and warn more people
"I feel broken inside. I am not the same man I used to be. I am still in fear, looking over my shoulder all the time. I do not feel comfortable in the presence of groups of four or more."
Before the refurbishment, Mr Kebede complained about a window replacement which has now been blamed for the fire's spread, he said.
His kitchen window was changed during the tower's refurbishment, which he said "caused problems" as "air was entering my flat through these gaps" around the frame.
Builders who were sent to the flat "put sealant in the gaps", but the sealant was flammable, the inquiry heard on Wednesday.
Grenfell Tower Inquiry: photos of inside the flat where fire began

Show all 18
Experts believe flames escaped through gaps around Mr Kebede's window on to the external facade, turning the tower into an inferno.
Mr Kebede has not given evidence in person at the probe, but said through his lawyer he was "terrified".
Register for free to continue reading
Registration is a free and easy way to support our truly independent journalism
By registering, you will also enjoy limited access to Premium articles, exclusive newsletters, commenting, and virtual events with our leading journalists
Already have an account? sign in
Register for free to continue reading
Registration is a free and easy way to support our truly independent journalism
By registering, you will also enjoy limited access to Premium articles, exclusive newsletters, commenting, and virtual events with our leading journalists
Already have an account? sign in
Join our new commenting forum
Join thought-provoking conversations, follow other Independent readers and see their replies