Grenfell response: Number of tower blocks failing fire tests rises to 60
Department for Communities and Local Government says every tower tested so far has failed the fire safety check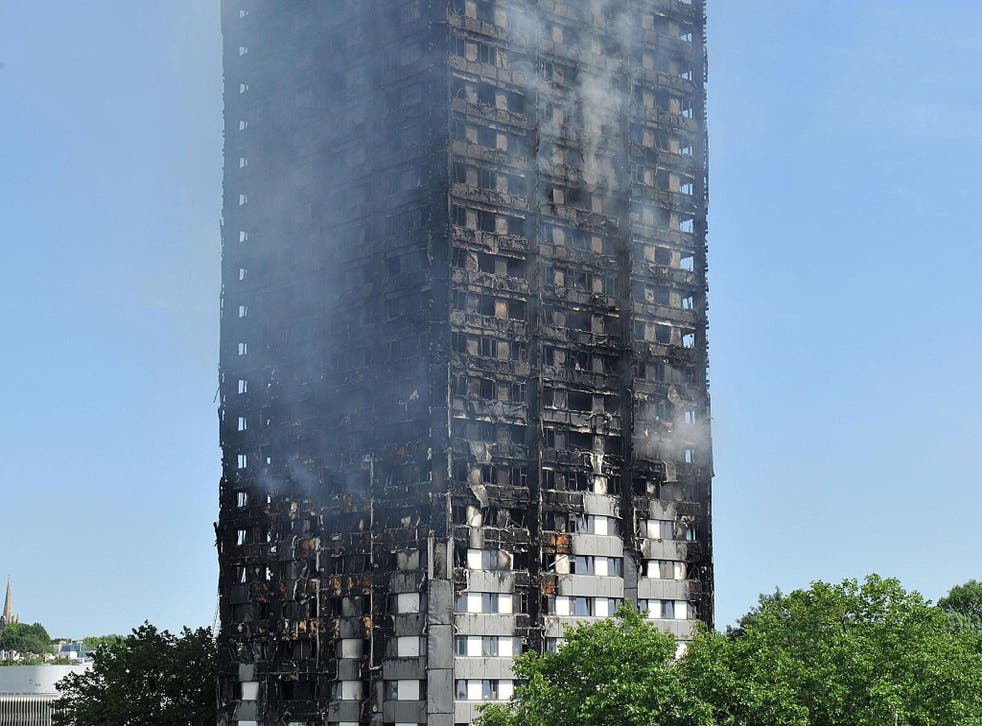 The number of tower blocks which have failed emergency fire tests has nearly doubled to 60 in 25 different council areas – up from 34 in 17 areas.
Councils across the country have launched emergency reviews of their towers following the fire at Grenfell Tower in London which is believed to have killed at least 79 people.
The fire is believed to have spread across flammable cladding on the outside of the building which was designed to provide insulation and improve the appearance of the 24-storey tower.
The Department for Communities and Local Government (DCLG) said every tower tested so far has failed the fire safety check.
Communities Secretary Sajid Javid urged local authorities and housing associations to continue to submit samples "as a matter of urgency" amid a nationwide safety operation.
Councils have been told to prioritise checking the towers they are most concerned over.
DCLG said Doncaster, Norwich, Stockton-on-Tees and Sunderland all had buildings that failed tests, while Manchester, Plymouth and Portsmouth have already been named.
Islington, Lambeth and Wandsworth joined Barnet, Brent, Camden and Hounslow on the growing list of London boroughs, while 11 other areas are yet to be named.
A social housing provider in Liverpool announced it has decided to remove cladding from two of its high-rise blocks as a precaution, following government tests.
One Vision Housing said results showed "certain elements of the cladding" on Cygnet House and Wren House in the Bootle area of the city, "whilst meeting building regulations does not meet the latest DCLG test criteria".
Stormzy calls out the Government "f***ery" over Grenfell Tower at Glastonbury
Camden Council in north London announced it would immediately evacuate four blocks in Chalcot Estate in Swiss Cottage on Friday night after tests showed it had similar cladding as well as a series of fire safety problems inside.
Two days later families are still sleeping in a local leisure centre while they wait to be given temporary accommodation in local hotels and other council properties.
Grenfell Tower survivors to be housed in 375 Kensington High Street

Show all 10
Many criticised the decision to evacuate on Friday evening with some Muslim residents telling The Independent they had been about to break their fast for Ramadan when they were ordered to leave their homes.
Others said they had been out with friends when they heard from the media that their homes had been evacuated.
A spokesman for DCLG told The Independent that there were "no immediate plans" to evacuate any other tower block but said they were urging local authorities to take action following the tests as Camden had done.
He said the towers in Chalcots Estate had over fire safety issues such as problems with the gas piping which, when combined with the flammable cladding, meant they were no longer safe to live in.
Additional reporting by PA
Register for free to continue reading
Registration is a free and easy way to support our truly independent journalism
By registering, you will also enjoy limited access to Premium articles, exclusive newsletters, commenting, and virtual events with our leading journalists
Already have an account? sign in
Register for free to continue reading
Registration is a free and easy way to support our truly independent journalism
By registering, you will also enjoy limited access to Premium articles, exclusive newsletters, commenting, and virtual events with our leading journalists
Already have an account? sign in
Join our new commenting forum
Join thought-provoking conversations, follow other Independent readers and see their replies