Grenfell Tower fire: Kensington leader says council not responsible for residents' safety
Speaking exclusively to The Independent, Elizabeth Campbell says safety is 'under legal remit' of Kensington and Chelsea tenant management organisation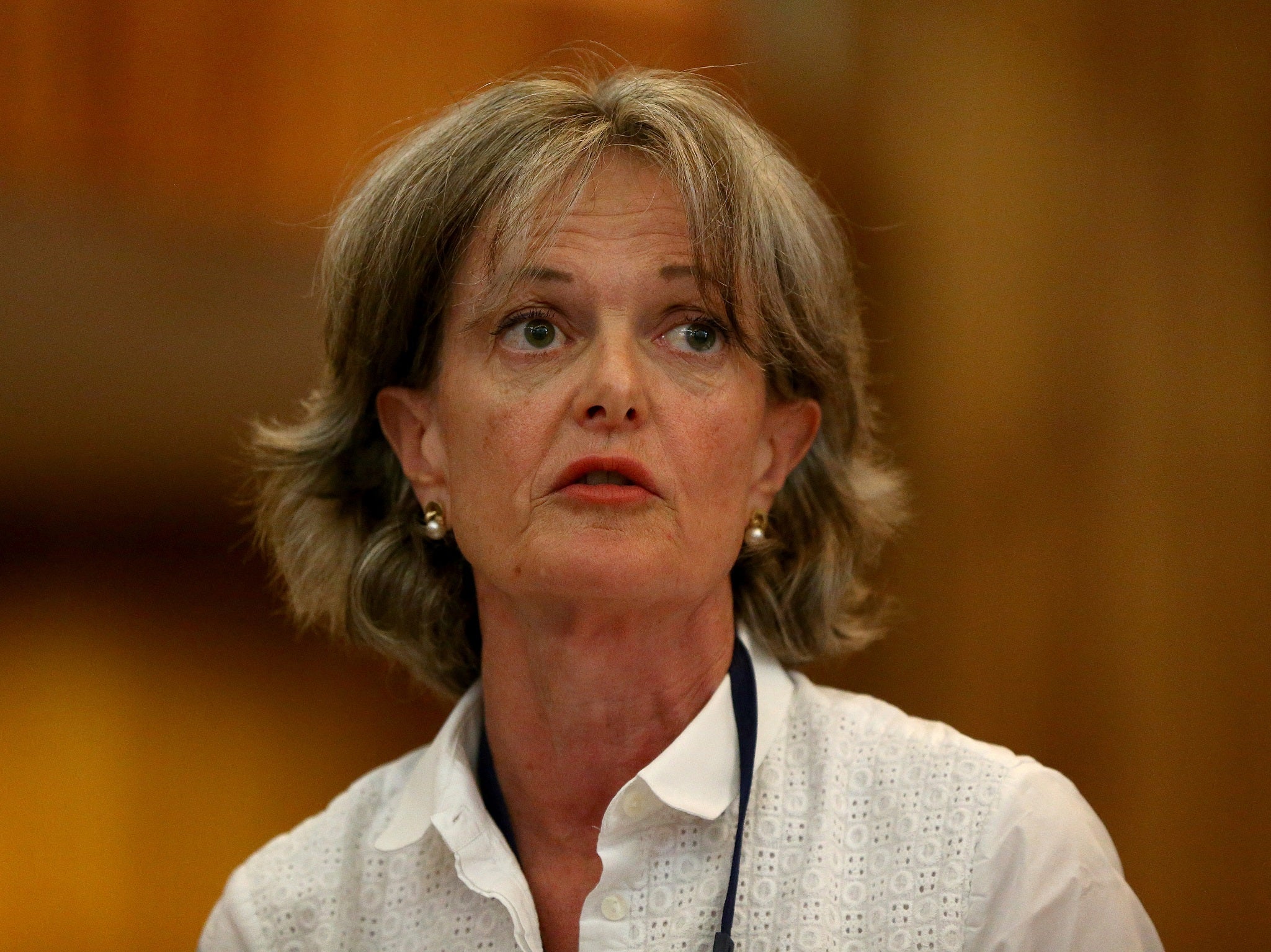 The leader of Kensington and Chelsea Council (RBKC) admitted she is unable to rule out the possibility of another catastrophic fire in the borough, four months on from the Grenfell Tower disaster.
Elizabeth Campbell said fire safety must be of "very high consideration" in the wake of the blaze that killed at least 80 people in north Kensington.
But the Conservative leader said residents' safety was not the council's responsibility while housing remained under control of the Kensington and Chelsea tenant management organisation (TMO), the group in charge of the block that went up in flames in June.
Speaking exclusively to The Independent, Ms Campbell said fire safety would be the council's "top priority" if the TMO agreed to make RBKC its sole member.
The council revoked the organisation's contract in September and had called to be appointed its majority stakeholder, in effect disbanding the company. But survivors fiercely opposed the decision, fearing it would allow the TMO to escape possible criminal charges and civil proceedings.
Police investigating the fire announced there were "reasonable grounds" to suspect both RBKC and the TMO committed corporate manslaughter.
A meeting to decide the group's fate has been postponed for 21 days but the delay exposes the accountability vacuum facing occupants of the nearly 10,000 properties in the borough managed by the TMO.
How the Grenfell Tower fire happened, explained
"Am I going to tell you hand on heart I don't think there could be a fire in any of our properties? I couldn't possibly say that. What we have to do is be sure there are good fire safety regulations in place," Ms Campbell said. "It's not for me to be reassured or not reassured, the TMO is responsible for it."
When asked whether tower-block residents had expressed concerns over fire safety, she added: "Of course, whether they are in tower blocks or not in tower blocks, everyone is sort of looking over their shoulders now like everyone else round the country."
Former council leader Nicholas Paget-Brown was forced to step down amid accusations the council had ignored a catalogue of warnings before the disaster.
Ms Campbell's subsequent appointment was mired by negative press after she admitted she had never set foot in a block of flats, days after stepping in to lead the response effort to the deadliest tower block fire in modern history.
Four months on, she hit back at the "ridiculous", "lazy" media coverage, telling her critics to "judge me by what I'm doing and not by where I live".
"I was quite inexperienced at the time and I remember thinking, 'I've been in a tower but not up a tower, does that count?'," she said.
"We have children's homes in towers, we had a youth group in a tower, so does that mean if I haven't been to the 21st floor I don't care? I just think that's ridiculous. Of course I care. What does it say that I haven't been to the 21st floor? I don't know? I'll ask you? Do you think it matters nowadays?"
She paused, before adding: "It is symbolic, isn't it? But I think it's lazy – sorry."
In Pictures: Grenfell Tower after the fire
Show all 51
Another sticking point surrounded her £1m second home on the Isle of Wight that was originally purchased through a family trust and a company registered to an offshore tax haven.
"Look, I am what I am, I can't pretend I'm not," she said. "I reject the fact that people think I'm out of touch – I don't think I'm out of touch. But on the other hand have I shared that same experience? No I haven't."
Ms Campbell, who is a councillor for the affluent Royal Hospital ward covering Sloane Square and the Kings Road, has repeatedly refused to question the council's conduct prior to her appointment, telling The Independent: "I apologised, I didn't criticise. I think you will have to wait for the public inquiry."
But she did strike a conciliatory tone, speaking at length about the ongoing trauma facing survivors and what she hoped to do to help them, while remaining characteristically tight-lipped on how the tragedy had affected her personally.
She accepted the borough faces an uphill challenge to rebuild community trust, but said she hoped her actions would show she is sincere. "I wouldn't be in this job if I didn't think it was possible," she said. "You can't just say to people, 'well, it's been absolutely terrible' and shrug your shoulders."
Despite the backlash, she said she was the right person for the job, touting her experience working in family and children's services "dealing with some of the most disadvantaged families in north Kensington ... on the ground."
When asked how she handled being confronted with such unimaginable horror, she said: "I met a mother last week who said we don't want to sleep, because they don't know what the night will bring. This isn't about me, it's about them."
She said seeing people "in pieces" made her "ever more determined" to help, adding: "It doesn't help me sleep better or not better at night, that's my job that's what I want to do, to get there and improve things."
But she accepted too many families are still living in hotels.
The current housing allocation system gives priority to certain survivors, including bereaved households or those with disabilities or young children.
But it means at least 92 households have not had the opportunity to bid for housing, despite Theresa May promising all survivors would be rehoused within three weeks of the fire.
Theresa May on fire safety: Sprinklers are not the only issue being looked at since Grenfell
Ms Campbell defended the delay, saying it was crucial that survivors were not rushed, adding: "It's terribly important, I think, that it's fair."
"It's been absolutely awful and for people who were on the phone to people, it's beyond imagining. And yet we're expecting people like that to say 'yes, I like that flat I'll move in next week, I'll have Peter Jones furniture and not something else furniture'," she said.
"We really, really, really want them to move on and to have their own front door and begin the journey – it's going to be a long journey for people to recover. But I kind of think, if you move, you get your house and you can start again, can't you."
It comes after it was revealed at least 1,000 people in the borough are being treated for mental health issues relating to the fire.
Numbers affected are likely to exceed 11,000, health professionals have warned, with the fallout from the tragedy likely to be triggering for others across the country.
Join our commenting forum
Join thought-provoking conversations, follow other Independent readers and see their replies