Grenfell Tower fire: London council to install sprinklers in 25 tower blocks in move to increase resident safety
New measure to apply to buildings of 10 storeys and more
Rachael Revesz
Wednesday 21 June 2017 09:52 Comments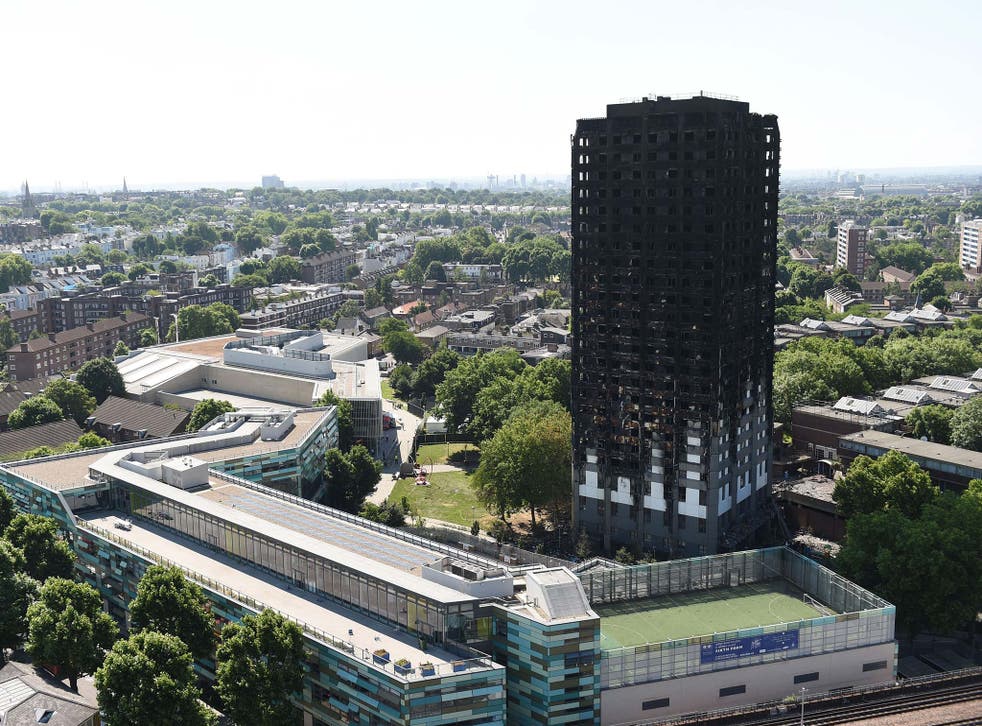 The most populous London council has announced it will install sprinklers in all tower blocks of 10 storeys or above after the Grenfell Tower disaster.
Croydon councillor Alison Butler announced the measure, which will apply to 25 high-rises in the borough, following the north Kensington blaze that killed at least 79 people.
"This evening I have announced that we will install sprinklers in all our @yourcroydon council blocks of 10 storeys and above," she wrote on Twitter.
The measure is the "first phase of the review", said Ms Butler. It is expected to cost around £10 million and will not start until after the council submits a report on the project in September.
A council spokesman said they would be fitted as soon as possible and they hoped the work would be complete within months.
There are 39 high-rises over six storeys in Croydon.
Authorities said the Grenfell Tower death toll was likely to rise over the coming weeks, warning some people would never be identified due to the intensity of the blaze. The 67m-high building housed immigrants, refugees and elderly people, some of whom had physical issues yet lived on the top floors.
In Pictures: Grenfell Tower after the fire

Show all 51
Angry protesters, councillors and residents have questioned why Kensington and Chelsea Council did not provide fireproof cladding on the building during refurbishment in 2016, why the alarms did not work and why there were no sprinklers installed.
English law requires only buildings constructed since 2007 and which are taller than 30m to have sprinklers fitted, and the law was not applied retroactively. Grenfell Tower was built in 1974.
Sprinklers must be fitted to older buildings, however, if a fundamental change is made to the structure or use of the building. The same law applies in Northern Ireland.
Tory councillor Eve Allison warned of a "summer of unrest" and said the disaster, which mostly affected low-income residents and people of colour, "should not have happened in a first-world country". She voiced concern for three nearby high-rises built in the same period: Markland House, Frinstead House and Whitstable House.
Grenfell Tower fire: Hundreds attend peaceful demonstration
The council was found to have run up a surplus of £274m and offered rebates to residents paying the top rates of council tax, which Labour councillors claimed was an effort to bribe voters close to the election.
According to the British Automatic Fire Sprinklers Association, there are more than 3,800 residential housing blocks in the UK that are not fitted with sprinklers, because it is not required by law.
Asked whether there could be another fire like Grenfell, Bafsa's communications adviser, Wendy Otway, told The Independent, "As so many blocks don't have a robust fire protection system, even though most of them have a legally protected system, so, yes, we've been saying that for 20 years."
Many councils around the UK have indicated they will take action after the disaster, but Croydon Council has been the among first to report a definite plan.
London's Southwark Council, referencing the Lakanal fire in 2009 which killed six people, emailed residents to say it was fitting new smoke alarms in all council blocks, adding that "all fire risk works to all high rise and lower/more complex housing were complete" as of February 2015.
Cardiff Council said it would review all safety procedures and "discuss the need for sprinklers" in its nine high rises.
The Welsh Government said sprinklers would be compulsory for all new-builds from 2016 but this would not require older buildings to be refurbished.
In Scotland, a law in 2005 was introduced to fit sprinklers in new high-rise flats, care homes and sheltered housing. In Edinburgh, none of the 44 tower blocks built before then have sprinklers and residents have called for urgent action. Fitting sprinklers has been estimated to cost around £8m.
Register for free to continue reading
Registration is a free and easy way to support our truly independent journalism
By registering, you will also enjoy limited access to Premium articles, exclusive newsletters, commenting, and virtual events with our leading journalists
Already have an account? sign in
Join our new commenting forum
Join thought-provoking conversations, follow other Independent readers and see their replies