Grenfell tower fire: Local pastor says 'tragedies like this will keep happening as long as poor ignored'
Danny Vance says this 'would not have happened in those two £5m flats around the corner'
Caroline Mortimer
Thursday 15 June 2017 15:55 Comments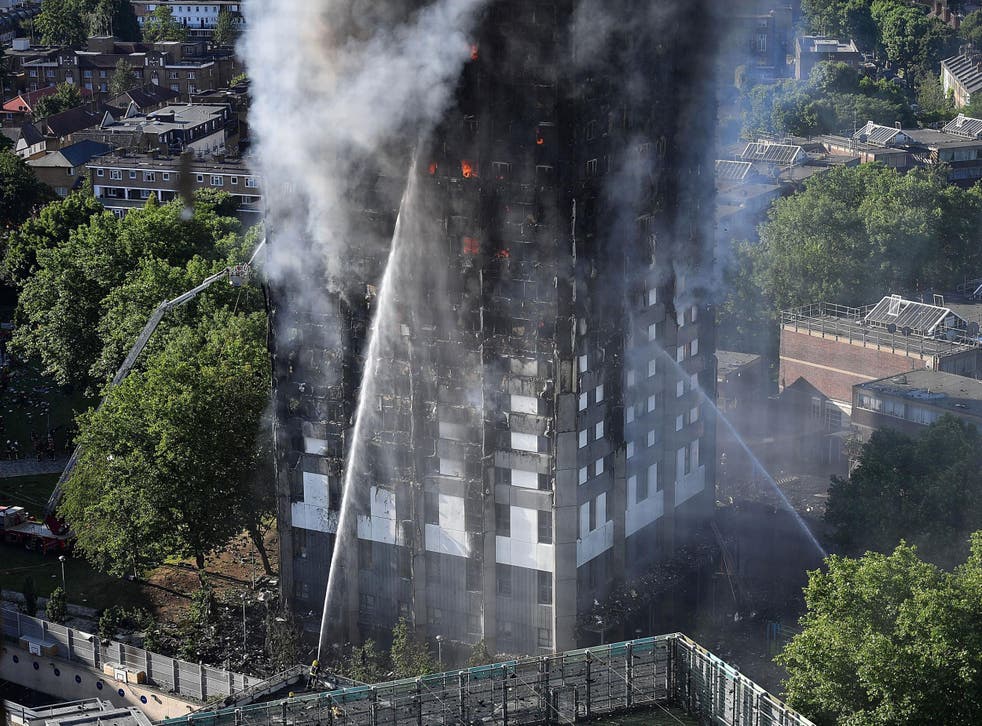 The "disgusting" gap between the rich and poor is to blame for the devastating Grenfell Tower fire which has killed at least 17 people, a local pastor has said.
Witnesses reported hearing screams from trapped residents and watching a mother throw her baby from a 10th-storey window to save it from the flames which tore through the west London tower block yesterday.
At least 74 people were rushed to six hospitals in the city and the death toll is expected to rise as firefighters comb the upper floors of the burnt-out wreck.
Although the exact cause of the fire is unknown, many have pointed to alleged failures in fire safety following a refurbishment in 2016.
Cladding added to the sides of the building to improve the look of the 1970s block has been suggested as the reason the fire was able to spread so quickly.
The fire is believed to have broken out just before 1am before shooting up one corner of the building and engulfing almost its entire upper half in flames.
Danny Vance, an associate pastor at Notting Hill Community Church, said he "wasn't surprised" by the fire as "the poor carry on being ignored".
He told the i newspaper that the fire "would not have happened in those two £5m flats around the corner" and warned that "these things will keep happening if the poor carry on being ignored".
Grenfell tower fire

Show all 42
"In 2012 they were told they were deficient and their fire checks were out of date and they did nothing, they did absolutely nothing," he said.
"This isn't a surprise to me. Anyone who's worked anywhere in the inner city – this isn't a surprise. The poor are constantly neglected."
Pastor Vance attacked the Conservative government's cuts to local council funding.
He said he had previously worked in Peckham, a deprived borough of south London, where he managed a children's and young people's charity.
The Liverpool-born faith leader said: "When I started in Peckham there were 10 youth centres, by the time I left there were two."
The block's residents first raised concerns about safety features in 2012 when a health and safety review found fire extinguishers had not been checked for up to four years.
Another fire risk assessment a year later found they were still more than a year out of date.
In 2016, the Grenfell Tower Action Group wrote a blog post saying "only a catastrophic event will expose" the fire safety issues because their concerns were falling on "deaf ears".
The tower is owned by Kensington and Chelsea Council and managed by the Kensington and Chelsea Tenants Management Organisation.
In a statement released last night, KCTMO said: "We wish to repeat our sincere and heartfelt condolences to all those who have been affected as a result of this devastating event at Grenfell Tower.
"It is too early to speculate what caused the fire and contributed to its spread. We will co-operate fully with all the relevant authorities in order to ascertain the cause of this tragedy.
"We are aware that concerns have been raised historically by residents. We always take all concerns seriously and these will form part of our forthcoming investigations. While these investigations continue with our co-operation, our core priority at the moment is our residents."
Register for free to continue reading
Registration is a free and easy way to support our truly independent journalism
By registering, you will also enjoy limited access to Premium articles, exclusive newsletters, commenting, and virtual events with our leading journalists
Already have an account? sign in
Join our new commenting forum
Join thought-provoking conversations, follow other Independent readers and see their replies