Fire safety in prisons 'a catastrophe waiting to happen', as failings uncovered in every inspection in past year
'The last thing that I want is to be the person saying I told you so', campaigner tells The Independent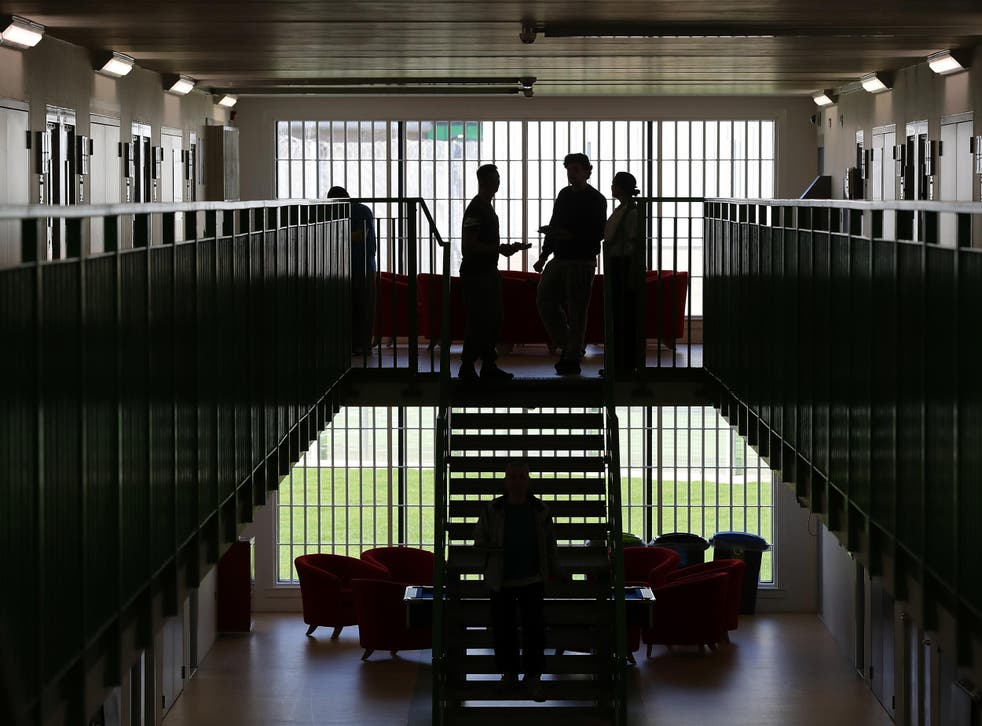 Fire safety in prisons has been labelled "a catastrophe waiting to happen" after it was revealed every prison inspection in England and Wales in 2016 resulted in a non-compliance order.
In the wake of the Grenfell Tower fire, which claimed at least 80 lives, Mark Leech, the editor of the Prisons Handbook, carried out Freedom of Information (FOI) requests asking for the fire safety inspection reports of prisons last year.
All of the 19 inspections resulted in a red-flag, known as a non-compliance notice, and in some cases Statutory Enforcement Notices were then then given to prison governors who failed to take action within 28 days.
There were 2,580 fires in prisons in England and Wales in 2016 – almost 50 a week – according to a Parliamentary written answer given in March this year.
None of the documents — the non-compliance notices, the 28-day warning letters or the Statutory Enforcement Notices — had previously been made public, Mr Leech claimed.
In Pictures: Grenfell Tower after the fire

Show all 51
Mr Leech told The Independent the results of the investigation were "truly shocking", not only for the UK's 85,000 prisoners and 28,000 prison staff, but for the hundreds of thousands of people who visit prisons each year who could be caught up in a fire.
Mr Leech, who published his findings on prisons.org.uk, said he decided to investigate because "Grenfell changed everything."
He said: "I actually hadn't thought much about fire safety in prisons until Grenfell, even though I have been involved in prison campaigns for years.
"When I got the results and every single [inspection] was a failure, it was a real shock, even to a campaigner like me who is used to failings in the system. It's a catalogue of decay and collapse and of course, we urge the Government to take action urgently."
He added: "It is a catastrophe waiting to happen, but what I want is for that catastrophe to be averted. The last thing I want is to be the person saying, 'I told you so'. It can be prevented and that's what I want."
A catastrophe was predicted at Grenfell Tower by residents who warned repeatedly on the Grenfell Action Blog that they believed it would take a major fire for the authorities to take notice of their concerns.
Mr Leech said his contacts in the prison service have warned him of their fears over cladding on prisons following Grenfell, where it is believed flammable panels caused the fire to engulf the building.
"The majority of prisons are clad, one way or another, often to help stop people escaping from drainpipes and staging rooftop protests, so of course it's a real concern."
Mr Leech added: "Of those two and a half thousand fires a year, the majority are minor – but the fridge fire that is suspected to have started the fire on the 4th floor of Grenfell was also minor to begin with."
In the wake of the West London inferno at Grenfell – the UK's deadliest blaze for more than a century – authorities including Kensington and Chelsea Council and the tenants' management organisation were accused of treating poorer people "with contempt".
But Mr Leech stressed he does not think the fire safety failings in prisons are a deliberate way of failing to respect the human rights of prisoners.
"It's not about the Government or prison staff treating prisoners with contempt – in my view, it is about not having enough staff to make sure health and safety is a priority."
While the prison population has increased, £900m has been cut from the prison budget since 2010 and there have been four Justice Secretaries in the last two years, which Mr Leech believes has led to a "disorientated" prison service.
He added that fires were an inevitability of prison life.
"You've got criminals including arsonists, but also many people with mental health problems.
"In that atmosphere, governors have to prioritise staff and bluntly, when it comes to unlocking prisoners for medication, food or visits, or conducting fire safety checks, the latter doesn't even come near the top of the list."
He said he believed such failings would not be tolerated "in any other place than in prisons."
HM Prisons Inspectorate has statutory responsibility for inspecting prisons but not fire safety.
The responsibility for inspecting fire safety in prisons rests with the Crown Properties Fire Inspection Group (CPFIG) which is a part of the Home Office.
Mr Leech said: "It is obvious from the shocking reports that I have uncovered that the theory and practice are light-years apart.
"Continuing Crown Immunity from prosecution for failures in places which have 50 fires a week and which, by necessity detain those with mental health problems and convictions for arson, must now surely end – it is simply inexplicable in this day and age."
A Prison Services spokesperson said: "We take fire safety extremely seriously. All nineteen prisons have undertaken immediate action to address the recommendations made by the inspection group.
"Every single prison across the estate has a mandatory annual fire risk assessment, carried out by a fire safety specialist, and individual fire strategies in place which are closely monitored."
The Ministry of Justice added that none of its prisons have the type of cladding believed to have been used at Grenfell Tower.
Register for free to continue reading
Registration is a free and easy way to support our truly independent journalism
By registering, you will also enjoy limited access to Premium articles, exclusive newsletters, commenting, and virtual events with our leading journalists
Already have an account? sign in
Register for free to continue reading
Registration is a free and easy way to support our truly independent journalism
By registering, you will also enjoy limited access to Premium articles, exclusive newsletters, commenting, and virtual events with our leading journalists
Already have an account? sign in
Join our new commenting forum
Join thought-provoking conversations, follow other Independent readers and see their replies