Grenfell Tower fire: Urgent safety reviews take place at hundreds of tower blocks across UK
Tower blocks refurbished by same contractor among those undergoing checks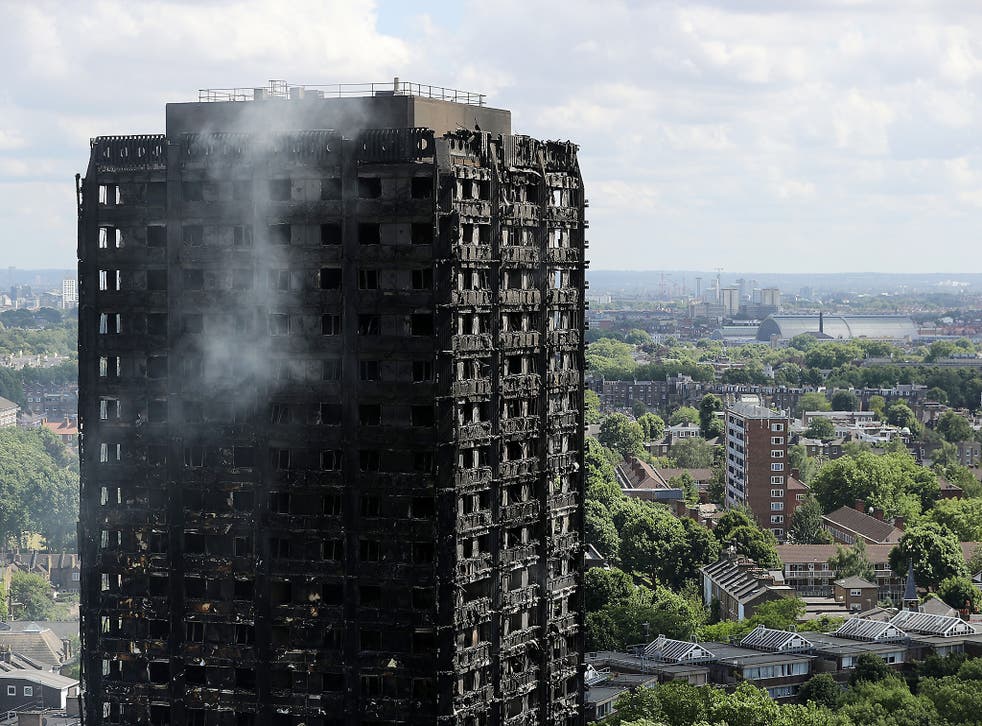 Thousands of homes in tower blocks across the UK are undergoing urgent safety reviews after a fire that claimed at least 17 lives in London, amid concerns that exterior cladding commonly used on such buildings could have led to the horrific speed at which the flames spread.
Residents said they had sounded the alarm over issues dating back several years at Grenfell Tower, which was covered in aluminium panels to improve its "external appearance" last year.
Buildings across the UK renovated by the same firm that installed the tower's cladding will now be reviewed, The Independent has learnt.
Sadiq Khan, the Mayor of London, was among those demanding an immediate review of fire safety at blocks across the country as police launched a separate criminal investigation into the disaster.
On another highly emotional day:
Councils in the City of Westminster and London boroughs of Camden, Newham, Croydon, Ealing and Redbridge are among those mounting urgent reviews of fire safety in tower blocks and flats.
Grenfell tower fire: How the disaster unfolded
Southwark alone, which contains more than 300 tower blocks, said it undergoes its own stringent reviews following another fire that killed three women and three children in 2009.
Theresa May has ordered a full public inquiry into the disaster to establish "exactly what happened" to let the fire spread too far and too fast for families to escape.
The Prime Minister was criticised for failing to face residents in a visit to the site that saw her talk to firefighters and emergency responders , while Jeremy Corbyn made a separate trip to the scene and spoke directly with residents.
"Hundreds of thousands of people in our country live in tower blocks, very high-rise tower blocks," the Labour leader said.
"Every single person who lives in a high-rise apartment today is going to be thinking, 'How safe am I?'"
As firefighters continued to hose down sporadic fires breaking out in the charred building, survivors were directed to emergency rest centres while desperately searching for news of loved ones.
Mr Khan said residents were "understandably very angry" that previous concerns had not been addressed in one of the wealthiest areas of the UK, calling for the inquiry's leading judge to release an interim report over the summer.
Grenfell tower fire

Show all 42
"We need answers now – we can't afford to wait a number of years," he added.
"It's important that the checks I asked the Government to do relation to other tower blocks across London but also across the country are undertaken as soon as possible.
"There are a number of residents who will understandably be confirmed about their safety."
Mr Khan said there were questions over the refurbishment of Grenfell Tower and whether it was done "in a safe way".
"Someone needs to be held accountable – these deaths could have been prevented," a woman called out as he spoke to assembled journalists.
Insulated cladding was added to the outside of the block as part of a £10m refurbishment completed in May 2016, with Kensington and Chelsea Council saying the change would increase energy efficiency and reduce residents' living costs.
The cladding believed to have been used on Grenfell Tower is banned in the US it has emerged, amid revelations that it would have cost just an extra £5,000 for the contractors to apply a fire-resistant version of panelling to the building. There are also reports that fireproof front doors had not been fitted to the flats.
The two-year project was led by the Kensington and Chelsea Tenant Management Organisation (KCTMO) with Rydon Construction and subcontractors Harley Facades, which installed the cladding.
"It is remarkable to see first-hand how the cladding has lifted the external appearance of the tower and how the improvements inside people's homes will make a big difference to their day-to-day lives", said a council statement at the time.
Harley Facades has carried out several other renovations in London, where it is among several firms contracted to update ageing tower blocks frequently surrounded by more affluent housing.
It has installed "rainscreen" cladding on Ferrier Point in Canning Town, which contains 115 flats on 23 floors, six tower blocks in Little Venice, the 23-storey Castlemaine Tower in Battersea and five other 23-storey tower blocks in Camden's Chalcot Estate, among others.
All buildings renovated by Harley Facades are believed to be under review as part of wider checks across London and cities housing tower blocks across the UK.
Camden Council said all social housing blocks were undergoing additional checks, as did authorities including Newham, Redbridge, Ealing, Hounslow, Croydon and Aberdeen.
Westminster City Council said it was specially examining cladding installed by Harley Facades at the Little Venice estate, although there was "no reason to believe" it was the same material used at Grenfell Tower.
"Having reviewed all records we are reassured that the cladding fully complies with all fire and safety requirements and underwent stringent checks," a spokesperson added.
"However, as a precaution, we have instructed independent specialists to carry out urgent checks on the panels and the way they were installed."
Harley Facades confirmed it installed the cladding at Grenfell Tower, saying it did not manufacture the Reynobond/Reynolux aluminium panels and describing them as a "commonly used product".
Ray Bailey, the firm's managing director, said it would cooperate fully with authorities during investigations into the "incredibly tragic incident", adding: "At this time, we are not aware of any link between the fire and the exterior cladding to the tower."
The main building contractor, Rydon, said the refurbishment "met all required building regulations" and safety standards, and was subject to a completion notice issued by Kensington and Chelsea Council.
A later statement welcomed the public inquiry and offered authorities its "full help and support", saying it could not comment further on fire safety issues.
Housing managers KCTMO said it was "too early to speculate what caused the fire and contributed to its spread", adding: "We are aware that concerns have been raised historically by residents.
"We always take all concerns seriously and these will form part of our forthcoming investigations."
Witnesses told The Independent the block went up in flames "like a matchstick", with the blaze appearing to rapidly spread up the outside of the building.
One survivor, 41-year-old Maryann Adam, said a neighbour had banged on her door shortly before 1am on Wednesday morning saying there was a fire in his kitchen.
"I could see it because the flat door was open. There was no alarm," she told the Daily Mail, adding that a faulty fridge was believed to have started the blaze.
Police and the fire brigade have not confirmed speculation over the cause of the fire or a possible role played by the new cladding – comprised of aluminium panels around a plastic core.
Sam Webb, an architect who investigated 2009's deadly Lakanal House fire, said similar aluminium composite material (ACM) cladding was found to be "flammable" elsewhere, being linked to fires in Australia, Russia and the United Arab Emirates.
A coroner's inquest into the previous disaster caused the All-Party Parliamentary Fire Safety and Rescue Group to call for a nationwide review of regulation but successive Conservative ministers have failed to launch the initiative.
Experts also warned that a gap between the cladding and original building beneath could cause a "chimney effect" that creates a rapid airflow and draws flames upwards.
Residents said they had frequently raised fears about fire safety measures in the block, including doubts over advice to stay inside their flats in the event of a blaze, a lack of sprinklers, alarms and adequate lighting in the single escape route.
Judith Blakeman, a councillor who also sits on the KCTMO board, raised the alarm about the National Grid's installation of gas pipes in main stairwells in March.
She told the The Guardian the landlord assured her they would be contained in "fire-rated" boxes, but they were never installed.
The Grenfell Action Group said its warnings had fallen "on deaf ears", listing a series of blog posts directed the council and management organisation.
"It is a truly terrifying thought but the Grenfell Action Group firmly believe that only a catastrophic event will expose the ineptitude and incompetence," said a post predicting a "future major disaster" in November.
Natasha Green, who was looking for her daughter's 12-year-old friend – one of several children missing in the disaster – said local people were "angry".
"This shouldn't have happened – it's 2017, this is Notting Hill," she told the BBC.
"Because they aren't of a certain class or they haven't got enough money they're ignored and this is the devastating result. People have had to lose their lives so they can listen."
Police have confirmed the deaths of at least 17 people but expected the toll to rise as firefighters continued to progress through the charred building, where parts remained too dangerous to enter.
Displaced residents were directed to three rest centres as families frantically attempted to obtain information on loved ones lost in the smoke.
Metropolitan Police Commander Stuart Cundy said a criminal investigation had started to establish whether any offences had been committed.
Only six bodies have so far been officially identified, with the first victim named as Syrian refugee Mohammed Alhajali.
"It may be – and I just don't know – it may be that ultimately some victims remain unidentified," the Commander added.
"This will need to be a lot of work between us and other investigating agencies to establish what has happened and why and that is going to take a considerable period of time."
Join our new commenting forum
Join thought-provoking conversations, follow other Independent readers and see their replies