Mother who lost toddler in Grenfell fire asks: 'Where was the Government'?
'I need to be in one place, I can't move every day. I don't know how long I'll be in the place I'm in tonight,' says Genet Shawo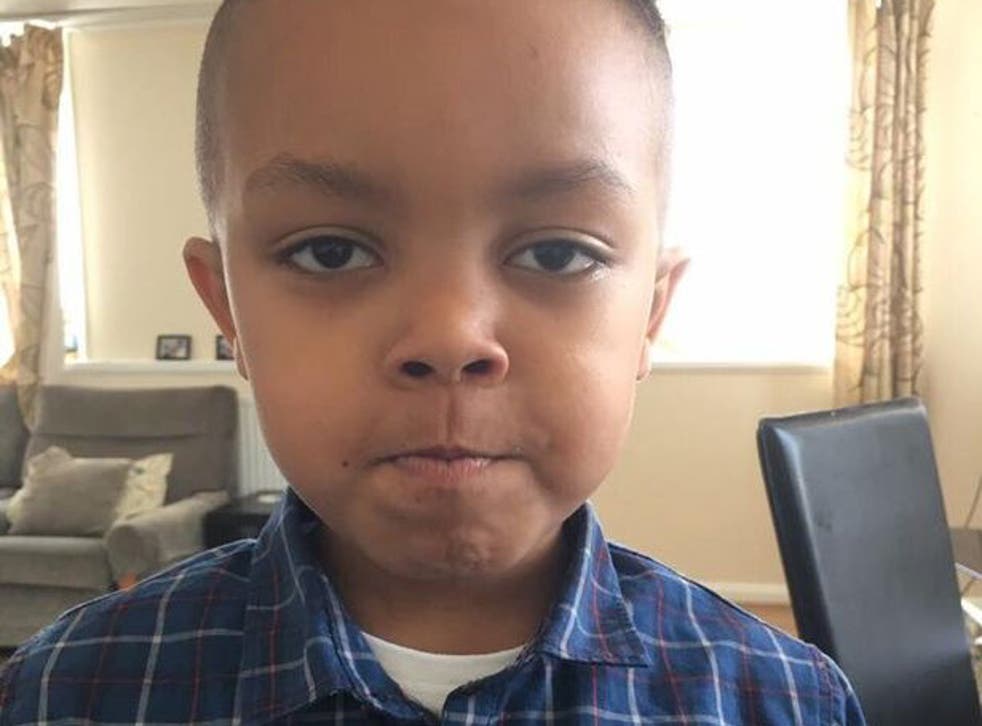 The devastated mother and aunt of a five-year-old boy called Isaac believed to be dead in the Grenfell Tower fire has spoken of their shock and grief after "losing everything" in the disaster.
Genet Shawo, 38, said she has been housed in a different hotel each night with her husband and three-year-old son Lucas since the blaze hit the tower block in west London, where the family lived on the 18th floor.
Her husband has told Lucas that Isaac "has gone to god". The family are now concerned over whether they will be offered suitable accommodation in north Kensington, where her younger son still attends school.
Anger has been directed at the Government after the fire at the 24-storey block on Wednesday morning claimed at least 30 lives – a number expected to rise sharply.
Ms Shawo said emergency service workers had come to the flat at around 1.30am and told them to stay inside.
"Lots of people escaped, but the firefighters said: 'stay inside'," she told The Independent. "I don't know the firefighters' rules, I thought they might know how the building is built. Do they want people to burn alive?"
The terrified family stayed inside for an hour and a half and opened the living room window, she said. At around 3am, neighbours knocked on their door and they went down the stairs together.
"It was very difficult to see, very dark and with smoke," she said. A neighbour was holding Isaac's hand, but the pair became separated and Ms Shawo said she found herself outside with Lucas and her husband. "I said 'where's Isaac', but he said 'I lost him'," she said.
"I need to be in one place, I can't move every day. I don't know how long I'll be in the place I'm in tonight."
She added: "Where is the Government? We can't see them, where are they in this very bad time?"
Grenfell Tower Fire: Theresa May leaves church to chants of 'coward'
Ms Shawo's sister Maseret Chawa, 39, added: "She has lost everything and needs somewhere to stay. Yesterday she was in a hotel near Ladbroke Grove station; today she has to move to another hotel in High Street Kensington.
"It's not local – we have to be around here. We don't have a car."
Under heavy police guard, Theresa May visited St Clement's Church, a community hub that has been offering support to residents since the fire – but was greeted by angry crowds, who shouted "coward" as she left via a side door, again, without facing the public.
Inside the church, the Prime Minister announced a £5m fund for emergency supplies, food and clothing.
The church said it had already received an overwhelming number of donations and was this afternoon asking people to take them to charity centres elsewhere.
A fraught atmosphere filled the streets surrounding the block in the June heat, with survivors waiting for news of loved ones, volunteers offering support and locals speaking of their anger at how such a travesty was allowed to take place.
One distraught relative wore a T-shirt emblazoned with images and details of 12-year-old Jessica Urbano, who is still missing.
Near the police cordon where emergency service workers are working to excavate the remains of the block, a car with flowers on the bonnet carried a printed poster of its owner, now believed to be dead.
Larry Castro, 60, who has lived in Grenfell Tower for 26 years, lived on the 17th floor. He has since been staying in a hotel in Earl's Court.
"The fire spread so quickly, like they'd put gasoline on it," said Larry Castro, 60, who has lived in Grenfell Tower for 26 years and whose flat was on the 17th floor. He has since been staying in a hotel in Earl's Court.
Mr Castro said he was sleeping next to his girlfriend when the flat's smoke alarm went off and they saw fire coming in from the exterior window. They left the building immediately, leaving everything behind.
"The Government, until now they have offered no support. They've given us £500. But that's nothing. We can buy trousers. We said we'll wait, but when will we know? When? They won't give us an exact date."
Reece Saint, 23, who lives two streets away, said: "I don't understand why Theresa May came. She's abandoned all communities like this, not just here. It's different class people that are suffering. I know four or five people from Grenfell Tower who are dead. I don't know anyone who survived."
On a day when angry residents stormed Kensington Town Hall and protesters shouted at the Prime Minister, Mr Saint warned that protests could turn soon violent.
"Now it's all love and prayer, but soon it will turn into, maybe like a war zone. Riots might start, worse than before," he said.
In Pictures: Grenfell Tower after the fire

Show all 51
"It's hugely important for families to stay in the local area. There are tight networks here. There was a promise they would be able to stay in the local area, but how many options there actually are remains to be seen to enable that to happen," said Father Alan Everett of St Clement.
"There's an area that's been evacuated including the surrounding accommodation. Grenfell Tower will eventually have to be demolished, and something else will be built.
"I have no idea how long that will take, so the people who have to be rehoused, that will take some time. Whether people be able to be rehoused on a temporary basis locally is an open question."
Register for free to continue reading
Registration is a free and easy way to support our truly independent journalism
By registering, you will also enjoy limited access to Premium articles, exclusive newsletters, commenting, and virtual events with our leading journalists
Already have an account? sign in
Register for free to continue reading
Registration is a free and easy way to support our truly independent journalism
By registering, you will also enjoy limited access to Premium articles, exclusive newsletters, commenting, and virtual events with our leading journalists
Already have an account? sign in
Join our new commenting forum
Join thought-provoking conversations, follow other Independent readers and see their replies