Grenfell Tower inquiry hears trapped residents were never told to evacuate, even after order was given
Control room did not re-contact 999 callers telling them to get out
Harriet Agerholm
Thursday 13 September 2018 18:03 Comments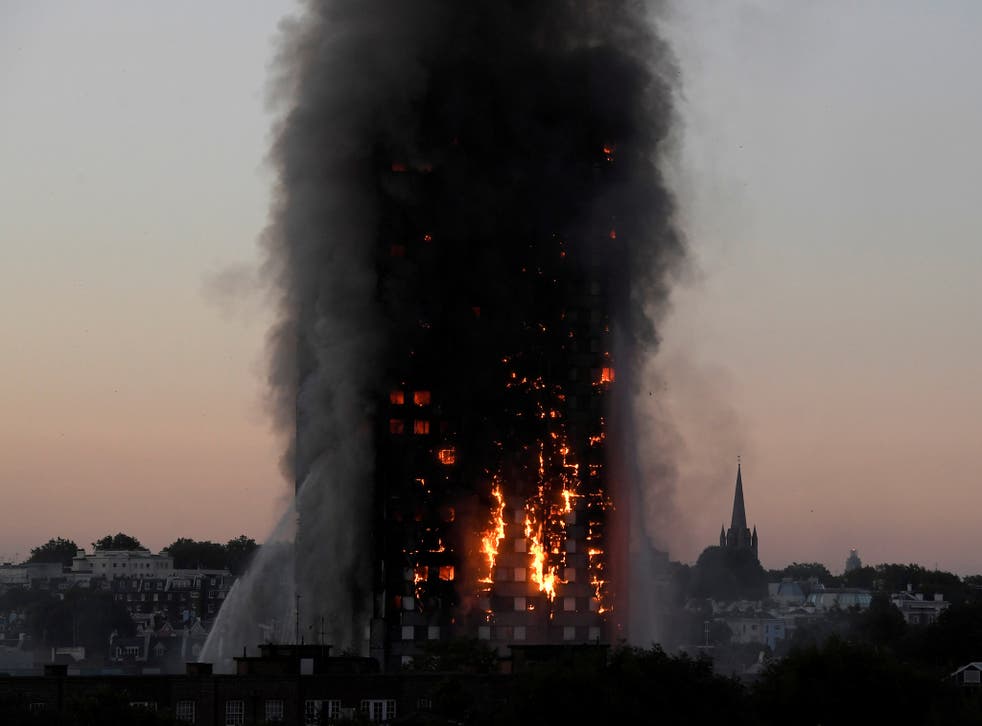 Trapped Grenfell Tower residents instructed by 999 operators to stay in their homes were only told the guidance had changed if they happened to ring again, an inquiry has heard.
Fire chiefs scrapped the standard "stay put" high-rise policy, which relies on a fire staying in its flat of origin, nearly two hours after the fire broke out at 2.47am on 14 June last year.
But the London Fire Brigade had a policy not to re-contact callers, meaning residents told to stay in their homes never received the updated guidance.
Hundreds of calls flooded into the control room in Stratford, east London, on the night of the fire, "overwhelming" the fire service, the public inquiry into the disaster has previously heard.
Labour MP David Lammy responds to documents showing official fire safety warnings were given at Grenfell Tower months before tragedy
Alexandra Norman, the most senior supervisor in the control centre when the fire started, told the probe it would have been "impossible" to ring everyone back.
The inquiry's head lawyer, Richard Millett QC, asked Ms Norman how residents could know an evacuation had been ordered if they were not contacted.
"That is a really hard one, but with the amount of calls we had on that night still coming in and the amount of calls we had already received, we would not be able to continue taking 999 calls," Ms Norman said.
"The hope would be that those callers would be calling us back to say conditions had worsened so we could give them that advice."
Mr Millett asked: "So you were relying on them to call back in?"
Ms Norman replied: "At that point, yes."
The control room, which was initially staffed with 11 people, received more calls requiring fire survival guidance (FSG) that night than in all of the previous decade across the capital.
Other emergency communication rooms across the country began helping out with calls as the situation worsened.
Ms Norman told the hearing at Holborn Bars on Thursday she was "shocked" to see how quickly the fire developed, with a request for 10 engines jumping to 20 within minutes.
She spoke to several eventual victims of the blaze, including Denis Murphy, the 56-year-old father accidentally left behind during a rescue attempt on the 14th floor.
Two of her colleagues spent nearly an hour on the phone to different residents, one of whom was 12-year-old victim Jessica Urbano Ramirez.
Mr Millett asked whether there was a specific reason why an operator would not contact an individual if the stay-put advice changed.
"It would depend on the amount of callers you needed to call back, the amount of calls coming into the control room," Ms Norman replied.
"If you have got lots and lots and lots of calls waiting to be answered and you have taken hundreds of calls already, it would be impossible to search through every single call to find the telephone number to re-contact them."
Grenfell Tower Inquiry: photos of inside the flat where fire began

Show all 18
She had never worked during an emergency where she needed to ring someone back with updated advice, she told the inquiry, claiming her training dealt neither with any changes in survival guidance nor how to manage a major fire with numerous callers.
The inquiry was told the control room did not initially realise how catastrophically the fire had spread because their temporary base in Stratford lacked access to live helicopter footage.
Crews at the scene also did not tell the control room how severely the blaze was escalating until most of the building was engulfed, Ms Norman said.
According to expert fire safety witness Dr Barbara Lane, the "stay put" guidance had "substantially failed" by 1.26am, when flames could be seen at the top of the 23-storey tower block, but the fire service waited more than an hour before ordering an evacuation.
Additional reporting by Press Association
Register for free to continue reading
Registration is a free and easy way to support our truly independent journalism
By registering, you will also enjoy limited access to Premium articles, exclusive newsletters, commenting, and virtual events with our leading journalists
Already have an account? sign in
Join our new commenting forum
Join thought-provoking conversations, follow other Independent readers and see their replies