Barrister takes Home Office to High Court over 'unlawful' decision to deport Afghan man who served in British Army
Exclusive: Hafizzulah Husseinkhel's removal to be contested on basis that he placed his life at risk serving the Crown and that leaving the UK would place him in danger
May Bulman
Social Affairs Correspondent
Wednesday 06 December 2017 02:09 Comments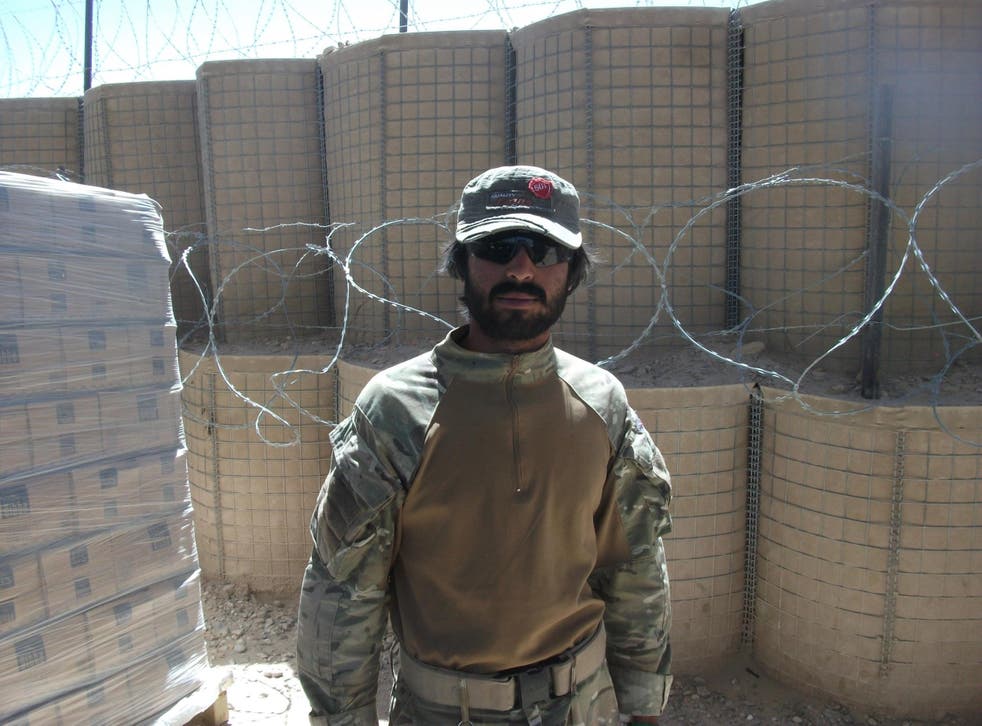 The Home Office is to be challenged in the High Court over its decision to remove an Afghan man who worked as a "loyal and personable" interpreter for the British Army for two years.
Hafizzulah Husseinkhel, 26, was told he would be removed from the UK within days after the Home Office handed him removal papers and placed him in a detention centre near Oxford last Wednesday. He was told he would be put on a flight between 6 and 22 December.
The Independent can now reveal that following legal intervention, a bail hearing for Mr Husseinkhel's case has been listed at the Royal Courts of Justice on Thursday, 7 December. The High Court has granted an injunction preventing his removal from the UK during judicial review proceedings.
The barrister representing Mr Husseinkhel, Paul Turner, of Imperium Chambers, said he would be contesting his removal on the arguments that he placed his life at risk serving the Crown and that leaving the UK would place him in danger. He will also argue that the Home Office has ignored medical evidence outlining that he is mentally and physically unwell and therefore unfit for detention.
Mr Turner told The Independent that while the injunction is good news because it means Mr Husseinkhel will not be removed in the coming days, the Home Office is still acting unlawfully by keeping him in detention, despite there being no order for his immediate removal.
Mr Husseinkhel served on the front line for the British Army between 2010 and 2012, when he worked as an interpreter between British and Afghan officers. He spent several years working for Nato forces prior to that.
He fled from Afghanistan in 2014 after receiving death threats from the Taliban, and arrived in the UK a year later. His father was shot in the leg when he refused to reveal his whereabouts.
If Mr Husseinkhel is removed, he is likely to be sent to Austria, the first country he was registered in as an asylum seeker. But recent changes to the immigration system there mean he is likely to end up being sent back to Afghanistan, where his life would be in danger.
Speaking to The Independent from inside Campsfield House detention centre, Mr Husseinkhel said: "I tried to follow the rules. I waited in Austria for a year, but they told me I couldn't get asylum there because they aren't part of Nato so my work for the US and UK forces didn't matter to them.
"So I decided to come to the UK, because they know me better and I worked for them. I saved British lives. But the Home Office doesn't care. I feel betrayed."
Mr Turner said he and his team would do their "utmost" to secure Mr Husseinkhel's release, but added: "Whilst this good news, it does not detract from the manner in which the Home Office have, in my view, unlawfully detained this mentally and physically sick man.
"They have acted inconsistently and ignored their own guidance, his mental and physical health that was not treated in Austria and that he served with HM Army in Afghanistan for many years putting his and his family's life at risk.
"What compounds his treatment is that it appears his conditions are as a direct result of serving the Crown. Indeed his own father was shot as a result."
It comes after a former senior British army officer who worked with Mr Husseinkhel told The Independent the translator "risked his life" on the front line during the conflict in Afghanistan, and argued the Home Office decision to deport him were "ridiculous".
William Locke, who served for five months as troop leader of a squadron deployed in Afghanistan in 2011, with Mr Husseinkhel working as his interpreter, said the 26-year-old "helped save British lives".
A reference from the regiment echoes this, stating: "Hafizullah has fulfilled his responsibilities to an extremely high standard and has fitted well into the squadron.
UK news in pictures

Show all 50
"He is very popular amongst his Troop who have commented on several occasions on how impressed they have been with his performance, both in terms of his day-to-day activities and his calm approach during enemy engagements.
"He is an enthusiastic, personable and loyal individual."
A petition launched by campaigners demanding Mr Huseeinkhel be allowed to remain in the UK has so far garnered 8,450 signatures, out of a target of 10,000.
The Home Office has told The Independent it does not comment on individual cases.
Register for free to continue reading
Registration is a free and easy way to support our truly independent journalism
By registering, you will also enjoy limited access to Premium articles, exclusive newsletters, commenting, and virtual events with our leading journalists
Already have an account? sign in
Join our new commenting forum
Join thought-provoking conversations, follow other Independent readers and see their replies