Hate crimes almost doubled in schools during Brexit campaign period, figures reveal
Statistics from 30 of England's police forces show a 89% hike in police reports of hate crime and hate incidents among pupils in the month before EU referendum was held
May Bulman
Saturday 06 May 2017 00:58 Comments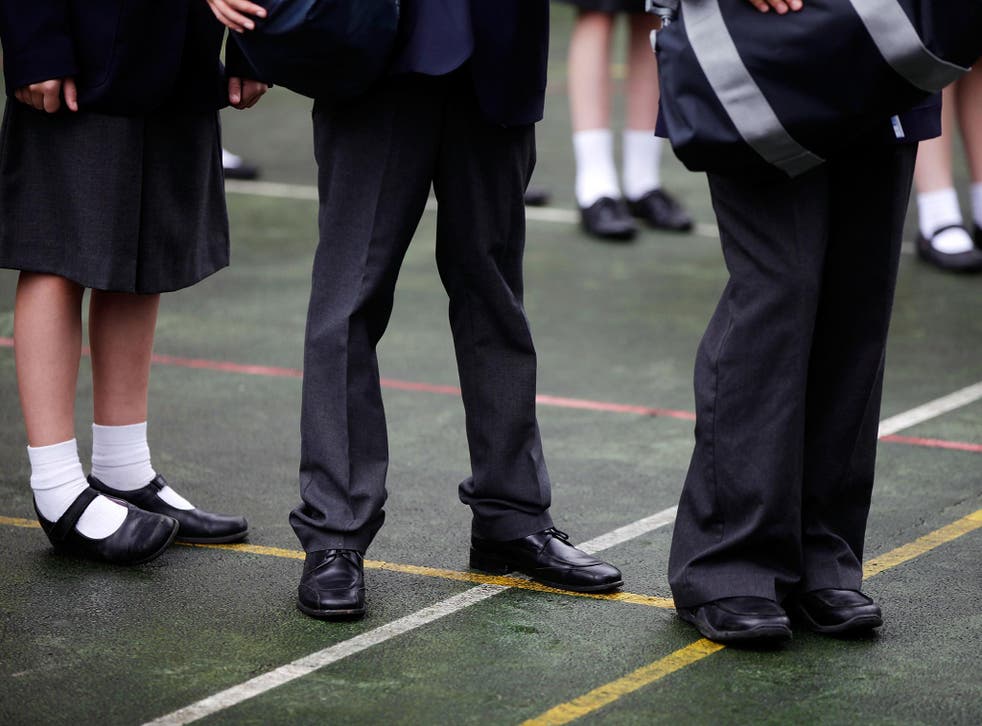 Reports of hate crimes in schools almost doubled during the Brexit campaign, new figures have shown.
There was an 89 per cent rise in police reports of hate crime last May, the month before the referendum was held, compared to the same month the previous year, according to figures obtained by the Times Educational Supplement (TES) through Freedom of Information requests.
The statistics, based on responses from 30 of England's police forces, also show that in the three months surrounding the 23 June vote — May, June and July last year — reported hate crimes and incidents in schools increased by 54 per cent.
During the summer and autumn terms of last year, the period that covered the Brexit vote and the US presidential election, there was a 48 per cent increase in reported hate crimes and incidents in schools, the figures show.
Statistics covering only hate crimes meanwhile show that 683 crimes were recorded in schools in the 30 police force areas in the summer and autumn terms of 2016, marking a 35 per cent rise on the same period in 2015, when 505 crimes were recorded.
The figures are the latest in a series of indications that Brexit campaigning led to increased xenophobia and racism in the UK.
Figures in February showed that the number of hate crimes recorded by regional police forces across England and Wales rose by up to 100 per cent in the months following the Brexit vote.
They also coincide with reports from campaign groups that during the period before the Brexit vote there was a rise in students being subject to anti-Muslim rhetoric from their peers.
Iman Atta, director of Tell MAMA, told The Independent: "These figures seem to corroborate the fact that cases from schools also came into Tell MAMA during the Brexit campaign with students being called names associated with 'refugees' and anti-Muslim rhetoric.
"It seems that the toxification of issues around immigration and migrants also affected the minds of some young people in schools and we know that if people are influenced early in life, those views take a lot of time and investment to challenge.
"It is sad to see that the politics of the Brexit referendum affected and shaped the views of some young people which led to hate incidents and crimes in schools."
The alarming figures come after a recent poll by the Association of Teachers and Lecturers (ATL) found that more than a fifth of teachers (22 per cent) were aware of incidents of hate crime or speech happening in their schools during the current academic year, while 17 per cent were aware of such incidents outside of school.
The small-scale survey, which questioned 345 union members, also found that around 17 per cent believed there had been an increase in hate crime or speech and associated bullying in the last year.
Rosanna Rackley, a supply teacher who works in Birmingham, said she had witnessed a rise in the number of racist remarks students are making to their peers and teachers over the past year.
"I have definitely seen a difference and it did really kick off in 2016," Ms Rackley told TES. "People have been given permission to be racist or homophobic because world leaders are doing it."
She said pupils at one Birmingham secondary school had called a teacher who wore a hijab "Isis" to her face, but the victim had chosen not to report it to the school's senior management team.
"It upsets her but also she realises that these kids have obviously heard something on the media or their parents have been saying something."
Responding to the latest figures, Zak Cochrane, spokesperson for Stand Up to Racism, told The Independent: "Recent figures showing a spike in reported hate crime in school during the referendum campaign is a cause for massive concern.
"The referendum campaign was marred by a toxic and negative debate around immigration which a small minority have taken as a green light to commit racist attacks and hate crimes.
"Schools are a microcosm of what is happening in wider society and there is a very real danger that racist or intolerant views can become normalised among students. Its crucial that schools, teaching unions and antiracist organisations work together to develop a robust strategy to oppose racism and defend multicultural education."
The National Police Chiefs' Council (NPCC) said the numbers were "far too high", particularly when concentrated among young people, adding that central reporting and monitoring functions had been increased in an effort to curb such spikes.
Assistant Chief Constable Mark Hamilton, the NPCC's lead for hate crime, said: "We know that national and global events have the potential to trigger short-terms rises in hate crime and we saw this following the EU Referendum last year.
UK news in pictures

Show all 50
"Police forces took a robust approach to these crimes and reporting returned to previously seen levels. Clearly any hate crime is unacceptable and these numbers are still far too high.
"We have increased the central reporting and monitoring functions to enable us to recognise spikes earlier. This will be used to assess any threats that may arise and inform local police activity.
"Particularly among young people, this kind of abuse undermines the diversity and tolerance that we should be celebrating."
Victims and those feeling vulnerable should report any incident of hate crime to the police on 101 or using the NPCC's True Vision website. In an emergency, always dial 999.
Register for free to continue reading
Registration is a free and easy way to support our truly independent journalism
By registering, you will also enjoy limited access to Premium articles, exclusive newsletters, commenting, and virtual events with our leading journalists
Already have an account? sign in
Join our new commenting forum
Join thought-provoking conversations, follow other Independent readers and see their replies