Plane Stupid climate change activists block Heathrow runway in protest at airport expansion
'No ifs, no buts, no third runway. And we mean it'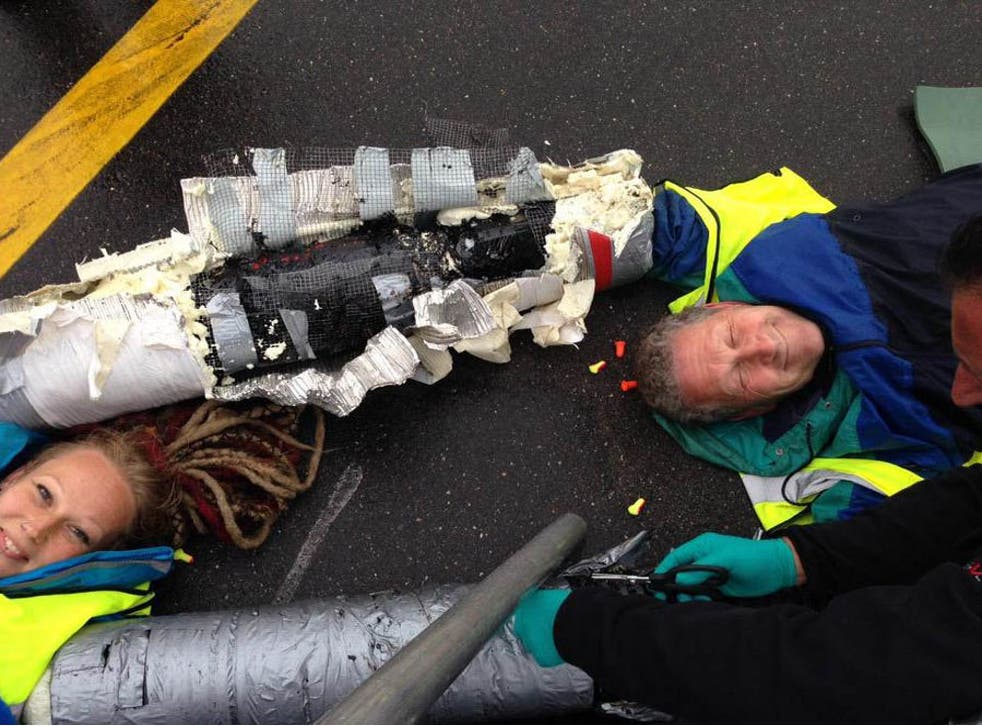 Climate change activists blocked a runway at Heathrow Airport in protest against the proposed third runway.
Around a dozen activists from Plane Stupid entered the runway at 3:30am on Monday after cutting a hole in nearby fence.
Protesters lay on the tarmac covered with blankets and a few chained themselves to a tripod with arm locks according to police.
Ella Gilbert, one of the activists on the runway, said: "Building more runways goes against everything we're being told by scientists and experts on climate change.
"This would massively increase carbon emissions exactly when we need to massively reduce them, that's why we're here.
"We want to say sorry to anyone whose day we've ruined, and we're not saying that everybody who wants to fly is a bad person.
"It's those who fly frequently and unnecessarily who are driving the need for expansion, and we cannot keep ignoring the terrifying consequences of flying like there's no tomorrow.
"No ifs, no buts, no third runway. And we mean it."
At around 6:20am police began to move the protesters off the runway, according to the group's Twitter feed.
A video posted online by the group shows a police officer telling protesters: "As a consequence of you being here, you are causing severe disruption and it will be in the millions of pounds because it will take us a while to remove you.
"The cost will be in the couple of millions. The airport will attempt to make a civil recovery. There are international flights being diverted."
A Heathrow Airport spokesman said: "A group of people have breached the airport perimeter fence and are currently staging a protest on the northern runway."
He added: "We are working closely with the police who are dealing with the incident. Both runways are open although there will still be delays - we are sorry for the disruption to passengers. "Our priority remains to ensure the safe running of the airport."
In pictures: Climate Change Protests Around the World

Show all 6
The Metropolitan Police confirmed that some of the demonstrators had chained themselves together using a so-called tripod.
A spokesman said: "At approximately 3.45am officers were alerted to a number of protesters who had made their way airside at Heathrow Airport.
"A small number of these protesters are believed to have chained themselves to a 'tripod'.
"Officers are in attendance."
Additional reporting by PA
Register for free to continue reading
Registration is a free and easy way to support our truly independent journalism
By registering, you will also enjoy limited access to Premium articles, exclusive newsletters, commenting, and virtual events with our leading journalists
Already have an account? sign in
Register for free to continue reading
Registration is a free and easy way to support our truly independent journalism
By registering, you will also enjoy limited access to Premium articles, exclusive newsletters, commenting, and virtual events with our leading journalists
Already have an account? sign in
Join our new commenting forum
Join thought-provoking conversations, follow other Independent readers and see their replies