Help The Hungry: Teenage volunteers pitch in to sort goods for some of London's poorest families
Lizzie Edmonds meets volunteers from an Acton estate helping with food parcels during the coronavirus lockdown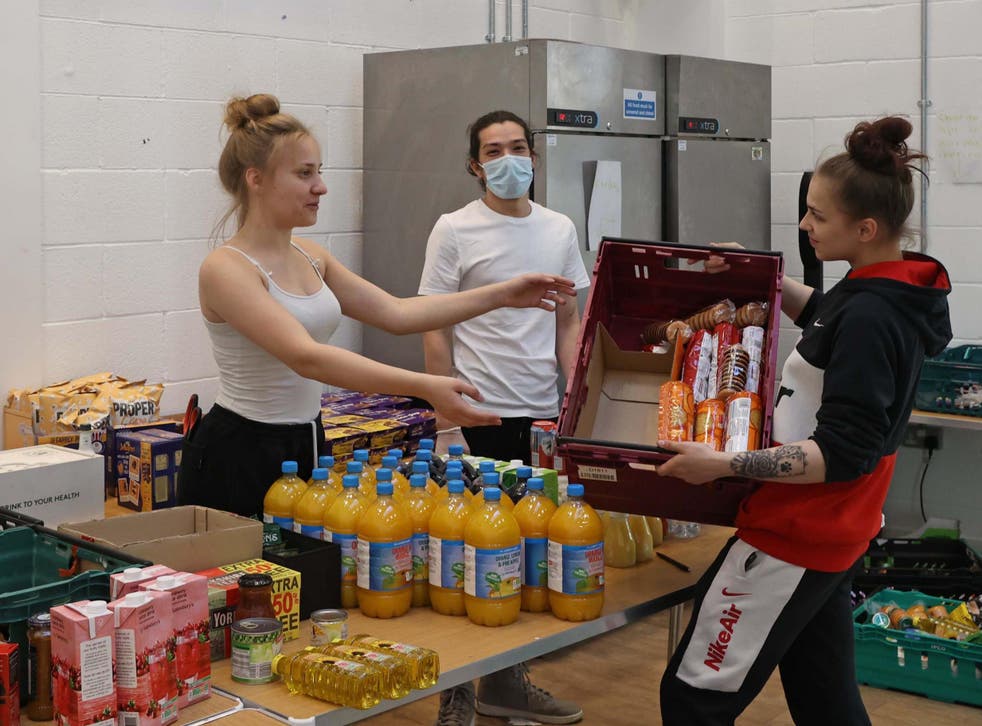 Tucked beneath a development of luxury flats in west London is a hive of community activity with some unexpected stars helping to feed families who have found themselves with nothing during the coronavirus crisis.
Twice a week, a team of young volunteers – most of whom live on the challenging South Acton council estate – have been volunteering to sort goods from The Felix Project, our Help The Hungry campaign partner, into boxes, which are then handed out to some of London's poorest families.
The team, lead by Colin Brent (a youth worker at Ealing Council), work from a small space adjacent to the Bollo Brook Youth Centre.
Earlier this year the centre, which has been credited with reducing knife crime in the area, was moved into the space as part of an £800m regeneration project.
The South Acton council estate was rebranded Acton Gardens, with 1,500 private homes built.
Coronavirus fears lead to empty streets and shelves across UK

Show all 15
The move sparked a gentrification row, with new residents complaining the base used by hundreds of vulnerable young people was bringing them "nothing but trouble".
But now, those youngsters – who Mr Brent admits "get a bad press" – are helping London's most vulnerable.
AJ is 15. She lives on the South Acton estate with her pregnant mother, her mother's partner, two brothers – the youngest of whom is two – and her sister in a two-bed flat.
She has been helping since day one because she "would rather help than see other people suffer".
When asked how she found lockdown, she simply replied: "S***. I like working here, but if I am not here I'd have to look after my baby brother."
Lara, 17, moved out of home at 14 and lives on the estate with her grandparents.
She said: "There are a lot of people who are desperate. They need food boxes. It has been a real struggle for a lot of them."
She said young families had been finding it hard – and she'd been keeping some supplies back for them. "I saw some jelly that I'll keep for one mother because I know her kids love it," she said.
Another volunteer at the centre was Caroline Maber, 40, a furloughed travel sales worker.
"I am a busy person normally and I just wanted to see what I could do," she said about signing up to volunteer through a Facebook community group.
Mr Brent, 38, and his team deliver almost 1,000 boxes a week to families on the estate and the nearby area.
When they started at the end of March, they were delivering 30. Each box is packed with goods such as ready meals, fresh fruit, vegetables, tinned goods, nappies, tampons and soap.
On the involvement of the young estate volunteers, he said: "They just want to be involved and have been engaged from the start. I did one call for help at the beginning but they keep coming back.
"They have been incredible and are true stars. Some people are desperate and get aggressive. But they are here, doing what they can."
The Independent is encouraging readers to help groups that are trying to feed the hungry during the crisis – find out how you can help here. Follow this link to donate to our campaign in London, in partnership with the Evening Standard.
Register for free to continue reading
Registration is a free and easy way to support our truly independent journalism
By registering, you will also enjoy limited access to Premium articles, exclusive newsletters, commenting, and virtual events with our leading journalists
Already have an account? sign in
Register for free to continue reading
Registration is a free and easy way to support our truly independent journalism
By registering, you will also enjoy limited access to Premium articles, exclusive newsletters, commenting, and virtual events with our leading journalists
Already have an account? sign in
Join our new commenting forum
Join thought-provoking conversations, follow other Independent readers and see their replies