High-wire wedding: UK couple marry suspended 25 metres off the ground
Meet the Bristol couple risking their lives to say 'I do'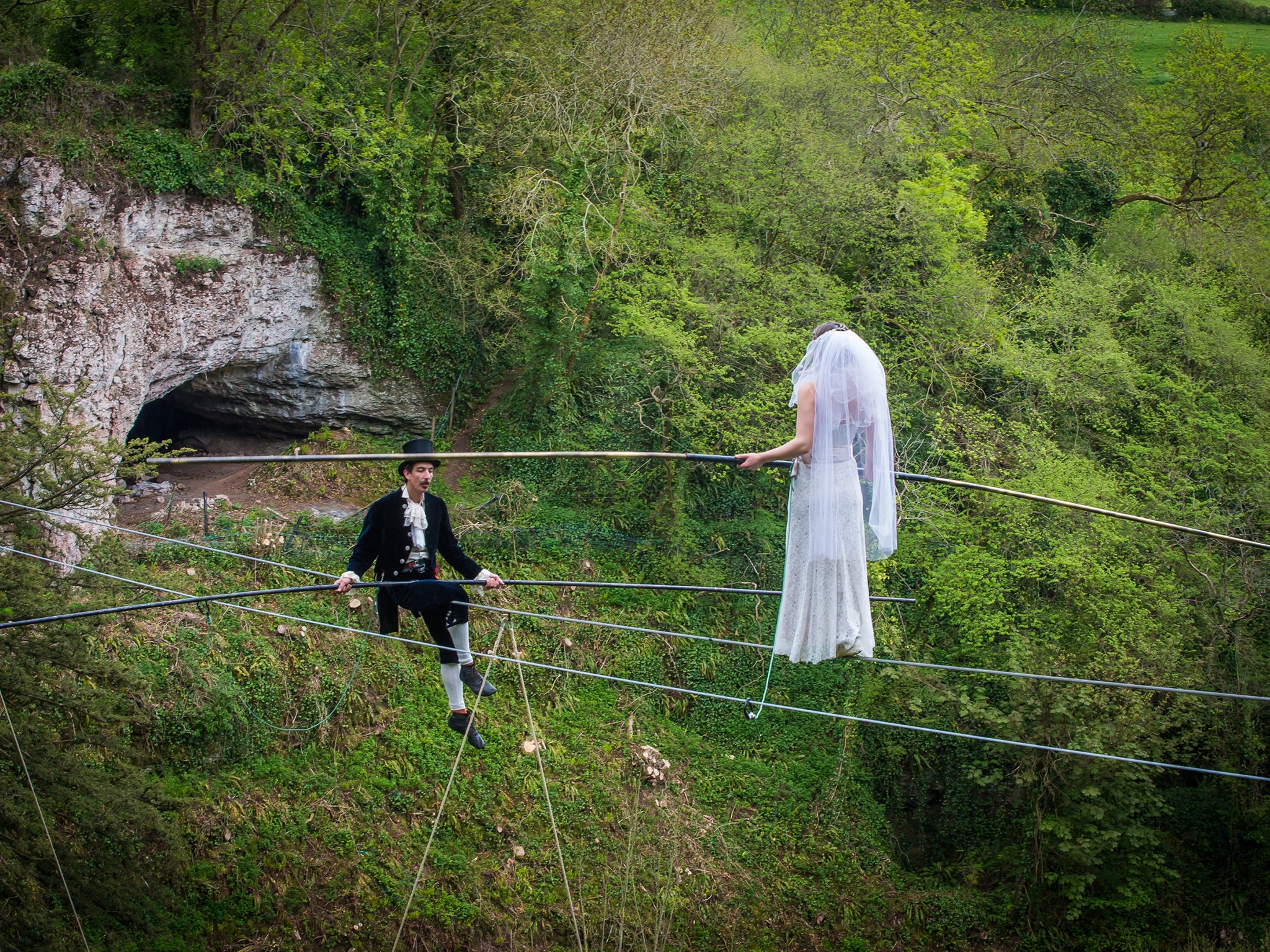 Wedding nerves are natural on the big day. Dangling 25 metres above the ground on a rope when saying your vows, however, may give new rise to the word 'nervous'.
Professional rope walker Chris Bull, 37, and his 25 year-old fiancée Phoebe Baker will spend May Day saying "I do" over the heads of around 100 friends and family nervously gazing from below at the ceremony across a valley at Wookey Hole Caves in Somerset.
The couple will tie the knot on a wire stretched 75 metres across, starting at opposite ends of the rope and meeting in the middle.
A ringmaster friend ordained to marry couples will conduct the ceremony from the ground with a megaphone, and the couple have hired the Wookey Hole theatre on site for a cabaret-style reception. Even the exchange of rings will be conducted in the air thanks to a rope pulley.
Chris Bull told The Independent: "We've chosen to work with a safety wire, although I can and have performed without, many of our friends and family have said that they would be happier to see us clipped in.
The ceremony may be a bit hard to swallow for Phoebe's mum, however, who suffers from vertigo.
"Phoebe's Mum is a little nervous as she is not over keen on heights but her father, Rupert Baker, has helped us rig this and other high wires. Phoebe thought it was a crazy idea but to my surprise she was actually up for it!
"It's not actually legal to sign the register in the air so we have arranged to have a small ceremony in the caves beforehand and then the main wedding event on the wire," he added.
"I proposed to Phoebe in Burma and one of the first conversations we had about the wedding was me saying how cool it would be to get married on a high wire.
"I'd been a rope walker for 12 years and it was something I'd always dreamt about, but I never thought I'd find a wife to agree!"
Bull's fiancée Phoebe Baker began practising on a low wire four years ago when the couple met, and has had lessons ever since in preparation for the event.
Baker, who lives with her fiancée in an original 1930's showman's caravan in Hanham, Bristol, said: "Both of our families are really supportive of our circus lifestyle and we're looking forward to celebrating a special day together."
Wookey Hole Caves is one of the UK's most popular tourist attractions and one of the largest show cave systems in Europe.
Joint-owner and director Daniel Medley said: "We have held several weddings at Wookey Hole in the caves themselves but never any as ambitious and unique as Chris and Phoebe's."
Join our commenting forum
Join thought-provoking conversations, follow other Independent readers and see their replies