Home Office refusing asylum to growing number of child slavery victims, figures show
Ministers accused of failing to protect young victims of slavery after number of asylum refusals to people trafficked as children doubles in three years
May Bulman
Social Affairs Correspondent
Tuesday 14 August 2018 22:51 Comments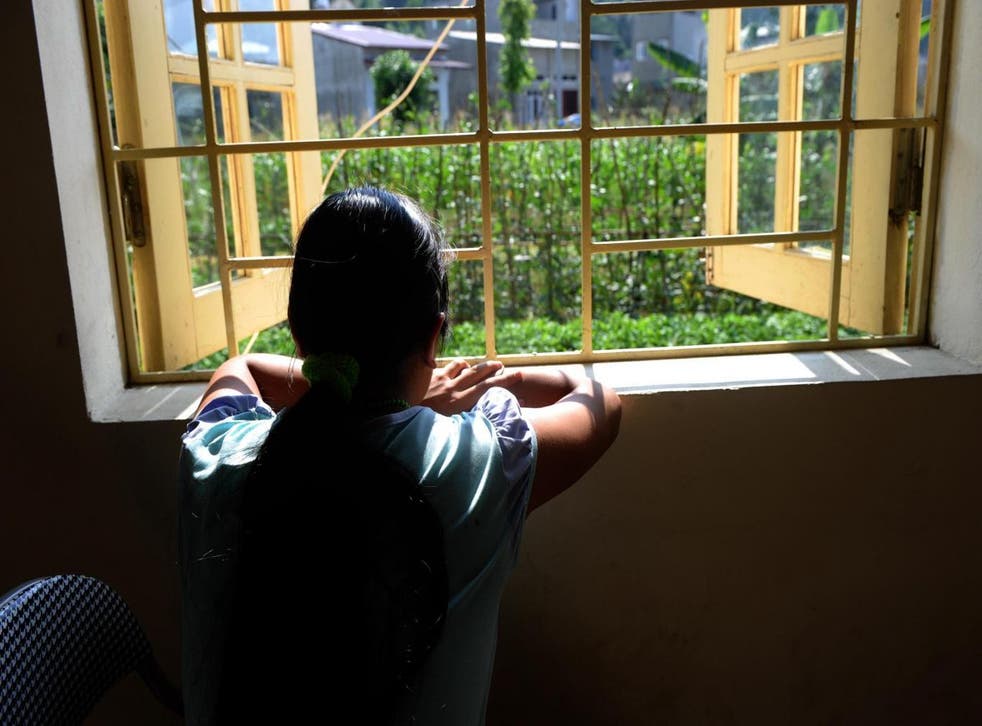 The Home Office is denying asylum to an increasing number of former child slavery victims despite fears many will fall back under the control of their traffickers if they are deported, figures show.
Ministers have been accused of failing to protect and support young victims after new data showed that from 2015 to 2017, the government denied asylum to 183 people trafficked or enslaved as children – double the total for the previous three years.
The findings, obtained by Thomson Reuters Foundation, will fuel growing concern that the government is failing to protect people in Britain who have escaped slavery and exploitation. Charities warn the harsh immigration rules may dissuade other young trafficking victims of coming forward.
The figures come after The Independent reported in June that a Vietnamese man trafficked to Britain by a drugs gang was facing deportation, prompting fierce condemnation of the government's "outrageous" treatment of people who have escaped exploitation.
Catherine Baker, policy and campaigns officer at ECPAT UK, which supports child trafficking victims, said the new figures highlighted a significant and growing protection gap for child victims of modern slavery.
"With so many young victims being refused asylum, these extremely vulnerable young people are often returned to their countries of origin where we know that there is a risk of them being retrafficked," she told The Independent.
"There is no grant of leave to remain in the UK provided for child victims. Under the current system, a child is usually given limited leave to remain until the age of 17-and-a-half or 18."
In June, a court ruled that the Home Office had broken the law by failing to protect a Vietnamese child trafficking victim who subsequently went missing.
In a separate case, a 19-year-old Vietnamese orphan who was trafficked to the UK at the age of 10 and enslaved in a cannabis farm was threatened with removal earlier this year, prompting a large scale campaign for the Home Office to reconsider the decision.
Previous research by ECPAT found that 28 per cent of trafficked children went missing from care at least once, with many intentionally choosing to disengage from statutory services at 18 because of fear of detention and forced removal.
"Fear of immigration authorities and the prospect of removal turns many of these young people away from seeking support from public services, leaving them more vulnerable to further exploitation and abuse," Ms Baker added.
"Many of the young people ECPAT UK supports find the immigration process extremely stressful and burdensome, and express that living with uncertainty over their status acts as a barrier towards their recovery."
In Britain, 2,118 children suspected to have been trafficked – mostly trapped in sexual exploitation, domestic servitude or forced labour – were referred to the government last year, up 66 per cent on 2016 and marking the highest annual number on record. The most common nationalities after British were Vietnamese, Albanian, Sudanese and Eritrean.
The latest figures come following accusations from MPs that the government "has no idea" whether its crackdown on modern slavery is working, ​with no measure of success for a nationwide strategy and inconsistency between regional police forces.
UK news in pictures

Show all 50
A report by the Public Accounts Committee earlier this year found that the government has not calculated the number of modern slaves in Britain, after making an estimate of 10,000 to 13,000 in 2013, or how much money it has spent combating the issue.
A separate report in December 2017, by the National Audit Office, found that Theresa May's modern slavery strategy was both "unclear" and "inadequate", warning that there remained "much more to do" to ensure victims in the UK are protected.
A Home Office spokesperson said: "This government is committed to supporting victims of trafficking, including children, and the introduction of the Modern Slavery Act 2015 has ensured we protect those in need and target those committing this abhorrent crime."
Register for free to continue reading
Registration is a free and easy way to support our truly independent journalism
By registering, you will also enjoy limited access to Premium articles, exclusive newsletters, commenting, and virtual events with our leading journalists
Already have an account? sign in
Join our new commenting forum
Join thought-provoking conversations, follow other Independent readers and see their replies