Stop 'inhumane' deportation of husband who cares for disabled British wife, Home Office urged
More than 13,000 people back calls for Government to allow American national Dale McIntier, 62, to stay in UK with disabled wife Sandra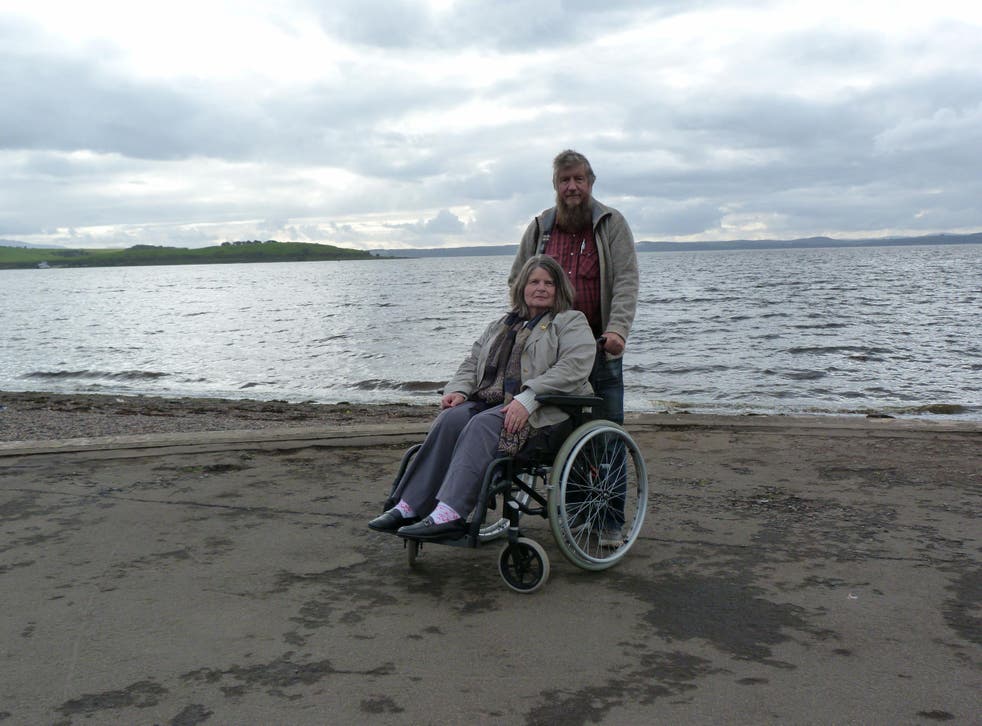 The Home Office has been urged not to deport an American man whose disabled British wife of seven years is reliant on him to provide her care.
Dale McIntier, 62, came to the UK on a visitor's visa with his wife Sandra in April 2015, and has been told he must return to the US in order to reapply for a spousal visa, or face deportation.
If he goes back to the US, Ms McIntier would be left without a carer and having to rely on state support, which the couple and their supporters warn would have "devastating affects" on her.
A 38 Degrees petition, created after The Independent reported on the case in August, is now calling on the Home Office to stop the "inhumane" deportation of Mr McIntier. It has so far garnered more than 13,400 signatures.
It states: "Sandra McIntier is severely disabled and requires round the clock physical and mental care. If her husband was deported it would have devastating affects on her.
"Dale McIntier would suffer extreme mental health issues if he had to leave his wife without the love and stability that she needs.
"It would hurt our Government purse to deport Dale. Tax payers would have to pay for his flight home and also round the clock care for Sandra. It makes no sense to deport a beloved husband who is a wonderful part of the community."
The couple initially came to the UK on a visitor's visa to medical treatment, with a plan to stay for six months and then return to their home in Idaho. But this plan changed after five months when Ms McIntier, who already suffered from a genetic bone condition, was diagnosed with a fast-growing cancer which led to her requiring round-the-clock care.
They decided that it would be best to stay in the UK for the foreseeable future to ensure her health needs could be met, so Mr McIntier applied for a spousal visa before his visitor status ran out in October.
However, five months later he received a letter from the Home Office giving him five days to leave of the country. It stated that the couple had failed to provide relevant paperwork from a doctor stating Ms McIntier's inability to travel, a requirement they say they had not been aware of.
After mounting an appeal against the decision, the couple were told by a court in a first-tier tribunal that Mr McIntier must return to the US in order to reapply for a spousal visa.
The couple's solicitor, who did not want to be named while the appeal is still ongoing, told The Independent the judge had not applied the law in the right way.
Under immigration law, spousal visa applications must be submitted from outside the UK. But the solicitor said the "compelling circumstances" of the case mean the Home Office should allow the appeal to take place outside such laws, allowing him to stay in the UK to care for his elderly wife.
Speaking to The Independent, Mr McIntier said: "We just hope this petition will make a difference. We're lucky to have so many people here who support us.
"Since the weather's turned colder Sandra has been in more pain. She really can't travel much. We can hardly take a day out without it wiping her out for sometimes days afterwards.
UK news in pictures

Show all 50
"She goes into depression really easily. She has no intention of going back to the States. Ever since we got married we've just needed each other. If I do have to leave, we'll probably both be in depression.
"It takes a certain amount to run a household. She would need someone to come in and take care of her. She needs me here pretty much 24 hours a day."
The couple is currently awaiting a decision on their appeal. The Home Office said it would not comment on ongoing cases.
Register for free to continue reading
Registration is a free and easy way to support our truly independent journalism
By registering, you will also enjoy limited access to Premium articles, exclusive newsletters, commenting, and virtual events with our leading journalists
Already have an account? sign in
Register for free to continue reading
Registration is a free and easy way to support our truly independent journalism
By registering, you will also enjoy limited access to Premium articles, exclusive newsletters, commenting, and virtual events with our leading journalists
Already have an account? sign in
Join our new commenting forum
Join thought-provoking conversations, follow other Independent readers and see their replies