12,000 homeless people missing out on vital drug and alcohol treatment as preventable deaths soar, report finds
Campaigners warn of 'health crisis on the streets'
May Bulman
Social Affairs Correspondent
Wednesday 29 January 2020 08:06 Comments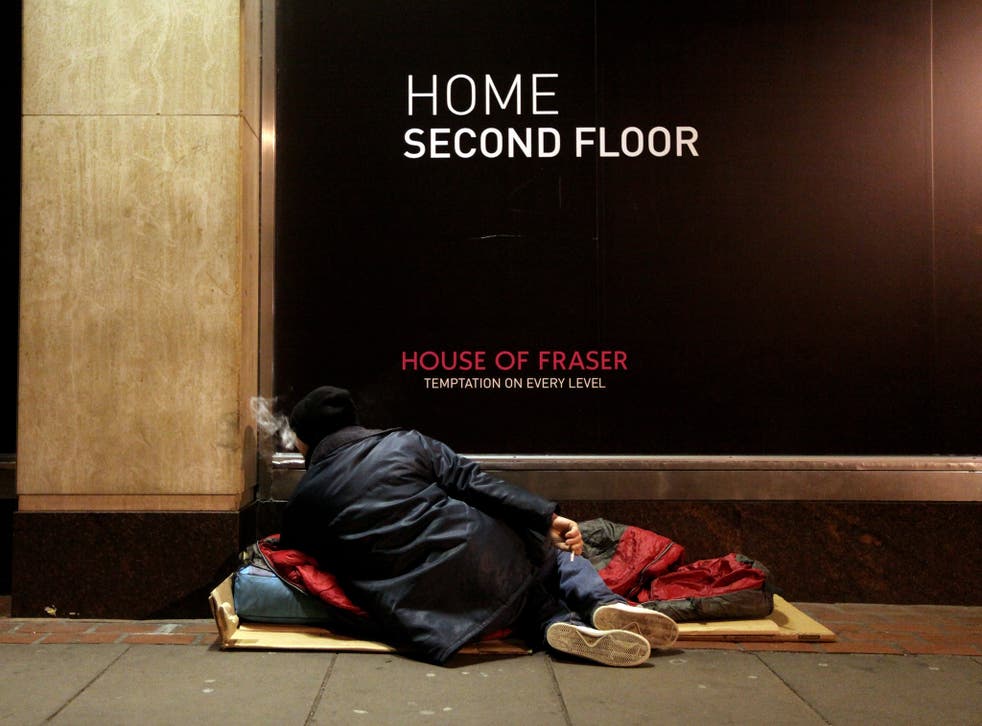 Thousands of homeless people are missing out on vital drug and alcohol treatment as preventable deaths soar, according to new research that has prompted warnings of a "health crisis on the streets".
A data analysis by St Mungo's indicates that at least 12,000 people sleeping rough or those at risk of doing so did not access life-saving drug and alcohol treatment in 2018 – a year in which 294 homeless people died by drug poising, an average of six each week.
Figures published by the Office for National Statistics (ONS) last year revealed the number of drug deaths among homeless people in 2018 had increased by 135 per cent in five years, and 55 per cent in the previous year alone – accounting for more than half of all homeless deaths.
The new report finds that, while the number of people sleeping rough who need drug and alcohol treatment has risen sharply, the number of people presenting to treatment services recorded as having "no fixed abode" has risen at a much slower rate.
From this, St Mungo's estimated that 12,000 homeless people in England did not access vital drug and alcohol treatment and support who needed it last year.
The Stats: Homelessness in the UK

Show all 10
Meanwhile, funding for drug and alcohol services has been cut by more than a quarter since 2015-16, amid concern this could reduce further if ministers go ahead with plans to remove the public health ring-fenced grant – the sole source of public funding for substance misuse services.
The study also found that prevalence of substance misuse among rough sleepers appears to be growing, with six in 10 people sleeping rough now suffering from a drug or alcohol problem, up from five in 10 people four years ago.
It comes amid a steep rise in rough sleeping over the past decade, with more than 4,600 people sleeping rough in England on any single night in 2018, an increase of 165 per cent since 2010. Alarmingly, experts say this data underestimates the scale of the problem.
In response to the alarming rise, The Independent has launched The Homeless Fund, which will finance desperately needed services in our drive towards ending rough sleeping in London and addressing the issues that cause homelessness.
Andrew Teale, a former rough sleeper who is now an outreach manager at St Mungo's in Bournemouth and Poole, described how difficult it could be to navigate a "stretched and under resourced" system or drug and alcohol services for rough sleepers, but said when it worked it could "transform lives".
"I spent five years homeless, living for months on a makeshift bed in the woods, going down to the garage at the end of the road to get my alcohol. I was arrested, sectioned, ordered to get treatment many times – but nothing seemed to work," said Mr Teale.
"Eventually I spent 13 months in a local authority rehab and began to rebuild my life, volunteering with people who were homeless. I went on to work in drug and alcohol services, before taking on the role as service manager of the Bournemouth outreach team.
"This is such a vital issue, yet often stigmatised and misunderstood. Having worked and lived with both homelessness and addiction, I know how closely related those experiences are, and how difficult it can be to navigate a stretched and under resourced system. When it works, people's lives are transformed."
The government is being urged to act following the report, which was collated from new data analysis and in-depth interviews from across the country and is said to be the most comprehensive investigation into the links between rough sleeping and substance use for 20 years.
St Mungo's called on ministers to deliver on their commitment to join up health and housing in a new cross-government strategy to end rough sleeping, by investing in drug and alcohol services as well as launching a comprehensive review of every homeless death.
Howard Sinclair, chief executive of the charity, described the issues as a "neglected health crisis that requires rapid action", warning that people who have already faced traumatic experiences throughout their lives were being turned away from life-saving treatment "just when they need it most".
He continued: "Not only are hundreds of people dying from drug poisoning but even more are living in terrible conditions on the streets whilst tackling very serious ill health. This needs urgent government action. Now is the moment for ministers to show they are serious about the commitment to join up health and housing to end rough sleeping once and for all."
The government has been approached for comment.
Register for free to continue reading
Registration is a free and easy way to support our truly independent journalism
By registering, you will also enjoy limited access to Premium articles, exclusive newsletters, commenting, and virtual events with our leading journalists
Already have an account? sign in
Join our new commenting forum
Join thought-provoking conversations, follow other Independent readers and see their replies