Homelessness surges 34% under Tory Government, with 100,000 more families losing their home compared with 2010
120,000 children are living in temporary homes as councils illegally place families in unfit accommodation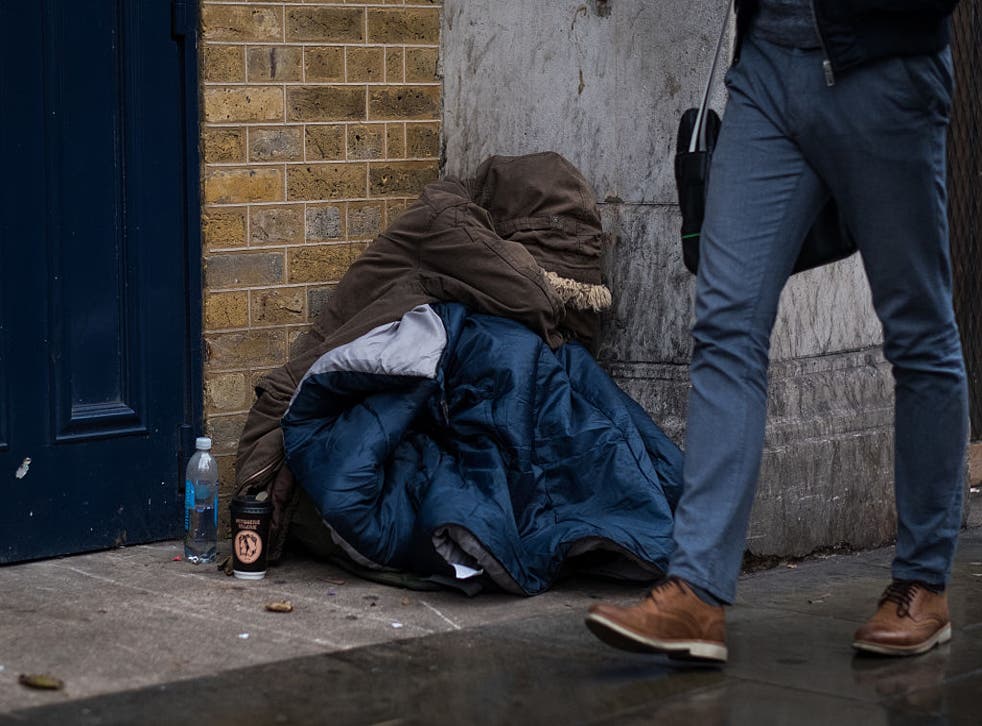 The number of families being declared homeless has rocketed by more a third since the Conservatives took power in 2010, analysis of new official statistics by The Independent has revealed.
Between April 2016 and March 2017, 59,100 families were declared homeless by local authorities in England – a rise of 34 per cent on the same period in 2010-11.
The statistics paint a bleak picture of the UK housing crisis and the impact a lack of decent, affordable homes is having on thousands of families.
There has been a 60 per cent increase in the number of families being housed in insecure temporary accommodation. In particular, bed and breakfast-type hotels are increasingly being used to house families for long periods of time as local councils struggle to find them proper homes to live in.
There are now 77,240 families in England currently living in temporary accommodation – up from 48,240 just six years ago. Of these, almost fourth-fifths (78 per cent) are families with children, meaning there are currently 120,500 children living in insecure, temporary homes.
Of those being housed temporarily, 6,590 households are living in B&Bs, including 3,010 families with children. Almost half have been living in this type of accommodation, which often sees families crammed into one room and forced to share limited bathroom and cooking facilities with strangers, for more than six weeks.
This is illegal under the Homelessness (Suitability of Accommodation) Order 2003, which banned local authorities from housing families with children in B&Bs for more than a six-week period.
The stark new statistics are likely to pile more pressure on government ministers after the Grenfell Tower disaster prompted widespread criticism of the Conservatives' approach to affordable housing.
The causes of homelessness

Show all 7
Critics have accused the Government and Tory councils of causing a huge loss of genuinely affordable homes and deprioritising those living in social housing, while four former housing ministers are said to have failed to act on a report raising concerns about the safety of tower blocks.
Conservative housing policy since 2010 has prioritised the privatisation of social housing, both by extending the Right to Buy scheme and by forcing councils to sell off their most valuable council homes to private individuals and companies.
At the same time, ministers have mandated that social homes available at heavily discounted rents should be replaced by a new type of affordable housing that has more expensive rents much closer to market rates.
The newly released data shows a huge rise in the number of people being made homeless as a result of losing their social home. In the past 12 months, 4,010 families were declared homeless after losing a home rented in the social sector – a 56 per cent increase in six years.
The number of council homes in the UK has fallen by 165,000 since 2010 alone, with almost a third having been sold to private owners under the Right to Buy scheme.
As The Independent has previously revealed, ethnic minorities in England have borne the brunt of the country's housing crisis and spiralling homelessness.
The number of BAME families being accepted as homeless has increased by 58 per cent in six years, while for households categorised as "White" the figure is much lower, at 34 per cent.
High Court rules proposed benefit cap as unlawful and illegal
Commenting on the findings, Anne Baxendale, director of communications, policy and campaigns at housing charity Shelter, said: "The Grenfell Tower tragedy has left people without a home and living in a dire situation, it has also thrust the issue of homelessness into the spotlight.
"While Shelter is calling for those affected to be placed in good quality temporary accommodation nearby, and hope officials make good on their promise to do so, we know many local authorities simply don't have enough affordable accommodation for those on low incomes.
"It's a similar story across all London boroughs and the country more widely, so it's no surprise that today's homelessness stats reveal the problem is getting worse nationally, with more households becoming homeless every year."
The statistics revealing soaring homelessness were released on the day the High Court ruled that the Conservatives' flagship benefit cap policy is unlawful because it discriminates against single parents with young children. The same court has previously ruled that the policy also illegally discriminates against disabled people and their carers.
Homelessness charities report that the cap, together with other Tory welfare reforms, is a major cause of families losing their homes.
"Many of the families that come to Shelter for advice say the benefit cap is pushing them into homelessness," said Ms Baxendale. "Many desperately want to work but can't make up the required hours of work a week due to childcare issues or insecure work like zero-hours contracts.
"That's why we're pleased today's High Court judgment, which Shelter provided evidence for, has found that the cap discriminates against lone parents with children under two. In the words of the judge, 'real misery is being caused to no good purpose'. We are calling on the Government to scrap the cap immediately, before it pushes even more people into homelessness."
Labour said the latest figures should make government ministers "hang their heads in shame".
John Healey, the shadow housing minister, said: "These shocking figures are a direct result of decisions made by Conservative ministers: a steep drop in investment for affordable homes, crude cuts to housing benefit, reduced funding for homelessness services, and a refusal to help private renters.
"It is simply unacceptable that in a well-off country like ours families do not have a safe, stable and secure place to live.
"The unprecedented fall in homelessness under Labour shows that government can make a positive difference to the scandal of rising homelessness. Conservative ministers should hang their heads in shame."
A Department for Communities and Local Government spokesperson said: "This Government is determined to help the most vulnerable in society, and is committed to ensuring people always have a roof over their heads.
"Statutory homelessness acceptances are less than half the 2003 peak. However, the Government is committed to do more to prevent more people becoming homeless in the first place.
"The Government is investing £550m to 2020 to tackle homelessness and rough sleeping. This includes £20m for Homelessness Prevention Trailblazer areas to trial new initiatives to prevent homelessness.
"In addition, the Government backed and is now implementing the Homelessness Reduction Act, which requires councils to provide support to people earlier."
Join our new commenting forum
Join thought-provoking conversations, follow other Independent readers and see their replies