'How will Santa find us?': The families spending Christmas homeless
More than 131,000 children to spend festive season in temporary accommodation, says Shelter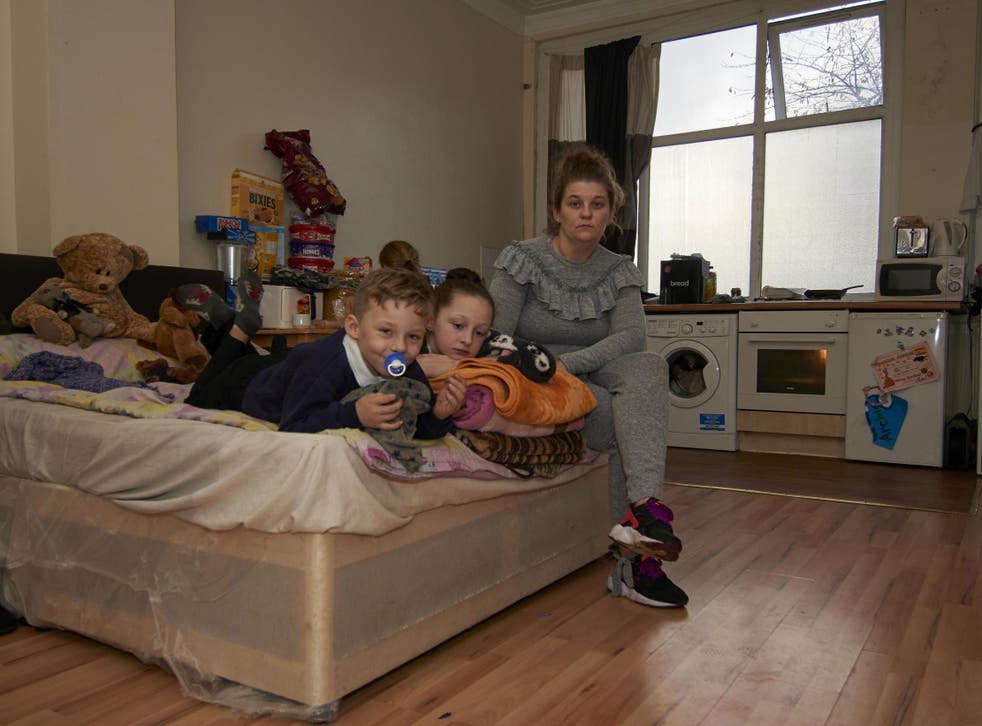 Carly Stutter's three children haven't finished opening last year's Christmas presents. With a family of four living in one room, there is little space for possessions, so toys lie unused in boxes in a friend's shed.
Now, the family are facing their second Christmas in a temporary accommodation – their fourth makeshift home in just under two years.
"It's a shambles. I hate it," Stutter, 30, tells The Independent. "We'll try to make it the best we can for them, me and my mum. They'll still get a Christmas dinner, but we eat on the bed. It's horrible."
More than 131,000 British children will be homeless this festive season, according to estimates by Shelter.
Thousands of those will wake up on Christmas morning in hostels and B&Bs which the charity says are not suitable for minors.
Stutter says her bed and breakfast in Croydon, south London, was "infested with rats" when her family moved in.
"I took a bag full of nine rats down to Croydon Council. They refused to come down and talk to me with these rats in the bag. I said, well I have to live with them with my three babies so you are going to talk to me with rats sitting here in front of us."
It is the fourth B&B they have lived in since the landlord of their privately rented house increased the rent from £1,200 to £1,500, which Stutter could not afford.
The family have moved so often that Archie asks his mother "how Santa is going to find us" this Christmas. They were forced to give up their 11-year-old Staffordshire bull terrier, which left the children "heartbroken".
Their room has only two beds, so Stutter shares with one with her six-year-old son Archie. Her daughters Paris, 11, and Morgan, 10, used to share the other, but now the younger sister prefers to sleep on blankets on the floor.
"I've got no life," says Stutter. "I'm sleeping in the same bed as my son so when he goes to bed I have to turn out the lights. I can't sit up and watch telly because they need sleep.
"It's an absolute joke. But I deal with it, obviously, for the kids. If I didn't have the kids, God knows what I'd do. The kids keep me up, they keep me strong. But enough is enough now."
UK news in pictures

Show all 50
Greg Beales, director of campaigns at Shelter, which is supporting Stutter's family, says the number of homeless children living in hostels and B&Bs is "enough to make anyone's heart sink".
"These are not places for children," he adds. "We hear about cold, damp – even rats. Young children are sharing beds with multiple family members, trying to play in dirty public corridors, and having to leave their block in the middle of the night to use the bathroom."
Child homelessness is at a 12-year high, according to the latest government statistics, which show 123,630 minors were housed in temporary accommodation in England between April and June. That figure is a 70 per cent increase since 2010, when the Conservatives took power, and a rise of nearly a quarter in the past three years.
A total of 82,310 households were in temporary accommodation at the end of June this year, up five per cent on 2017. But the true scale of homelessness is notoriously problematic to gauge. More than 320,000 people in Britain were recorded as having nowhere to live this year, according to analysis by Shelter. But that figure does not include the "hidden homeless", such as sofa surfers.
Julie Watson has been sleeping wherever she can since she was evicted from her rented house in Leicester in February. Usually the 58-year-old, her husband Henry, and their 33-year-old son John, who has cerebral palsy, can find spare beds or sofas at the homes of family or friends. But occasionally over summer all three were forced to sleep in their car.
Before they became homeless, they would host family at Christmas. Watson – a mother-of-four with 16 grandchildren – would serve up buffet food for everyone.
"We won't be doing that this year," she tells The Independent. "My grandkids have nowhere to visit or stay with us. We are not living out of suitcases, we are living out of plastic bags."
Watson is blocked from the council housing waiting list due to £2,000 rent arrears, which she blames partly on the benefit cap. She says Leicester City Council would only offer her temporary accommodation if she registered homeless on her own, something she refused to do.
"I told the council I will not split this family up. On the day we became homeless, they wanted to declare us all separately homeless, which meant us all going in separate hostels. Even my disabled son. And I said: 'No, we're a family unit, you can't do that.'"
After being contacted by The Independent, Leicester City Council said it would meet Watson this week "to discuss a positive way forward for the whole family."
A spokeswoman added: "We are really sorry we were unable to resolve this family's housing need in the first instance.
"We offered to provide temporary accommodation for Mr and Mrs Watson after they were evicted in February, but they declined this.
"We have to prioritise people who are at risk of homelessness when arranging temporary accommodation. At the time, we did not offer to house their adult son as we had no record of him living at this address with his parents."
A Croydon Council spokesman said: "Nobody wants to see any family in emergency accommodation, least of all at Christmas. However, there's a national housing shortage largely because more and more private tenants are finding their accommodation increasingly unaffordable.
"In Croydon, we're boosting local housing supply for people in need, from buying over 150 homes for families to move out of temporary accommodation to providing 10 flats with specialist support for rough sleepers."
According to research published by Crisis in April, 70 per cent of local authorities are struggling to find any stable housing for the homeless people in their area. Even more – nine in 10 – had difficulties sourcing private rented accommodation.
Support free-thinking journalism and attend Independent events
"It is not so much a shortage of housing we suffer from, but a shortage of available housing," says Jad Adams, director of Nightwatch, a Croydon homelessness charity. House prices are pushing people who would once have bought their home to rent instead, leaving fewer tenancies to go around.
"Landlords look to that market of young working people and tart up properties which otherwise might be available to people on low incomes, on zero-hour contracts or on benefits," says Adams. "Places which were previously available for the poor are now being let to couples with two incomes."
Nightwatch runs a soup kitchen for rough sleepers, as well as supporting people moving out of shelters and into permanent housing. But the charity is helping fewer move into new homes than in previous years. In 2017, it supported 26 resettlements, compared to 55 in 2016 and 61 the year before.
"There's a housing crisis so there are just fewer properties available – that's the problem," adds Adams. "We are in a position to help resettle people, but we don't have the places for them to be resettled to."
The government denies its austerity policies are to blame for rising homelessness, and says its £9bn affordable housing programme will "get councils building again".
That may be cold comfort for families spending another Christmas without a home.
"I can't believe this is the second year of this," says Stutter. "They just forget you."
Join our new commenting forum
Join thought-provoking conversations, follow other Independent readers and see their replies