The horsemeat Del Boy: Galloping entrepreneurial spirit emerges as Findus beef lasagne goes on sale on eBay for £70
Enterprising attitude has been compared to Only Fools and Horses character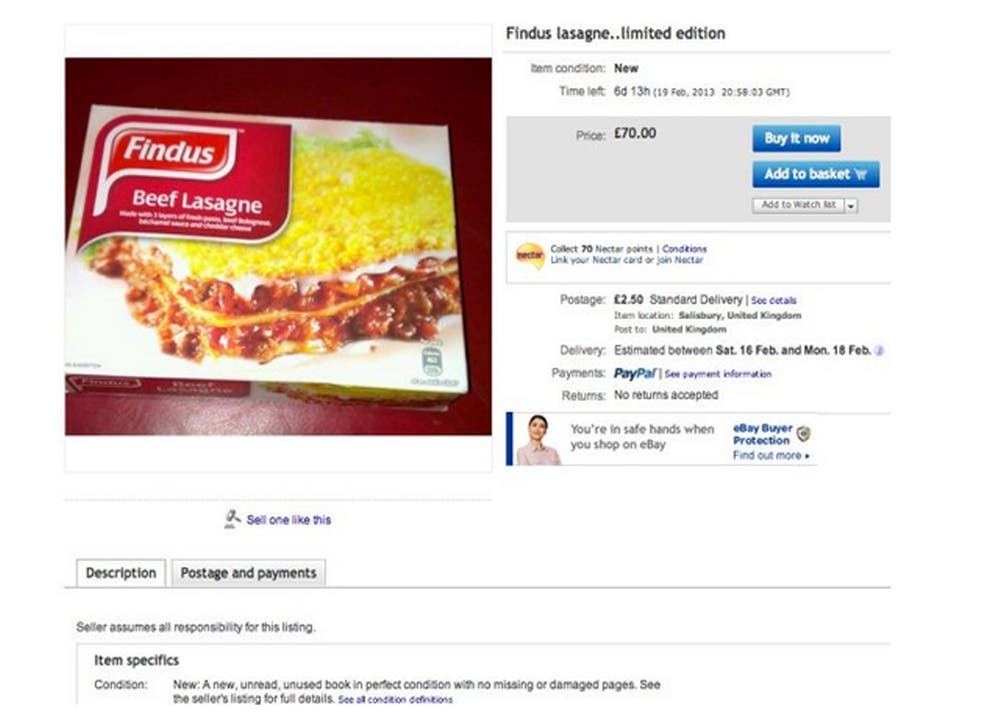 It seems an entrepreneurial spirit is up and trotting in the midst of the horsemeat scandal.
In a move the Huffington Post compared to Derek 'Del Boy' Trotter in the TV show Only Fools and Horses, one eBay user is attempting to sell a Findus beef lasagne for £70 on the auction website.
The poster offers standard delivery on the frozen, "limited edition" ready meal, which supermarkets withdrew from sale last week after it was revealed they contain up to 100% horsemeat.
The also encourage users to purchase quickly saying: "this item may get booted off eBay so you need to act fast."
Other eBay users are reportedly advertising 'horse meat lasagnes' for Buy It Now prices of around £100, while three bids have already been made on an unreserved Tesco Value spaghetti bolognese ready meal.
One Tesco ready meal posting came with the words "MAY CONTAIN HORSE MEAT" written in huge red letters at the top of the page.
The frozen foods are all beef-based ready meals that have recently been withdrawn from sale after analysis revealed they contained traces of horse meat.
Yesterday, police and food hygiene officers raided and shut down a British abattoir and a meat manufacturer as part of an inquiry into the adulteration of beef products with horsemeat.
The Food Standards Agency said it had uncovered apparently "blatant misleading of consumers" by the manufacture of kebabs and burgers that allegedly contained horse.
Owen Paterson, the Environment Secretary, called it "absolutely shocking", as he prepared to fly to Brussels for a horsemeat summit.
Join our new commenting forum
Join thought-provoking conversations, follow other Independent readers and see their replies