Horsemeat scandal: Birds Eye and luxury caterer Sodexo withdraw beef products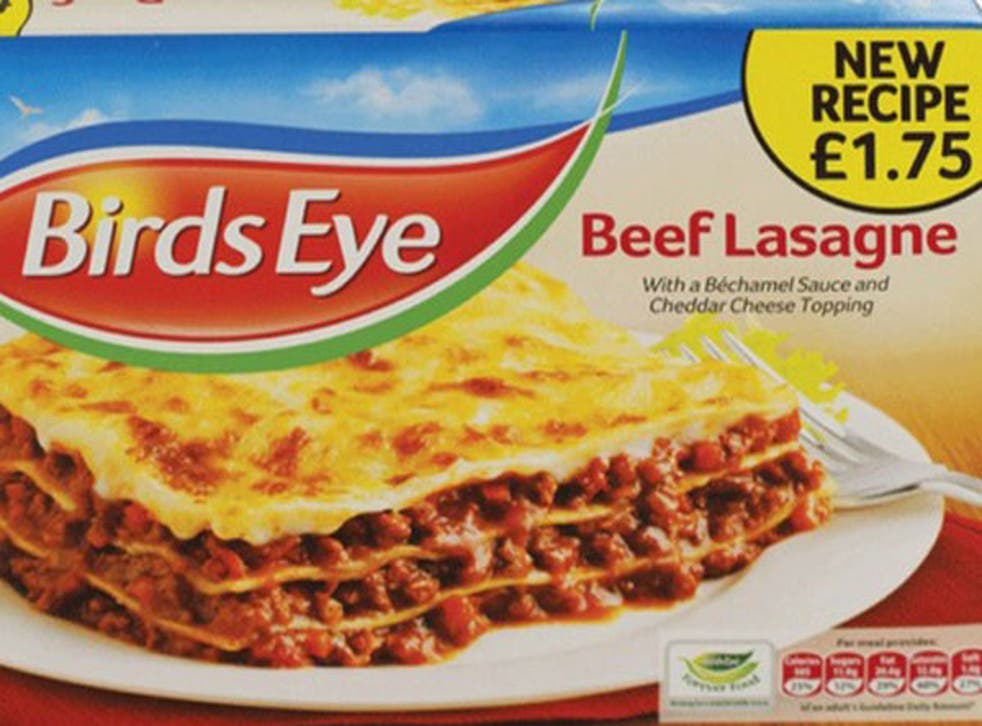 The horse meat scandal widened still further today when two more prestige food companies, a family favourite and a luxury caterer, were forced to withdraw their products from sale.
The long-established brand Birds Eye, and the French catering giant Sodexo which serves 2,300 outlets in Britain, took meat products off the market when some tested positive for horse DNA.
Birds Eye pulled from sale three ready meals made by a Belgian supplier – spaghetti bolognese, shepherd's pie and lasagne – after traces of horse were found in a chilli con carne dish from the same firm.
Sodexo, which describes itself as "the UK's largest event caterer and provider of corporate hospitality packages", and provides the catering at the Royal Ascot race meeting, said it was withdrawing all frozen beef products from its UK catering operations with immediate effect, after horse DNA was found in three of them – beefburgers, minced beef, and halal minced beef.
Both companies were quick to issue apologetic statements in a bid to reassure customers. Birds Eye stressed its withdrawal was "precautionary" and said there was no evidence of contamination in any products told to its UK consumers.
The company said: "We want to reassure you from the testing we have completed that all Birds Eye beefburgers, beef pies and traditional beef dinners do not contain horse DNA. Regrettably, one product sold in Belgium, chilli con carne, produced by Frigilunch NV, has tested positive for horse DNA. As a precautionary measure, we will withdraw all other beef products from this supplier."
Sodexo, which, besides providing corporate hospitality, also supplies food to schools, care homes and the armed forces, described the situation as "totally unacceptable".
The company said in a statement: "Sodexo has had a proactive programme in place to ensure there is no horse meat in its supply chain. Despite repeated guarantees from our suppliers, our sampling has identified frozen beef products which tested positive for equine DNA.
"We will only readmit into our catering operations products that have affirmatively passed DNA testing, pursuant to laboratory test criteria."
In a third damage-limitation exercise yesterday, Peter Marks, chief executive of the Co-op, wrote to more than a million of the company's members apologising after two lines of frozen own-brand beefburgers, made with meat supplied by Irish manufacturer Silvercrest Foods, were withdrawn from sale by the firm after they were found to contain horse DNA.
Mr Marks wrote: "I strongly believe that all food retailers must accept ultimate accountability for the products we sell to our customers."
Also yesterday, the Food Standards Agency released the latest tranche of test results submitted by the food industry. They showed that, out of 1,133 products checked, only six were positive for horse. These included Asda's bolognese sauce and a Whitbread Group lasagne and beefburger.
Register for free to continue reading
Registration is a free and easy way to support our truly independent journalism
By registering, you will also enjoy limited access to Premium articles, exclusive newsletters, commenting, and virtual events with our leading journalists
Already have an account? sign in
Register for free to continue reading
Registration is a free and easy way to support our truly independent journalism
By registering, you will also enjoy limited access to Premium articles, exclusive newsletters, commenting, and virtual events with our leading journalists
Already have an account? sign in
Join our new commenting forum
Join thought-provoking conversations, follow other Independent readers and see their replies