Hot off the press: New regulation deal for newspapers rejected by editors
MPs reveal latest version of Royal Charter but industry maintains it will set up own system
Ian Burrell
Friday 11 October 2013 19:37 Comments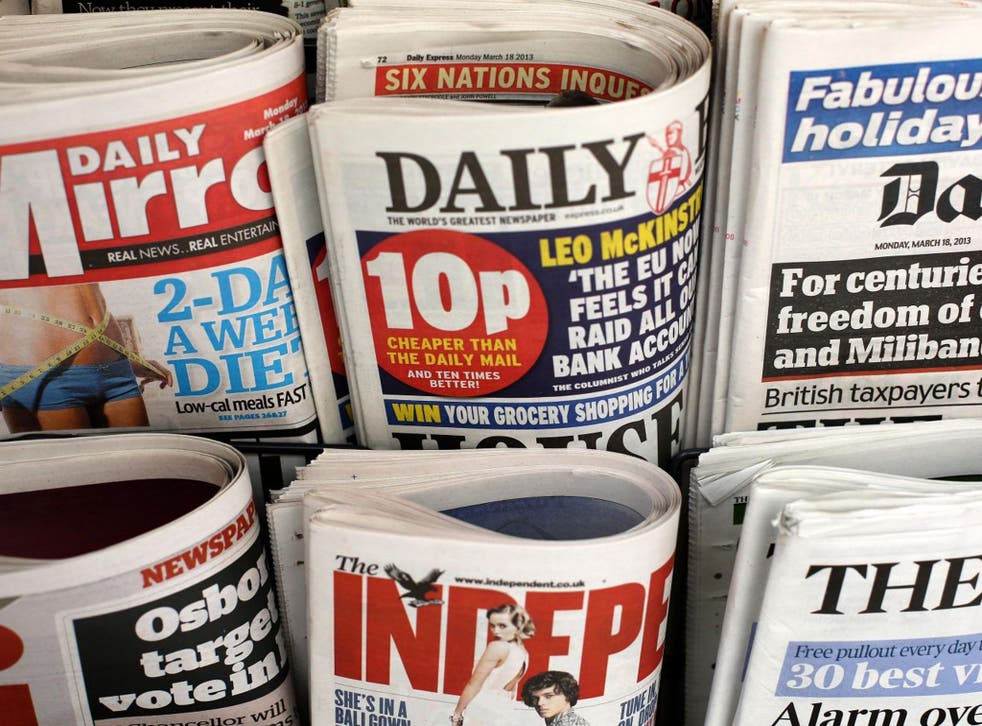 A Royal Charter on press regulation, which was finally laid before Parliament today, contains two major changes from the document initially approved by all three main political parties in March – but neither concession is likely to appease newspapers, which are threatening to set up their own system.
The key change from the previous "Royal Charter on Self-Regulation of the Press" is that an arbitration system for complainants of press intrusion will no longer be free at the point of entry but will carry a small admission fee, set by the new regulator but at a level approved by an overseeing recognition panel.
The arbitration system – which would not be for all complaints to the regulator – had been a source of contention, particularly among local newspapers which claimed they might be driven out of business by "claim farmers" seeking to obtain compensation payments. The revised charter provides an opt-out from the arbitration system if the regulator accepts that it is causing "serious financial harm to subscribers who publish only on a local or regional basis".
The latest deal was struck at talks between Culture Secretary Maria Miller, Labour deputy leader Harriet Harman and senior Liberal Democrat peer Lord Wallace of Tankerness. It will now go forward to the Privy Council for final agreement on 30 October.
The second key change concerns the make up of the committee required to draw up the code of standards for journalists. Newspapers had been unhappy by the March charter's suggestion that this panel should include a third independent lay members as well as a third serving journalists and a third editors. The revised charter reverts to a structure set out in Lord Justice Leveson's report intro press culture and ethics, with the committee being a combination of independent members and editors.
In a further alteration to the original charter, the document has been amended so that it also applies to publications in Scotland.
The charter was immediately criticised by the newspaper industry. Its steering group, representing national, regional and local papers, made clear that while it would consider the proposals it still had deep reservations.
"This remains a charter written by politicians, imposed by politicians and controlled by politicians. It has not been approved by any of the newspapers or magazines it seeks to regulate," it said. "Meanwhile the industry's charter was rejected by eight politicians, meeting in secret, and chaired by the same politician who is promoting the politicians' charter."
In an interview with the BBC this week, Times editor John Witherow indicated that they would pursue their own regulatory regime irrespective of the demands of MPs. "I think the press must go ahead with its own form of self-regulation and prove to the public and politicians that it's fair and robust and free," he said.
Press reform group Hacked Off said it was "pleased" with the new version of the charter, but complained of "further concessions" having been made to the press. "This brings to an end 11 months of wrangling over Lord Justice Leveson's recommendations. We now look forward to better protection for the public from the kinds of abuses that made the Leveson Inquiry necessary," said Professor Brian Cathcart, the group's Executive Director.
Register for free to continue reading
Registration is a free and easy way to support our truly independent journalism
By registering, you will also enjoy limited access to Premium articles, exclusive newsletters, commenting, and virtual events with our leading journalists
Already have an account? sign in
Join our new commenting forum
Join thought-provoking conversations, follow other Independent readers and see their replies