As it happened
ended
1507902987
Hurricane Ophelia - track live: Latest images show where the tropical storm is set to hit
Britain set to lashed by rain and winds up to 70mph
Tom Embury-Dennis
,
Will Worley
Friday 13 October 2017 11:17 Comments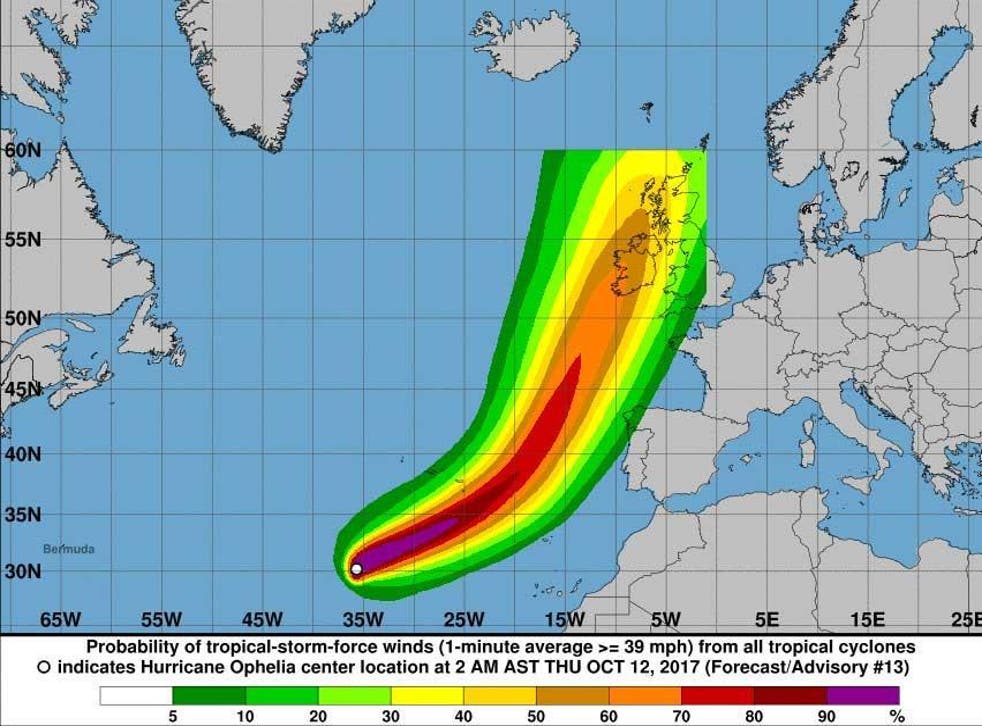 Britain is set to be lashed by rain and winds of up to 70mph as the tail end of Hurricane Ophelia barrels east across the Atlantic, forecasters are warning.
The tropical storm has been upgraded to a hurricane and the US National Hurricane Centre has said it could get stronger over the coming days.
The west of the country can expect to see the worst of any disruption, with gale-force winds expected to hit by Sunday or early next week.
It comes on the 30th anniversary of the Great Storm of 1987, which left 18 people dead and caused £1bn worth of damage. Weather forecaster Michael Fish infamously told viewers ahead of the storm not to worry.
You can watch Hurricane Ophelia's progression below.
Follow the latest updates on our Hurricane Ophelia blog.
Like The Independent on Facebook here.
1507890731
This is Will -- I'll be manning the Independent's live blog on Hurricanr Ophelia. Do stay with us for all the latest updates. 
Kristin Hugo
13 October 2017 11:32
1507891045
Hurricane Ophelia is now a category 2 storm, the National Hurricane Centre has announced.
Kristin Hugo
13 October 2017 11:37
1507898377
This, from the Blackrock Castle Observatory in Cork, shows the category 2 Hurricane Ophelia and its recent position in the Atlantic. 
Kristin Hugo
13 October 2017 13:39
1507898573
This image from the US National Hurricane Centre (NHC) shows the position of Ophelia in the Atlantic. The NHC has categorised it as a Category 2 storm, but it is expected to have weakened by the time it reaches Ireland. 
Kristin Hugo
13 October 2017 13:42
1507899214
Hurricane Ophelia is lingering in its position, which is partly why it is expected to take so long to reach Ireland and the UK. It is currently blowing winds of up to 105mph, according to the National Hurricane Centre.
It is not expected to reach the British Isles until Monday afternoon. The route is said to be rather unusual for Atlantic storms.  
Kristin Hugo
13 October 2017 13:53
1507899818
Hurricane Ophelia is pretty weak by comparison to recent storms which have ravaged the US and Caribbean. 
A reminder of their strength, in chronological order:
Kristin Hugo
13 October 2017 14:03
1507901242
There's lots of chatter from meteorologists online about how unusual this storm is. Irish and British residents will appreciate this – neither country usually get anything close to really severe weather.
Some key points highlighted by weather writer Dennis Mersereau at Flipboard:
Hurricanes don't usually form so far out to sea – "Ophelia formed where hurricanes usually go to die," he says.
They don't usually head towards Western Europe, let alone Ireland and Britain.
Hurricanes have been unusually frequent and severe this season.
Mersereau also points out that just because a storm has shed its 'hurricane' status, they can still be dangerous.
He says: "The storm will have all the force and effect of a hurricane without the title or the name. Power outages, downed trees, and flooding are possible across Ireland and parts of the United Kingdom."
Kristin Hugo
13 October 2017 14:27
1507901352
The Met Office says the storm could bring:
Transport disruption
Power cuts
Building damage
Large waves 
Kristin Hugo
13 October 2017 14:29
Register for free to continue reading
Registration is a free and easy way to support our truly independent journalism
By registering, you will also enjoy limited access to Premium articles, exclusive newsletters, commenting, and virtual events with our leading journalists
Already have an account? sign in
Join our new commenting forum
Join thought-provoking conversations, follow other Independent readers and see their replies