Iain Duncan Smith wants to tax disability benefits
Iain Duncan Smith reportedly supports the controversial change
Lizzie Dearden
Sunday 05 October 2014 16:48 Comments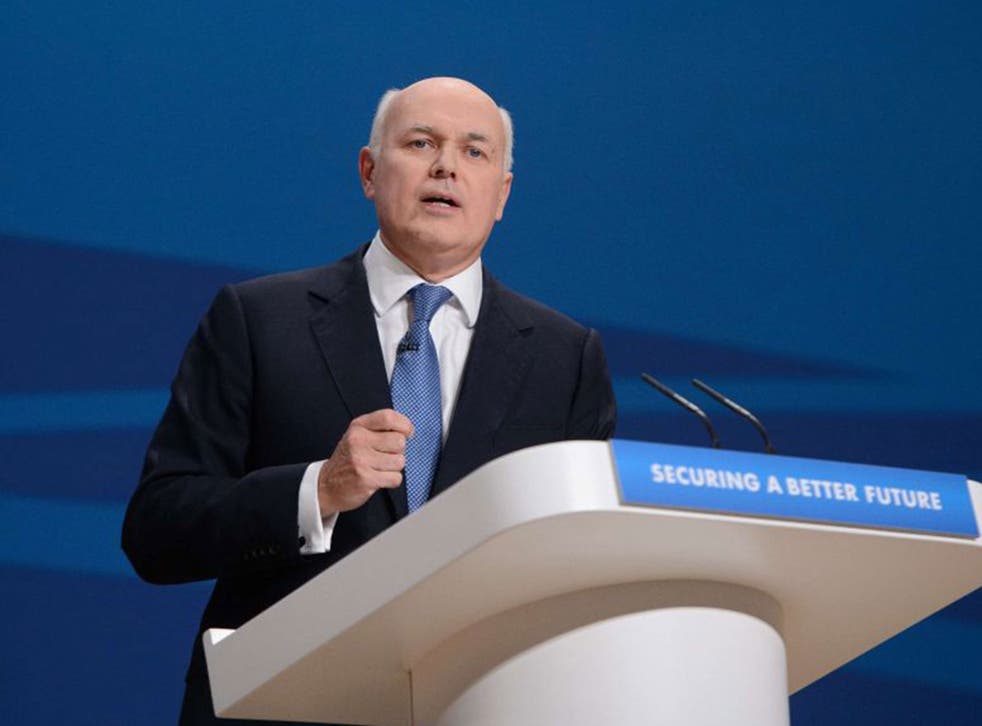 Disability benefits could be taxed under controversial proposals reportedly being supported by Iain Duncan Smith.
The personal independence payment (PIP) and disability living allowance (DLA) it is replacing are both currently paid at the same rate regardless of the recipient's income.
The PIP of between £21.55 and £138.05 a week, based on an assessment of people's needs, was rolled out in April last year.
At the time, the Work and Pensions Secretary called the reforms "fair" and said they would ensure that "the people who need them get better payments".
But now Mr Duncan Smith is reportedly arguing that they should be increased for the poorest claimants while being subsidised with a tax on the benefits for those with higher incomes.
Senior government sources told the Sunday Times that taxing disability benefits would raise "several billions".
A government source said to the paper: "It cannot be right that those on the lowest incomes get the same disability benefits as those who are millionaires.
"It would be fair to tax the benefits so those on higher incomes, many of whom don't need the money nearly as much, would pay at the same rate as income tax."
A special adviser confirmed that Mr Duncan Smith had spoken to the paper on the issue but no official policy announcement has been made.
The Work and Pensions Secretary has frequently been forced to defend the reforms, which imposed tougher checks on claimants such as making them prove they can manage to walk no more than 20 metres for the largest payment, compared to 50 metres previously.
After reports of huge backlogs for claimants, causing seriously ill people to struggle with living costs, Labour MP Margaret Hodge said the Government had let down "some of the most vulnerable people in society".
"The cases we have heard [on the Public Accounts Committee] are shocking," she added.
"The implementation of personal independence payment has been nothing short of a fiasco."
Figures released earlier this year said 37 per cent of "standard" PIP claims had been successful, including 99 per cent of applications from people with terminal illnesses.
The Department for Work and Pensions had received an average of 30,000 claims per month.
Register for free to continue reading
Registration is a free and easy way to support our truly independent journalism
By registering, you will also enjoy limited access to Premium articles, exclusive newsletters, commenting, and virtual events with our leading journalists
Already have an account? sign in
Join our new commenting forum
Join thought-provoking conversations, follow other Independent readers and see their replies