Independent Appeal: Meeting with the enemy
An innovative group in Northern Ireland is attempting to heal old wounds by bringing former foes together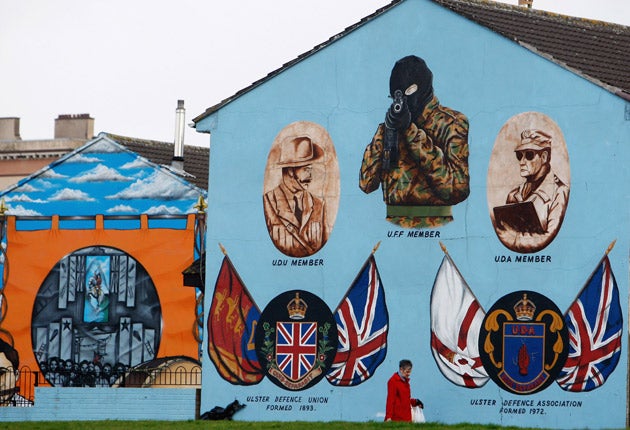 Northern Ireland is largely at peace these days, with the IRA inactive and the major loyalist groups only a shadow of their former violent selves. Almost everyone hopes and believes the Troubles are a thing of the past. But a conflict that lasted so long – breaking out in 1969 and resulting in more than 3,700 deaths – has left behind many scars, both communal and personal.
A new political agreement is working – not always harmoniously – to forge a better future. But one of the most profound areas of underlying disagreement concerns the past: how to think of it, how to commemorate it, how to prevent yesterday from poisoning tomorrow.
Despite years of trying, local and national politicians have been unable to come up with any substantial agreement on how to make the past a source of bonding rather than of division. Indeed some efforts have produced eruptions of hostility, with meetings disrupted by angry voices and waving fists. The emotions of many are still clearly raw.
And yet there are signs of hope. With no sign of agreement on the macro level, a number of groups have been starting at the bottom and, inch by inch, laying the groundwork for an eventual consensus. The shape of that consensus is not yet apparent, but the need for it is.
One such group is the Belfast-based Healing Through Remembering, which is supported by Peace Direct, one of the three charities in this year's Independent Christmas Appeal.
For years it has been working quietly on the question of how to improve a society on which the Troubles inflicted emotional lacerations. It tries to do so by bringing together individuals who were, until not so long ago, deadly enemies. One of its exercises involved an IRA bomber, a man whose wife was killed by an IRA bomb, a one-time senior policeman and a former British Army officer.
The group produced a comprehensive report with options to inform the continuing debate. The fact that they functioned in a civilised way is in itself an encouraging sign that one-time adversaries can work constructively on the future.
According to Jackie McMullan, the former IRA bomber now involved in politics: "There was a real engagement. It wasn't as if we were shaking hands and hugging, but we didn't spend every meeting arguing and shouting. There were differences but we weren't locking horns."
Alan McBride, who lost his wife in a 1993 IRA bomb attack, says: "I know Jackie McMullan very well now. I have a problem with people who are unrepentant and unapologetic, but Jackie acknowledges that the IRA caused hurt."
Another testimony to the importance of the work comes from Andrew Rawding, who as an Army officer served in South Armagh and lost comrades there before going on to become a Church of England minister. "It's a very complicated issue and there's a mixture of emotions – grief or loss or some form of trauma, or guilt" he says. "This is a very important process. There is no moral high ground for anybody. It is not enough to sit on the sidelines and do nothing."
Healing Through Remembering evolved with input from All Truth is Bitter, a report by Alex Boraine, the deputy chairman of the South African Truth and Reconciliation Commission who visited Northern Ireland in 1999 to impart his knowledge of post-apartheid issues. HTR has since commissioned an impressive range of literature including detailed analysis of how other countries emerging from conflict set about coping with their past. The message is that looking back will often open old wounds. Yet an even more striking lesson seems to be tha what happened cannot simply be brushed under the carpet. Bottling up personal and communal hurt can cause it to fester.
The Belfast organisation supports the idea of a day of reflection during which people could ponder on both the past and the future. It is also exploring issues such as a memorial museum and the use of storytelling to bring some salve to those in pain.
Its latest initiative, Whatever you Say, Say Something, will over the next two years use trained facilitators to bring together individuals and groups who have had difficulty engaging in conflict issues.
Part of the group's approach is summed up by HTR member Geraldine Smyth, who says: "Commemoration is at the heart of what makes us human. In remembering we hold dear those we have lost, and we keep faith with others. If we can remember with open hearts, we can find healing and release from pain."
There is a double reason for supporting the work of groups such as HTR. Northern Ireland clearly needs help to cope with those 3,700 deaths, and all the wounds, physical and psychological, generated by them.
The other reason is that violence in Belfast has been cyclical. The first riots in the city took place two centuries ago, and disturbances have been repeated every few decades since. In other words the most recent troubles, though certainly the worst, were by no means the first: this is, unfortunately, a deeply divided society locked in a historical cycle of uneasy peace punctuated by disorder.
The current peace has yet to bed in: there has been a huge political breakthrough but the fledgling system of government has yet to achieve stability. Breaking the cycle will take both better political skills, and the use of techniques like those being explored, painstakingly and painfully, by Healing Through Remembering.
Join our commenting forum
Join thought-provoking conversations, follow other Independent readers and see their replies