UK air strikes kill 1,000 Isis fighters in Iraq and Syria but no civilians, officials claim
'It would be unprecedented in the history of warfare for [air strikes] not to have killed civilians,' says monitoring group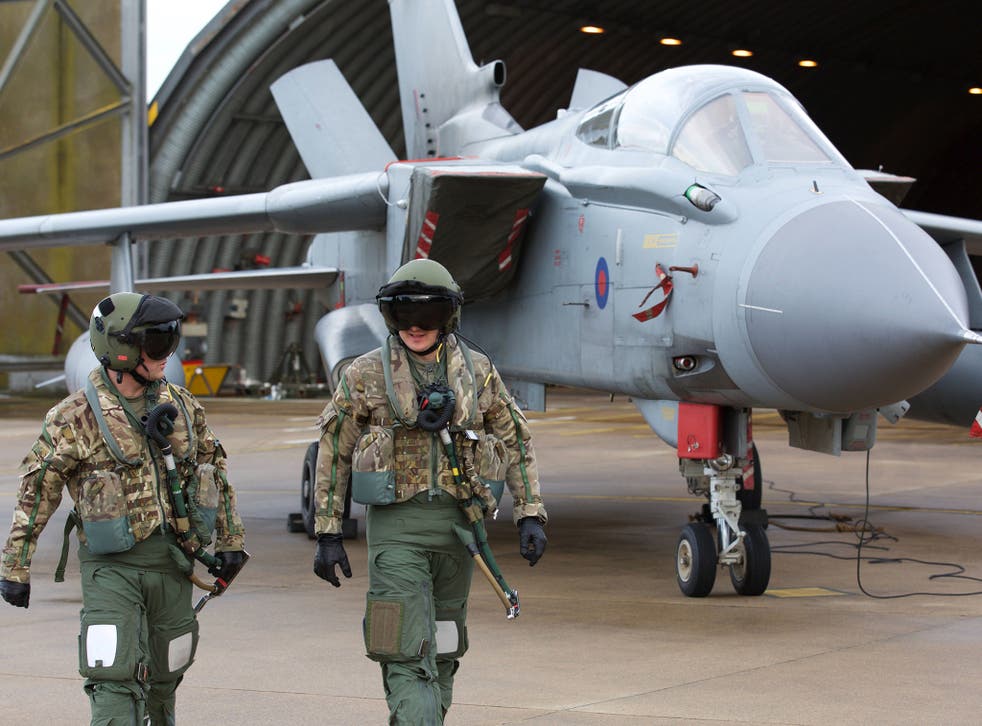 Air strikes in Iraq and Syria by the RAF have killed nearly 1,000 enemy "combatants" but not a single civilian, the Ministry of Defence has claimed.
Royal Air Force (RAF) strikes killed 974 fighters and injured 94 others in Iraq and killed 22 fighters and injured four in Syria between September 2014 and March 2016, according to a freedom of information request into the civilian death toll of attacks targeting Isis (also known as Islamic State and Daesh).
The statistics reveal a significant increase in the number of killings since UK defence secretary Michael Fallon announced around 330 militants had been killed by British airstrikes in Iraq in 2014/15.
Chris Woods, director of international air strikes monitor Air Wars, cast doubt on the statistics, describing the claims there have been no civilian casualties as "ridiculous". Air Wars said RAF air strikes in the Isil-held cities of Mosul and Ramadi may have killed 32 civilians in December 2015 alone.
"Even with the widespread use of relatively precise weapons by the West, air strikes are the most lethal weapon against civilians. It would be unprecedented in the history of warfare for it not to have killed civilians," Mr Woods told The Independent.
"It is a matter of public record there have been a huge number of civilian casualties and yet the Ministry of Defence continue to deny any caused by the UK.
"I don't understand why they are making a virtue of the failings of this project. We have no one on the ground to follow up. Our ignorance is being claimed as a sign of perfection."
The latest government statistics show there to have been 750 UK strikes against Daesh, as of 24 April.
According to figures collated by Air Wars, the US-led coalition of international air forces has carried out 11,937 attacks in Syria and Iraq since August 2014. Over that period, it estimates there have been a minimum of 1,172 civilians killed.
The US is the only country to have admitted its air strikes have caused any civilian casualties. Earlier this month, the US military announced at least 20 civilians had been killed and 11 injured since autumn 2015.
Chris Cole, founder of Drone Wars UK, told The Independent: "It is very unlikely and I find it difficult to believe.
In pictures: Aleppo bombing

Show all 14
"There is a real issue with the credibility of these statements, and it is perpetuating this idea that you can have a bloodless war. And that is simply not true. The UK government needs to be honest about the reality of the situation."
Amnesty International called for a "comprehensive" investigation into the impact of UK air strikes on civilians.
Kristyan Benedict, the charity's Syria campaign manager, told The Independent: "It's all very well the UK government saying there have been no civilian deaths resulting from its airstrikes in Syria and Iraq, but until there's a comprehensive, independent and impartial investigation it is impossible to know if this is true.
"Any investigation must include analysis of cockpit data and footage in order to ascertain the truth. The findings from such investigations must be made public."
The Ministry of Defence said the RAF used "precise, low collateral weapons systems" but refused to respond further to criticisms of the accuracy of the figures.
Michael Fallon, Defence Secretary, said in a statement sent to The Independent: "We are making solid progress against Daesh. They've lost 40 per cent of their territory, their oil revenue has been cut by around a third and they are sustaining heavy losses. Now we must push on and defeat them."
Join our new commenting forum
Join thought-provoking conversations, follow other Independent readers and see their replies