Isis' British brides: What we know about the girls and women still in Syria after the death of Kadiza Sultana
Sultana was killed by an air strike in Raqqa in May, where she had been desperate to escape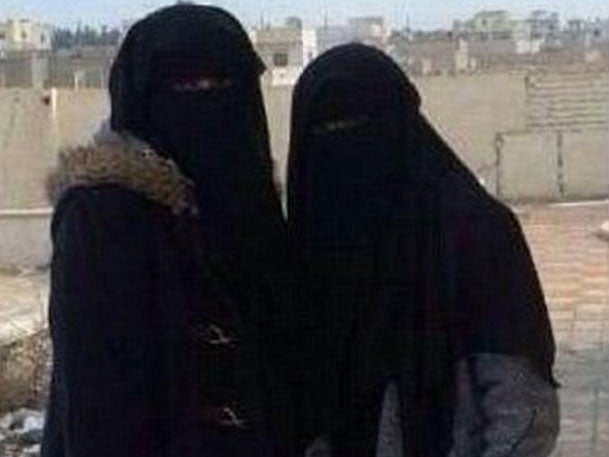 After the death of a British teenager in Syria, mystery surrounds the whereabouts of dozens of women and girls who have joined the so-called Islamic State.
Kadiza Sultana's family were told she was killed in a Russian air strike in May but the two friends she travelled to Raqqa with are reportedly alive.
The trio, from Bethnal Green in east London, are among at least 56 young women and girls who travelled from the UK to join Isis in Syria last year.
They were the subject of an international police operation as their families made emotional appeals for the girls to return home.
But the names of many others remain unknown and their families face increasing difficulties maintaining contact as military operations against the terrorist group intensify.
Kadiza Sultana, Amira Abase and Shamima Begum
The three friends, aged 15 and 16 and the time, fled to Syria via Turkey after disappearing during the Easter holidays in 2015.
The schoolgirls, who attended Bethnal Green Academy, are believed to have been radicalised online and encouraged to join Isis. They had been questioned by police in December 2014 after another girl from the school travelled to Syria but were not found to be at risk.
Kadiza's family said she became disillusioned after her arrival in Raqqa and the death of her husband, an American Isis fighter of Somali descent. Her parents were told she was killed in a Russian air strike on the city in May.
Tasnime Akunjee, who represents all three families, told The Independent that Amira and Shamima had also married jihadists but that Amira's husband had also died. The two girls are known to be alive but Mr Akunjee would not disclose any further details for their safety.
Aqsa Mahmood
The 21-year-old travelled to Syria from her family home in Glasgow in November 2013 and has since become prolific for spreading Isis propaganda online.
The former university student was known for her blog and social media accounts under the name Umm Layth – which has since been removed – where she praised terror attacks in Tunisia and France.
She frequently called for other young British women to travel to the so-called Islamic State and was suspected of helping the Bethnal Green trio reach Syria.
Mahmood married an Isis fighter and reportedly rose up the group's ranks to become a leading figure in the al-Khansaa brigade, the feared all-female force tasked with enforcing the group's interpretation of Sharia law with women and children.
Punishments have included arrests and beatings for women going outside without a male chaperone, lashes for wearing form-fitting abayas and floggings for "not being meek enough".
In September 2015, she and Sally-Anne Jones (below) were put under sanctions subjecting them to a global asset freeze and travel ban in an attempt to prevent further radicalisation.
Grace "Khadijah" Dare
The 24-year-old was one of the first British women to travel out to Syria, leaving in 2012 to join the jihadist cause with her baby son Isa.
Dare, who was brought up in south London as a Christian but converted to Islam in her teens, attended the same mosque as the men who murdered Drummer Lee Rigby in Woolwich. She fled London for Syria in 2012 and resurfaced the following year in a Channel 4 documentary on British women joining the "jihad".
Giving her name as Maryam, she was filmed alongside her Swedish husband, a militant known as Abu Bakr who has since been killed.
The couple were reportedly expecting their first child, while Isa was seen as a toddler, and Dare vowed to remain in Syria to raise her children.
She became prolific on Twitter under the name of Muhajirah fi Sham, which means "immigrant in Syria", where she celebrated the beheading of James Foley and vowed to be "da 1st UK woman 2 kill a UK or US terorrist!(sic)".
She also gloried in gruesome Isis public executions and called for British Muslims to travel to Syria, as well as posing pictures of Isa with weapons.
In February her son, now aged around four, was featured in a propaganda video wearing combat gear and an Isis headband. "We will kill the kuffars (infidels) over there," he was shown saying, before appearing to blow up a car containing three Syrian prisoners.
Sally Jones
Also known as Umm Hussain al-Britani, the 47-year-old has issued repeated terror threats against the UK, US and Europe and called for supporters to carry out attacks.
She was married to Junaid Hussain, the Isis hacker who was killed in a drone strike last year.
In a Twitter post she claimed she was "proud my husband was killed by the biggest enemy of Allah, may Allah be pleased with him".
A Muslim convert from Kent, Jones is another prolific propagandist for Isis and has published "kill lists" of targets and announced her wish to behead Christians online.
Before fleeing to Syria with her 10-year-old son in 2013, she worked as a perfume saleswoman, previously claiming benefits and playing guitar in a punk band.
She is also on a drone target list drawn up by the US and Britain.
The Dawood sisters
Khadija, 30, Zohra, 33, and Sugra, 34, left Bradford last summer with their nine children to join Isis.
After making a pilgrimage to Medina in Saudi Arabia they boarded a flight to Istanbul and crossed into Syria instead of taking their scheduled journey home.
The sisters were reported to be joining their brother Ahmed Dawood, who had been fighting with Isis for more than a year when they left.
They were prevented from travelling out of the UK months earlier after being stopped and questioned attempting to board a flight from Manchester to Jeddah in March 2015.
Their five girls and four boys were aged between three and 15 when they left.