Isis propaganda magazine calls on followers to kill Cheshire florist and 'shed the blood of disbelievers'
Rumiyah used a photo of Steve Leyland, calling him a 'merry Crusader'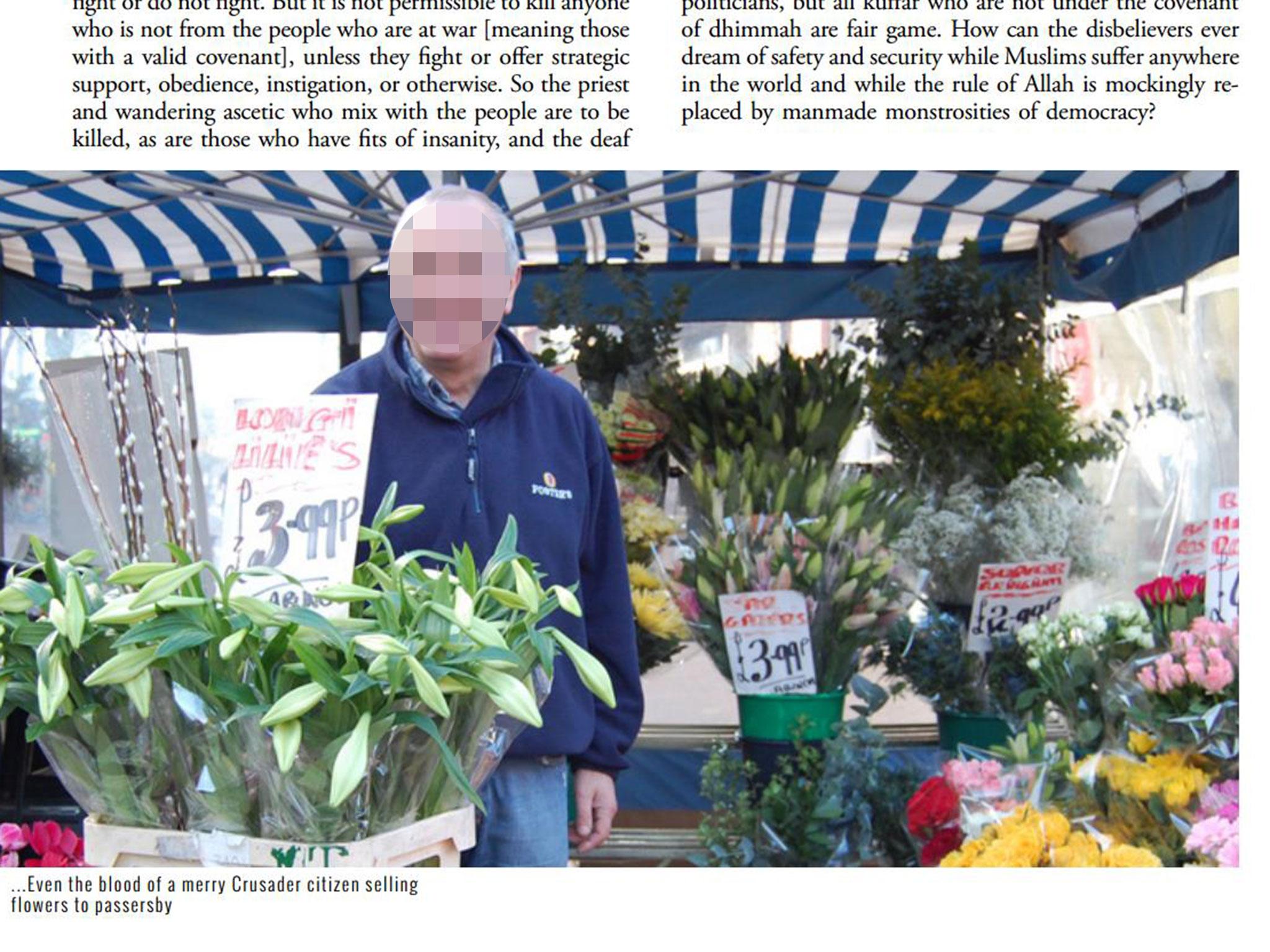 A florist who was unwittingly featured in an Isis propaganda magazine calling on supporters to "shed the blood of disbelievers" has spoken of his shock.
A photo of Steve "The Flower Man" Leyland smiling at his flower stall in Cheshire appeared in the terrorist group's new Rumiyah magazine with the caption: "Even the blood of a merry Crusader citizen selling flowers to passerby [sic]."
The 64-year-old was not aware the image – apparently taken from his website – had been used until he was contacted by journalists and interviewed by counter-terror police.
"It has come as a bit of a shock," Mr Leyland told The Times, listing David Beckham among the clientele at his flower stall in Wilmslow.
"When I was first contacted I thought it was a wind-up. I really don't know what to do.
"I'm not scared but I am concerned that the photo is in this magazine. I don't know any jihadis. My customers are the Alderley Edge crowd, footballers' wives and those sort of people."
Mr Leyland declined to comment when contacted by The Independent.
His photo accompanied an article calling for more lone wolf attacks in the West, which have increased in intensity as Isis continues to lose swathes of territory in Iraq and Syria.
It urged followers living in the "land of disbelief" to kill non-Muslims as a "form of worship to Allah" and designated the atrocities halal, meaning permitted under Islam.
Turkish military opens up new front against ISIL in Syria
"This includes the businessman riding to work in a taxicab, the young adults engaged in sports activities in the park, and the old man waiting in line to buy a sandwich," it continued.
"Indeed, even the blood of the kafir [infidel] street vendor selling flowers to those passing by is halal to shed… all kuffar [infidels] who are not under the covenant of dhimmah [protection under the 'caliphate'] are fair game."
Rumiyah, meaning Rome in Arabic, was released for the first time on Monday night to target potential jihadists in languages including English, French, German, Indonesian, Turkish, Russian, Pashto and Uyghur.
The digital magazine used the same format, rhetoric and style as Isis' Dabiq propaganda magazine, sparking speculation that it could be a shorter and cheaper replacement created by the group's official media agency.
Nikita Malik, a senior researcher from the Quilliam Foundation, said the terrorist group seemed to be moving towards a more co-ordinated propaganda strategy.
"It seems more a strategy of translating material from other Isis publications in multiple languages than writing different material for different audiences," she told The Independent.
Timeline: The emergence of Isis
Show all 40
"There could also be significance in the move from Dabiq [in Syria] to Rome but that remains to be seen in future issues.
"This obsession with regions and place names is very historical but Isis' final goal is the same – a final battle between Islam and the West."
Rumiyah included eulogies to its second-in-command and spokesman Abu Muhammad Al-Adnani, who was killed in an air strike, as well as commemorations to an Isis fighter from Australia, Ezzit Raad, who had been questioned but freed before he escaped to Syria.
The killing of Adnani, considered a "major blow" for the group, came after his speeches urging terror attacks in the West were linked to a series of atrocities including the Orlando nightclub shooting and Nice attack.
Isis is facing unprecedented military pressure on its strongholds, with Turkish-backed rebels joining the assault on its territory in Syria, security forces mounting a key advance on its de-facto Iraqi capital of Mosul and Libyan government forces closing in on Sirte.
Join our commenting forum
Join thought-provoking conversations, follow other Independent readers and see their replies