Isis' new magazine Rumiyah shows the terror group is 'struggling to adjust to losses'
New magazine in several languages renews calls for 'lone wolf' terror attacks on West but also hints that Isis' leadership is trying to reassert itself as the group loses territory in Syria and Iraq 
Tuesday 06 September 2016 19:32 BST
Comments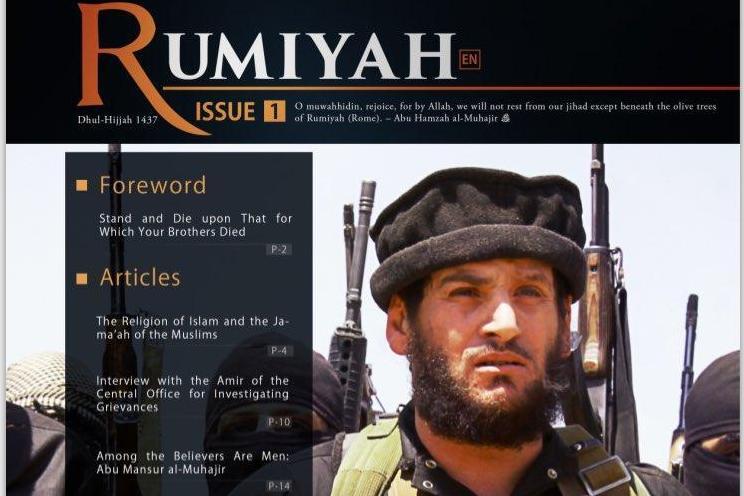 A new publication from Isis called Rumiyah, which while on the surface is full of the usual propaganda, suggests that the terror organisation may be struggling to find its feet in the face of unrelenting airstrikes and Turkish, Kurdish and Iraqi army offensives, an expert has told The Independent.
Isis's media wing Al-Hayat released the online magazine late on Monday in several different languages, including English, French, German, Russian, Indonesian and Uyghur. Rumiyah is Arabic for Rome, a reference to the fall of the Roman Empire.
Isis's well-organised media strategy already includes several online magazines in different languages with the aim of recruiting different fighters from across the world. But the sudden appearance of a new publication could just be a savvy PR diversion, said Levi West, the director of terrorism studies at Charles Sturt University in Canberra.
"It's an interesting point in the group's evolution," West said. "We've all but decimated the leadership in airstrikes. My guess is they're pretty rudderless, and having to get to grips with the fact they're not expanding anymore. The balance has definitely tipped."
The English language Isis publication, Dabiq, has only been produced sporadically for the last few months, and Turkish forces are getting ever closer to the Isis-held town in northern Syria from which it takes its name, leading to speculation that Rumiyah is being touted as a replacement.
But expert opinion suggests this is unlikely: many analysts on Twitter and Telegram have pointed out that Rumiyah lacks the "fire and brimstone" apocalyptic narrative of Dabiq, and appears to be an inferior product as it relies heavily on recycled material, lacks the the unifying theme of other Isis propaganda tools, and is significantly shorter.
The front cover features spokesperson Abu Mohammad al-Adnani, who was recently killed in an airstrike. Inside there are lengthy tributes to his work. The English language version features the obituary of killed Australian fighter Ezzit Raad, of Melbourne.
One story stresses that all non-Muslims are valid targets for jihadists, including "businessmen … young adults … and the old man waiting in line to buy a sandwich." It is illustrated with a picture of a man at what appears to be a British market stall.
Rumiyah also includes an interview from Al-Naba with the director of Isis' new office for "grievances and complaints", which West sees as "an internal sop" to mitigate concerns that the group's leadership is losing control of its fighters and subjects.
A cache of internal documents leaked last week showed Isis is suffering from financial mismanagement, excessive bureaucracy and infighting between recruits of different nationalities, on top of heavy recent military losses.
While there's no doubt that Isis's leadership is having to think hard about its next steps, the group is far from vanquished, West added.
"The idea that there isn't still widespread support for Isis in Syria, for myriad different reasons, would be laughable … they're definitely not on the offensive anymore, but they're not quite on the back foot yet."
Join our commenting forum
Join thought-provoking conversations, follow other Independent readers and see their replies