Eight-year-old boy questioned after teachers mistake t-shirt slogan for Isis propaganda
Boy reportedly still reluctant to attend school after the incident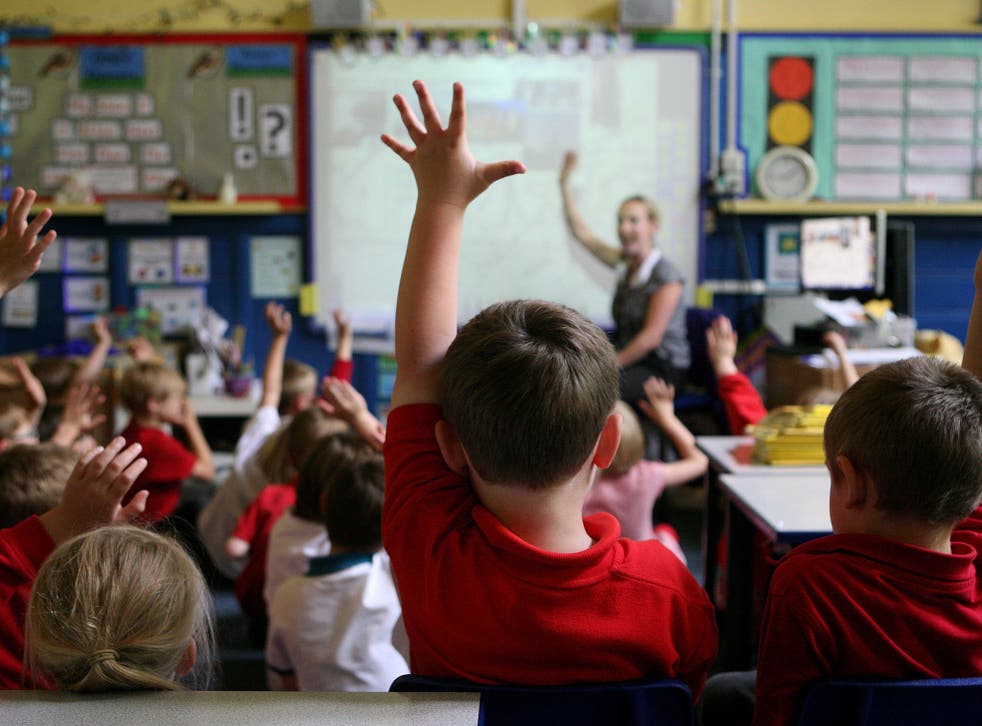 An eight-year-old boy has been questioned by Prevent officers after his teachers mistook his T-shirt slogan for Isis propaganda, a report has claimed.
The unnamed boy wore a T-shirt with the words with the words "I want to be like Abu Bakr al-Siddique" - a key early Muslim leader in the first years after the death of Prophet Mohamed who is regarded as one of the founding fathers of Sunni Islam.
But teachers at his East London primary school mistook the slogan for praise of the self-styled Abu Bakr al-Baghdadi - the leader of Isis in Syria and Iraq.
The boy's mother said she had been contacted by a social services representative in February 2016 who said they wished to discuss the incident with the boy and she recalled the word "deradicalisation" being used.
At the interview, his parents said they were kept out of the room as the boy was asked questions about Isis - which he did not know anything about.
The child later said he had also been asked about his religious beliefs such as whether he believed Christians go to hell when they die and what he liked to watch on TV.
The mother said she had been told by social services that they had recorded a "form of caution" against him but she did not know whether this was a formal caution and how it would affect him in the future.
UK news in pictures

Show all 50
At eight, the boy is below the age of criminal responsibility.
Prevent is the Home Office's anti-extremism programme which aims to target young people in particular who are at risk of radicalisation.
The incident was one of several highlighted in a report by human rights charity, Rights Watch UK, as evidence of Muslim pupils being made to feel unwelcome at school due to the Prevent strategy.
Other incidents included a 16-year-old student with learning difficulties who was referred to Prevent after borrowing a book about terrorism from the school library and a 17-year-old boy who was questioned by police officers after being referred to the programme for expressing support for Palestinian nationhood.
The director of the charity, Yasmine Ahmed, said: "It is completely unacceptable that the Government is collecting, retaining and potentially sharing information on children in the United Kingdom without their consent and with no apparent regulation and oversight, particularly in instances where these children are not even accused or suspected of engaging in unlawful activity.
"It is time for the UK Government to acknowledge that the Prevent strategy is infringing the human rights of children across the United Kingdom and is counterproductive."
She said the boy in question had been suffering from "stress related health problems" and was reluctant to go to school since the incident.
Ms Ahmed said their report showed the "complete lack of consideration" of the impact of the Prevent strategy on children.
She said there was "no acknowledgment the strategy may impact children's human rights, particularly their rights to freedom of expression, education and freedom of religion" and called for it to be abolished.
A Home Office spokesperson said: "Schools should be a safe place where young people can discuss any issue and develop the knowledge to see extremist ideologies for what they are and challenge them. The Prevent duty is about safeguarding children from extremist ideologies, not about shutting down that debate — to suggest otherwise is just wrong.
"Our recent teachers' omnibus survey shows the impact of that with 83 per cent of school leaders confident in how they should implement the Prevent duty. We have also published a range of advice and resource materials via our Educate Against Hate website."
Join our new commenting forum
Join thought-provoking conversations, follow other Independent readers and see their replies