British volunteer fighting against Isis in Raqqa says it is a 'matter of time' before Islamic State falls
Exclusive: Macer Gifford, 30, says he will lay down weapons once group's de-facto capital is retaken 
Lizzie Dearden
Home Affairs Correspondent
Monday 28 August 2017 23:37 Comments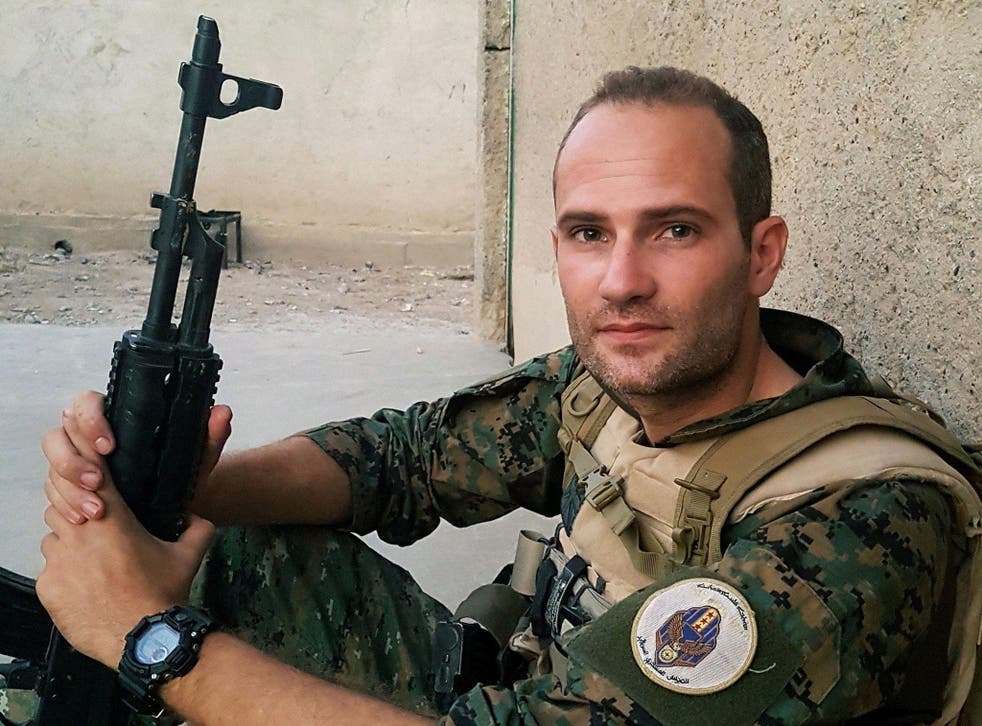 "Fighting Isis was the only thing that was ever going to get me to pick up a rifle," says Macer Gifford*, a 30-year-old former finance worker.
"A group that kills women and children, butchers gay people by throwing them off buildings and does the most horrible and unspeakable things ... I had to fight them."
Mr Gifford, who uses a pseudonym to protect his identity, is speaking to The Independent from the frontline of the battle for Raqqa, Isis' de-facto capital and largest remaining stronghold in Syria.
He is on a brief three-day break from fierce fighting alongside the Kurdish People's Protection Units (YPG), the group he joined almost three years ago.
Mr Gifford is on Raqqa's western front, where troops are launching "surprise attacks during the day or in the night".
"Isis doesn't know where the next attack is going to strike and they can't put together that much of a coherent defence," he adds.
"For the past 40 to 50 days I've only spent four or five days off the front, so my world is just my position and the people in my unit."
US backed fighters make progress in driving Isis out of Raqqa
Mr Gifford has posted footage online showing Isis mortars falling just metres away from his position.
It is a long way from his former life as a high-flying currency broker in London and one-time Conservative candidate in a regional council election.
Mr Gifford left the UK in December 2014, telling his parents he was going to Turkey but travelling onwards to join Kurdish forces fighting Isis after its brutal advance through Syria and Iraq shocked the world.
"Coming out here was just something I wanted to do, that I felt had to be done," he says.
"I wanted to fight Isis, I wanted to show that the people who are going to destroy Isis and heal the country already existed inside Syria, because at the time I went there was a lot of talk of raising armies by the Americans and Brits.
"By me coming I wanted to show there was a local group that believed in secular values, democracy, gender equality, with very unique and interesting ideas."
He has since fought alongside the YPG in several bloody campaigns to drive Isis out of strongholds including the Syrian city of Manbij.
The YPG's military success has earned the support of the US-led coalition and other factions in the Syrian Defence Forces (SDF) coalition, who have pushed Isis back through northern Syria to the doorstep of its de-facto capital.
In pictures: Civilians freed from Isis in Manbij

Show all 11
Following the eight-month battle for Mosul, military experts expect the fight for Raqqa to be protracted and bloody – despite the fact Isis is vastly outnumbered and under-equipped.
Since June, the SDF has completely surrounded the city and taken towns and villages at speed with help from the US-led coalition's firepower, but the advance is slowing as troops hit the city centre, which Isis has been fortifying for years with a network of tunnels, roadblocks and improvised explosive devices (IEDs).
"I'm under no illusions whatsoever that the next one month, two months, three months, however long it takes is going to be incredibly difficult and I am genuinely nervous," says Mr Gifford, who is fighting with the Christian-majority Syriac Military Council faction.
"But at the same time, I've been doing this for three years. It's a very long time and if I had any significant doubts, I came to terms with them a long time ago."
Isis used the most recent edition of its propaganda magazine to threaten "the Crusaders and their murtadd [apostate] proxies", while apparently admitting that Raqqa would fall.
A militant said to be Isis' commander in the city said his militants would fight "down to their last drop of blood" and described death as a "good outcome".
The unnamed leader said jihadis have booby-trapped areas where the SDF is expected to advance with explosives and mines – "particularly any strategic locations" – and deployed sniper units and car bombs while manufacturing their own drones, mortars and bombs.
Mr Gifford has been urging members of his squadron to fight in the day rather than using surprise night attacks "because there's less risk of standing on an IED".
He is acutely aware of the danger facing him, having seen numerous friends including fellow volunteers from the UK killed in battle, sometimes watching them die in his arms.
A least four British men have so far been killed while fighting alongside the YPG and there is mounting concern for those who remain, including members of the former Bob Crow Brigade and the first female volunteer from the UK, Kimmie Taylor.
Konstandinos Erik Scurfield, a former Royal Marine from Barnsley, became the first British national to be killed fighting for the YPG in Syria in March 2015.
Dean Carl Evans, a 22-year-old from Reading, was killed four months later in the battle for Manbij, and 20-year-old Ryan Lock, from Chichester, killed himself to avoid capture when his unit was surrounded by Isis fighters in December last year.
The fourth to die was Luke Rutter, 22, from Birkenhead, who was killed during an ambush by Isis fighters in a suburb of Raqqa in July.
In Mr Gifford's most recent update from the offensive, he described "hard fighting" involving hundreds of Isis jihadis using suicide car bombs, mortars and anti-aircraft guns, but claimed all failed.
He expressed frustration at the fact the US-led coalition had not bombed one key piece of weaponry but suspected it could be surrounded by civilians deployed as "human shields" by Isis.
Around 300,000 civilians were living in Raqqa at the start of the offensive and the UN estimates that at least 20,000 remain – half of them children.
Fran Equiza, Unicef's representative for Syria, said children were trapped "in the direct line of fire", with the ongoing siege depriving them of food, clean water and aid.
"Children trapped in Raqqa city are at increasing risk of death and injury," she added. "Parties to the conflict must protect them and facilitate safe passage for civilians."
Humanitarian groups including Amnesty International have also raised concern over the YPG's alleged human rights abuses and use of child soldiers – both of which the group denies – as well as accusing the US-led coalition of "disproportionate" bombardment.
Coalition commanders have vowed to take every possible measure to limit civilian casualties, but US envoy Brett McGurk has said around 2,000 remaining Isis fighters "most likely will die" and it is unclear how civilians will be protected.
"Isis fighters in the city are dead men walking – there's no way they can escape," Mr Gifford says.
"Raqqa is taken, it's now just a matter of time."
He believes that the city's symbolism will drive intense resistance from a hard core of international Isis militants, adding: "Many of them will choose to die rather than surrender."
Mr Gifford says he is "massively" concerned for the safety of civilians but claims to have seen few families in Raqqa compared to previously retaken strongholds.
"In the area I was in for a long time there were no civilians whatsoever, you just didn't see them," he adds.
"I've seen only one case of a huge amount of civilians coming past my position, which was maybe four families with a lot of children – they must have bribed one of the Isis fighters to let them go."
Mr Gifford expects to encounter more civilians during house-to-house fighting in the inner city and believes the YPG can do little while Isis itself is killing anyone found attempting to escape.
"There's not a huge amount we can do except make sure that if we identify civilians, we're not the ones shooting," he says.
"In Manbij I saw Isis shooting civilians just as a means of punishing them for leaving – it's abhorrent."
He says the SDF is screening anyone attempting to cross frontlines to identify them and find out key information including their country of origin to gauge any possible threat, adding: "It makes me lose sleep that Isis guys are possibly slipping through the net, particularly foreigners who have come here to murder people.
"The idea that they will find their way to Turkey is really upsetting."
Non-Syrians are detained immediately if found trying to leave Raqqa, which was once the home of so many British jihadis that one district became known as "little Britain".
Mr Gifford says anyone suspected of committing crimes is put through the SDF's judicial process, which includes a police force with intelligence from across northern Syria used to identify named Isis members and stolen property.
Turkey classes the YPG as a terrorist group because of its ambition to establish a separatist Kurdish state, with Recep Tayyip Erdogan sending his forces into Syria last year to drive the group back from border areas and attacking the US for backing its fighters.
But Mr Gifford characterises the YPG and wider SDF coalition, which includes Muslims, Christians and Yazidis, as "ordinary Syrians who are liberating their country".
The Home Office has warned that anyone joining the Syrian conflict – on whatever side – can be prosecuted for crimes committed abroad and police have investigated several returning YPG volunteers.
Mr Gifford has himself been interviewed by counter-terror police during visits to the UK, which included a controversial speech at University College London.
He is "not too concerned" about how he will be greeted by authorities after leaving Syria, claiming he has not broken any law and has been transparent with police.
"If they were to arrest me, I would take it all the way to the Supreme Court and we'll fight it out there," he says.
"I think the British police have got bigger things to worry about than someone who has been doing this for three years."
A report by right-wing think tank the Henry Jackson Society claimed returning YPG volunteers could present a security risk to the UK, prompting anger from the family of killed British fighters.
Mr Gifford says the group, which has a socialist foundation, simply wants a "federal, democratic Syria" and hopes they will become the democratic opposition to Bashar al-Assad, while retaining territory east of the Euphrates River.
"Assad is not going to fight both the Free Syrian Army and the SDF, I just don't believe it," he adds.
"SDF has also been able to sail the turbulent waters between Russia and America incredibly well, keeping them both on-side…I hope to see the SDF and regime negotiating in Geneva."
Mr Gifford does not plan to be in Syria for much longer, vowing to lay down weapons as soon as Raqqa is retaken.
"There's no other group in this world I would pick up arms against in the way that I've done so now they're pretty much done, I'm done too," he says.
"I was 27 when I came, I'm 30 now. I have changed as a person definitely. I've learnt a lot more about the human character and the strength within people, and also the brutality.
"I've certainly changed in some respects but the only reason I'm taking a step back is only because Isis is losing."
Mr Gifford acknowledges that Isis still controls smaller strongholds in Iraq and Syria, as well as operating affiliates elsewhere in the Middle East, Africa and Asia, but believes Raqqa will be the death knell for the "physical" Islamic State.
"The next fight for the communities of Iraq and Syria is the ideological fight of thousands if not millions of children who have been indoctrinated," he adds.
"Many lives have been ruined and apart from the physical rebuilding of communities, there's got to be a rebuilding of people's character and a sense of justice in society."
Mr Gifford plans to move into the political arena to work on behalf of the Kurdish Democratic Union Party (PYD) in Europe, while raising money for the reconstruction of Syria.
"I had a financial job before I went to Syria and over the past few years I've been hammering through my savings like you wouldn't believe," he adds.
"So I'll be coming back to the UK to get a job, to get on with my life, but also to evolve what I've been doing."
He says his family and friends will be "very relieved", adding: "They were initially confused when I first came out because I gave up a lot to be here.
"Particularly my family struggled to understand me working so hard in an industry and then giving it all up to come to Syria – it seemed a bit crazy.
"But at the same time they also understand that this really is a passion for me and respect my wishes, so I'm sure they're very relieved that I survived for so long, especially after knowing so many people who didn't survive."
Mr Gifford plans to leave Raqqa after the offensive ends, give out his remaining money at refugee camps and come back to the UK in a matter of weeks.
"After Raqqa is finished it will be the last time I wear a uniform," he says. "I'll never, ever pick up a rifle again."
But in the meantime, the battle is far from over.
*Macer Gifford is a pseudonym
Register for free to continue reading
Registration is a free and easy way to support our truly independent journalism
By registering, you will also enjoy limited access to Premium articles, exclusive newsletters, commenting, and virtual events with our leading journalists
Already have an account? sign in
Join our new commenting forum
Join thought-provoking conversations, follow other Independent readers and see their replies