Boycotting Israel is 'lawful exercise of freedom of expression' lawyers say after British Government's ban
Two hundred lawyers and academics sign open letter cautioning against crackdown on BDS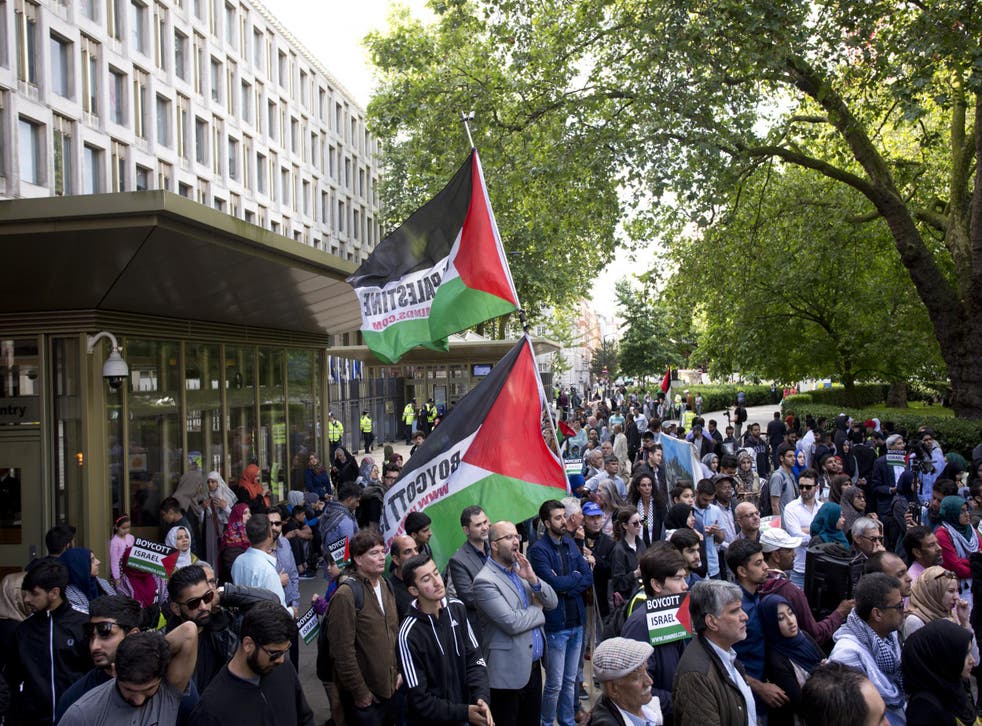 Around 200 lawyers and academics have said moves by the UK and other nations to discourage support for the pro-Palestinian Boycott, Divestment and Sanctions (BDS) movement may violate fundamental human rights.
An open letter signed by legal experts from Britain and 14 other European nations said the boycott of Israeli companies and goods manufactured in the Occupied Palestinian Territories was "a lawful exercise of freedom of expression".
"France, the United Kingdom, Canada and certain state legislatures in the United States, have adopted laws and taken executive action to suppress, outlaw and in some instances, criminalise the advocacy of BDS," the letter added.
US: BDS-supporting groups defy state funding cuts
"Such measures aim to punish individuals, companies and private and public institutions that adopt ethically and legally responsible business, investment and procurement decisions."
In February, the Cabinet Office issued guidance saying that apart from where legal sanctions, embargoes and restrictions have been imposed, procurement boycotts by public authorities were "inappropriate".
In a statement, it said such boycotts "undermine good community relations, poisoning and polarising debate, weakening integration and fuelling anti-Semitism".
"Any public body found to be in breach of the regulations could be subject to severe penalties," it added, without specifying what they would be.
Benjamin Netanyahu, the Israeli Prime Minister, welcomed the move but it was met with consternation from the Palestine Liberation Organisation and BDS movement.
Leicester City Council is among those to have boycotted products produced in Israeli settlements in the West Bank with a law passed in 2014.
But it was cleared of anti-Semitism alongside two other councils at the High Court in June after the charity Jewish Human Rights Watch lodged a complaint.
Anti-boycott measures were signed into the US Trade Promotion Authority (TPA) by Barack Obama last year, while BDS activists have been found guilty of inciting discrimination in France and the Canadian parliament passed an anti-boycott motion in Feburary.
Israeli settlements in the Occupied Palestinian Territories are widely regarded as illegal under international law, with the UN High Commissioner for Human Rights expressing fresh concern over the issue on Thursday.
Zeid Ra'ad al-Hussein said proposed legislation in Israel that would allow the retroactive "legalisation" of construction on privately owned Palestinian land would violate international law.
The Israeli–Palestinian conflict intensifies

Show all 10
At least 570,000 Israeli settlers live in around 130 settlements and 100 outposts in the West Bank according to UN figures.
The open letter said the BDS movement aimed to encourage Israel's compliance with international law and that "states that outlaw BDS are undermining this basic human right and threatening the credibility of human rights by exempting a particular state".
Signatories include Sir Geoffrey Bindman QC, chair of the British Institute of Human Rights, Alain Pellet, Chevalier of the Légion d'Honneur in France, Guy Goodwin-Gill, a former legal adviser to the UN and Lauri Hannikainen, a member of the European Commission against Racism and Intolerance.
A spokesperson for the British Government said it had "made its position on boycotts clear".
"While we do not hesitate to express disagreement with Israel whenever we feel it necessary, we are firmly opposed to boycotts," he added.
"We believe that imposing sanctions on Israel or supporting anti-Israeli boycotts would not support our efforts to progress the peace process and achieve a negotiated solution."
The position potentially conflicts with the Foreign Office's Overseas Business Risk assessment for Israel states that the Government does "not encourage or offer support" to business with the occupied territories.
EU guidelines introduced in November 2015 also require products made in settlements to be labelled as such, rather than being marked "Made in Israel".
Register for free to continue reading
Registration is a free and easy way to support our truly independent journalism
By registering, you will also enjoy limited access to Premium articles, exclusive newsletters, commenting, and virtual events with our leading journalists
Already have an account? sign in
Register for free to continue reading
Registration is a free and easy way to support our truly independent journalism
By registering, you will also enjoy limited access to Premium articles, exclusive newsletters, commenting, and virtual events with our leading journalists
Already have an account? sign in