Israel-Gaza conflict: Rise of anti-Semitic attacks in UK as crisis rages in the Middle East
Though not quite at the level of France, as above, anti-Semitism in British cities has reportedly doubled this month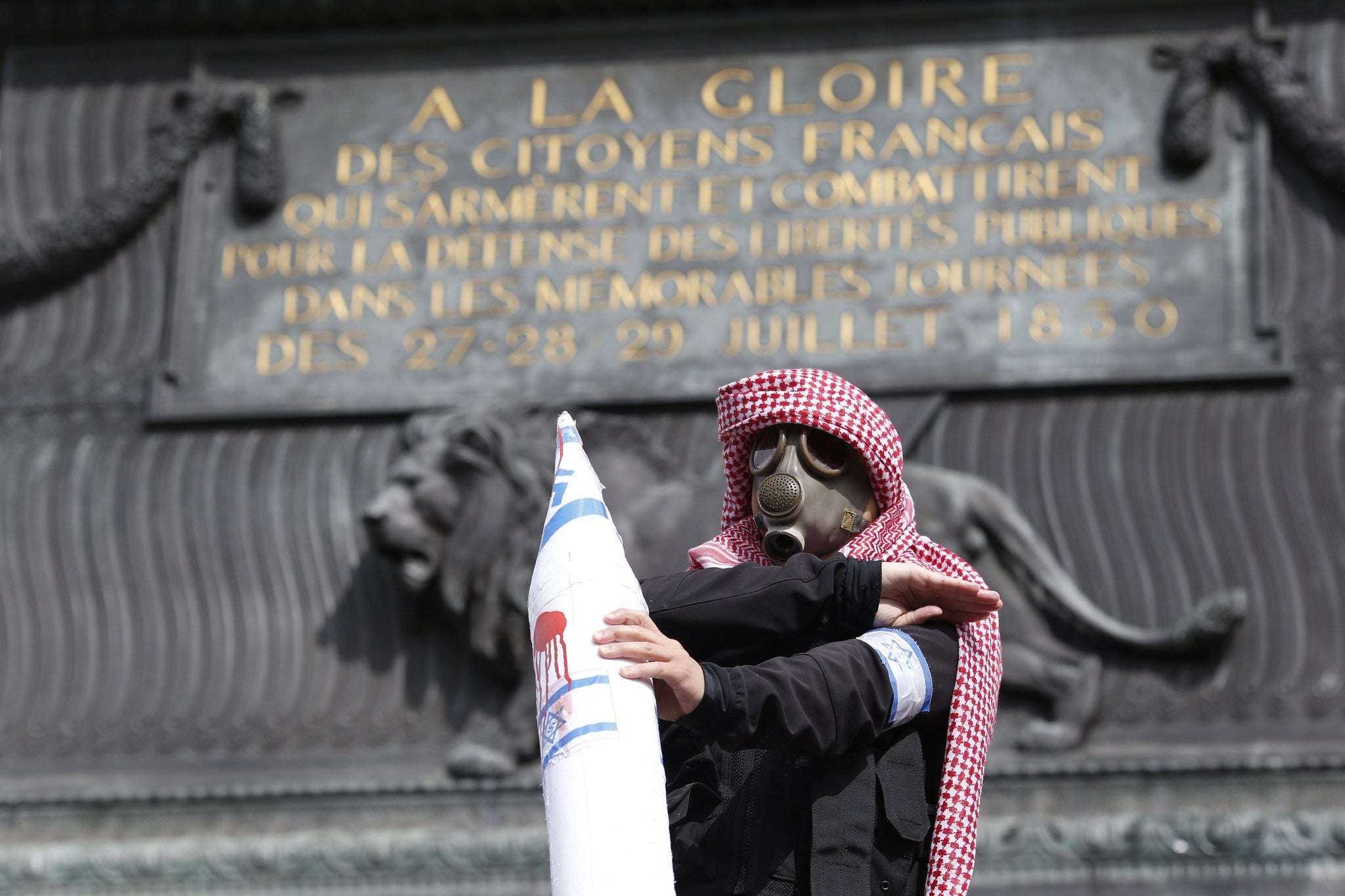 Anti-Semitic attacks are on the rise in Britain amid a growing chorus of criticism at Israel's assault on Gaza.
There have been bomb threats, bricks have been thrown at synagogues, a rabbi attacked and a #HitlerDidNothingWrong hashtag circulated on Twitter.
According to the Sunday Times, more than 100 incidents have been recorded by community organisations and police this month, well above what is normally experienced.
Four teenagers have been charged with racially aggravated common assault after a rabbi was reportedly attacked near a Jewish boarding school in Gateshead on 18 July, while in Belfast, on the same day, bricks were hurled through a synagogue's window.
On 12 July, following a pro-Palestine rally, a group of men piled into four or five cars and drove through a Jewish area of Greater Manchester crying "Heil Hitler," while also pelting pedestrians with eggs and drinks cans.
In pictures: Israel-Gaza conflict
Show all 124
It is unknown whether these attacks are definitively linked to the ongoing crisis in Israel and Gaza, however a spokesman for the Community Security Trust (CST), an organisation that helps to protect Jewish properties and institutions, told the Times that the incidents are "well over double what we could normally expect to see and most of [them] are linked to what's going on."
Mark Gardner, Director of Communications at CST, also told The Independent that week-on-week the number of attacks has been increasing, though "what's particularly important for us is that we've not seen the kind of high profile violence that has been occurring in France.
"It's that kind of high profile violence that causes major panic."
Tensions have been strained as pro-Palestine and pro-Israel rallies erupt in cities across the globe.
Clashes broke out at a banned pro-Gaza demonstration in Paris on Saturday, with tear gas deployed by riot police after protestors threw stones and other missiles.
France, which has western Europe's largest Muslims and Jewish populations, had, at the eleventh hour, banned a 3,000-strong protest, fearing a wave of anti-Semitic attacks.
France's Interior Minister Bernard Cazeneuve pleaded with the public to obey the order after two demonstrations last week descended into violence and synagogue attacks.
An authorised rally on Wednesday with 15,000 people was peaceful.
Mr Gardner also expressed concern that the riotous behaviour during some French protests could be an indication of the "future for British Jews."
Elsewhere, a BBC journalist has been scolded by his employer after a tweet he wrote appeared to reference the conspiracy that a Jewish elite are puppet masters, gifted with vast control.
Producer Anish Shaikh said: "Attacking David Ward is a strategy to divert focus from real issue #Gaza politicians have no soul as they can be bought & sold by u know who."
He had also been referring to Liberal Democrat David Ward's tweet, in which the politician said that he would fire rockets to Israel if he lived in Gaza.
Mr Shaikh has since deleted his account and has been reminded "of his responsibility to uphold" BBC guidelines, the broadcaster said.
A rabbi in north London was also reportedly verbally abused by a number of youths who shouted: "free Palestine, f*** the Zionists, f*** the Jews" and "Allahu Akhbar," according to the Jewish Chronicle.
Mr Gardner added: "In recent years, Jewish and Muslim communities have come together on issues of anti-racism, insecurity and it's very important that such progress is not derailed by overseas conflicts for which none of us bear any responsibility and over which we hold a variety of opinions."
The conflict in Gaza and Israel has left more than 1,000 Palestinians and 46 Israelis dead, with politicians calling for an end of the bombardment.
Former Deputy Prime Minister John Prescott had called Israel's destruction of Gaza a "war crime."