special report
The deported: Struggling to build a new life in a country you barely know
What do you do after losing everything? May Bulman talks to those kicked out of Britain about the difficulty of starting again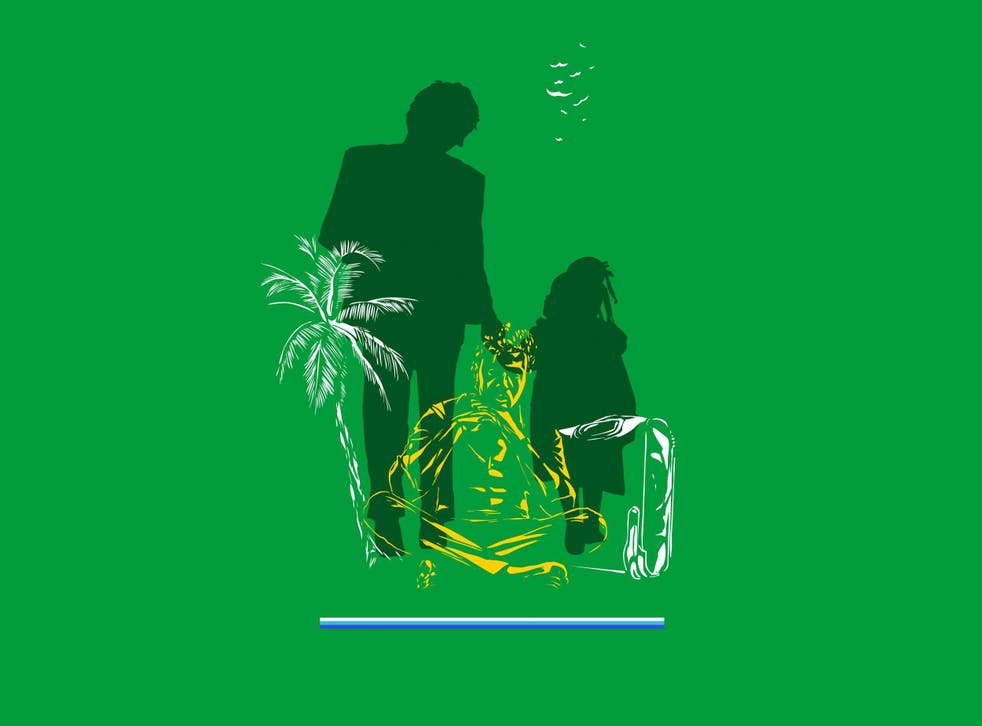 Imagine being ripped from everyone and everything in your life, locked in a cell, then flown across the globe to a country you barely know. You have no friends or family there, no job, and sometimes struggle to even be understood by the locals. This is your new life.
That's the situation facing some of those flown to Jamaica on a controversial charter flight this month, many of whom – though they remain Jamaican nationals – had lived in Britain since they were children. One told The Independent he had only a single memory of the Caribbean island: brushing his teeth as a small child.
The mass deportation, which had intended to return around 50 people before the courts limited the number to 17, has shone a light on human suffering caused by Britain's returns system, which sees thousands deported each year, often with limited access to legal help to defend their right to stay in the UK.
One man struggling to build a life after deportation is Tremayne Brown, 26, who was on a charter flight to Jamaica in 2017. He had lived in Britain since the age of six, having moved from Kingston's Rose Town to south London with his father after his mother, brother and sister were killed by gangs. His father went to prison soon after their arrival – and was later deported – meaning Tremayne was put into care. No attempts were made to regularise his status in the UK.
"I was leaving care and I was meant to get my own place and find a job, but then my social worker told me I wasn't allowed to work, and they weren't able to give me somewhere to live either, because of my status," says Tremayne. "I was suddenly classed as an illegal alien."
Windrush generation: threat of deportation from UK

Show all 15
Tremayne had dreams – to use his college qualifications to get a job in health and social care for the elderly. But he was not allowed to work. His girlfriend and their baby son needed financial support, so he was pushed into crime.
"I was stuck in a place where I wasn't allowed to work and I couldn't get anywhere to live. What am I meant to do? I regret it every day. If I didn't do that, I would be there with my son right now."
Aged 18, Tremayne was convicted for supplying class A drugs and commercial robbery, serving three years in jail. He did his time, then was transferred to a removal centre and issued deportation orders. He says that on entering detention he was told his removal had been cancelled, so did not contact his solicitor. But a week later, he was put on a flight.
"One night they came to my door and said, 'Pack your bags.' When I was on the plane I called the solicitor and he said, 'Why didn't you ring me, I could have cancelled your ticket,' but that it was too late. I never got the opportunity to fight my case."
A young man who grew up in the hands of the British state was now being flown to a country he had not set foot in for nearly 20 years.
Three years on, he is still struggling to settle. Though he lives with his father, Tremayne yearns to see his loved ones in Britain, particularly his son who, now aged six, has spent the majority of his life without his dad, having to make do with video calls.
"He always asks me, 'Dad, where are you?' And if I'm coming back and why I left. It's hard to explain it to him. He might hear his father's voice and see him, but in reality you want him there in front of you. Through his childhood I haven't been there. I haven't been able to take him to the park. Those little things are important and have a knock-on effect on him as a child, having to grow up and say, 'My father wasn't there.' It will make him bitter."
Tremayne struggled to find work, largely because of his reputation as being one of the "deportee boys" who had their chance and lost it. His qualifications were not recognised in Jamaica, but he found a job at a holding company. He says the stigma still weighs on his shoulders. His British accent means he is constantly asked where he comes from and why he was deported.
"I have had to start again from scratch. You spend your whole life in one place and then you have to adapt yourself again. Nothing is easy, but you have to try," he says. "Some days are really hard. I miss my son, I miss my foster mum, I miss the scenery. Having been a young boy and grown up there, I class myself as British. Everything I know is from Britain. I never learned anything from Jamaica."
Another deportee, Chevon Brown, was forcibly removed on a charter flight last February on the basis of a driving offence he committed aged 21 – something he describes as a "stupid mistake". He had moved to the UK when he was 14 and has no close relatives in Jamaica.
As a qualified barber who started working at the age of 16, the 24-year-old had hoped to find a job fairly easily. But he says his name has been tarnished by the insinuation by British politicians that everyone on the charter plane was a murderer, rapist or drug dealer.
Chevon rarely leaves the house because he says he can feel animosity from people in the street, and he has sleepless nights worrying about his future.
"I've asked for jobs, told them I'm qualified, but after they've heard my name, they don't want to employ me. They say how can they trust me when I've been deported," he tells The Independent. "People think we're going to come here and cause major crimes. Most people think I'm a murderer, rapist or drug trafficker, which I'm not. I went to prison for dangerous driving and I completely regret it because I never knew I'd be serving double punishment for one stupid mistake."
Chevon, who grew up in Oxford, served seven months after admitting speeding in an uninsured car. It happened after a heated argument with his housemate, when he took the car out and drove away from police.
"I knew what I was doing was wrong in the moment," he says. "I was genuinely scared. I wish I had stopped, given them the key, got arrested and that be that. I had no idea that this would be the aftermath of driving away from the police. If I ever come back to England I don't want any involvement with police. I just want to live a calm and peaceful life. I want to get a barbershop, get a mortgage on a house, start planning a future, get a car, all those things.
"But right now, I'm paying two, three years after the actual thing. I've gone to jail, done my time, and years later I still can't actually move on with my life. I feel like I'm still in prison. It's worse than prison, because I can't see my family and friends. I feel like I'm stuck. My whole reputation has been messed up by one silly mistake."
Chevon, who is the eldest of four brothers, says his deportation is "tearing [his] family apart" because he was no longer able to support his father.
Life after deportation: Chevon Brown
"My dad is getting more and more stressed. He's got health problems. My 18-year-old brother's not listening to anyone any more. There's been a ripple effect from what's happened to me. My little brother keeps asking me, 'When are you coming home?' I can't give him a definite answer about that. I wanted to set a good example. But right now I feel like I'm actually being a weight on my family, because of all this negative attention that's been drawn towards me.
"I feel more British than Jamaican. My dad brought me to England and said this was where I was going to be living for the rest of my life. So I dived into the new society and this is who I am today. Most people try to tell me to speak Patois, but I feel comfortable speaking English. When I speak the Jamaican language I feel like I have to put it on. I don't want to put it on."
While charter flights to Jamaica have garnered media attention in the wake of the Windrush scandal, forced deportations from the UK take place throughout the year to countries across the globe, with 9,461 people removed in 2018 and 12,049 the year before – in addition to around 20,000 individuals removed through the voluntary returns route. An estimated 2,000 of those forcibly removed are put on planes privately chartered by the Home Office, of which a total of 20 charter planes left Britain last year, with the destinations including Albania, Pakistan, Nigeria, France and Ghana.
Kweku Adoboli, 39, was deported to Ghana in 2018 after having lived in Britain since the age of 12. In a highly publicised court case, he had been sentenced to seven years behind bars in 2012 after losing £1.4bn while working for Swiss bank UBS. The banker, who had a British partner at the time, was sentenced to five years in jail. Two days after he was convicted, he was informed that he was liable to automatic deportation.
"All the way from being arrested through to just after I was convicted immigration didn't cross my mind. The level of stress goes through the roof," says Kweku, who now lives with his parents in Accra. "Suddenly, the battle's not over. I can't just sit in and do my time and go home.
"The pressure in the relationship started to go up, because now she's thinking, 'Okay, so I've stood by him through this fight, now what? What if I keep fighting if he's going to get deported anyway?'"
Kweku had left Ghana aged four, when his parents moved to the Middle East for work. He is grateful to have his parents and other relatives now in the country, but devastated at how his relationships in Britain – including with his now ex-girlfriend and many friends – have broken down since his return.
"It's the inability of being able to get on a plane and be there for someone," he explains. "The distance creates massive tension in the relationship. You have to increasingly distance yourself from these really close relationships. The level of contact goes down, and that just compounds the sense of lost connections, which then leads to depression."
After arriving in Ghana, Kweku spent about nine months sitting in his bedroom, unable to leave the house. He developed a number of physical manifestations of the trauma he had been through. "My body started to swell up a lot," he says. "We thought it was a heart problem so had a lot of heart tests. My face just blew up like a balloon, my legs were like elephant trunks,"
The Ghanaian national acknowledges that he was relatively lucky on his return that, unlike the Jamaican deportees, he was welcomed with open arms by both his family and the country as a whole, who gave him what he describes as a "massive embrace".
"Because of the violence and the cruelty of what happened to me, I think Ghana went, 'This is a son of Ghana, a son of Africa, why should anyone be treated this way?' Random people on the street would stop me. Everyone recognised me. They were all saying welcome home," he says, adding: "My stamina is not back and I'm still dealing with adrenal failure, so I still have to do a lot of work to deal with my stress, but I'm getting back to the point where I'm starting to contribute again."
But Kweku still remembers what he went through on during his deportation: "Of all that I went through, none of it was as bad as sitting at the back of a plane with five G4S guards. I was hyperventilating, sobbing non-stop for four hours."
Branded "foreign national offenders" and "illegal immigrants" by the Home Office as they wait in cells to be taken away, these deportees are characterised as hardened criminals. But for Tremayne, Chevon and Kweku, these terms – and the trauma – ripple through their lives for years to come as they try to start again, thousands of miles from the place they call home.
Register for free to continue reading
Registration is a free and easy way to support our truly independent journalism
By registering, you will also enjoy limited access to Premium articles, exclusive newsletters, commenting, and virtual events with our leading journalists
Already have an account? sign in
Register for free to continue reading
Registration is a free and easy way to support our truly independent journalism
By registering, you will also enjoy limited access to Premium articles, exclusive newsletters, commenting, and virtual events with our leading journalists
Already have an account? sign in
Join our new commenting forum
Join thought-provoking conversations, follow other Independent readers and see their replies