January train strikes: Workers on six railway lines to stage series of 24-hour walkouts after Christmas
RMT accuses rail companies of attacking 'safety-critical' guards and expanding use of driver operated door systems 'in the name of increased profits'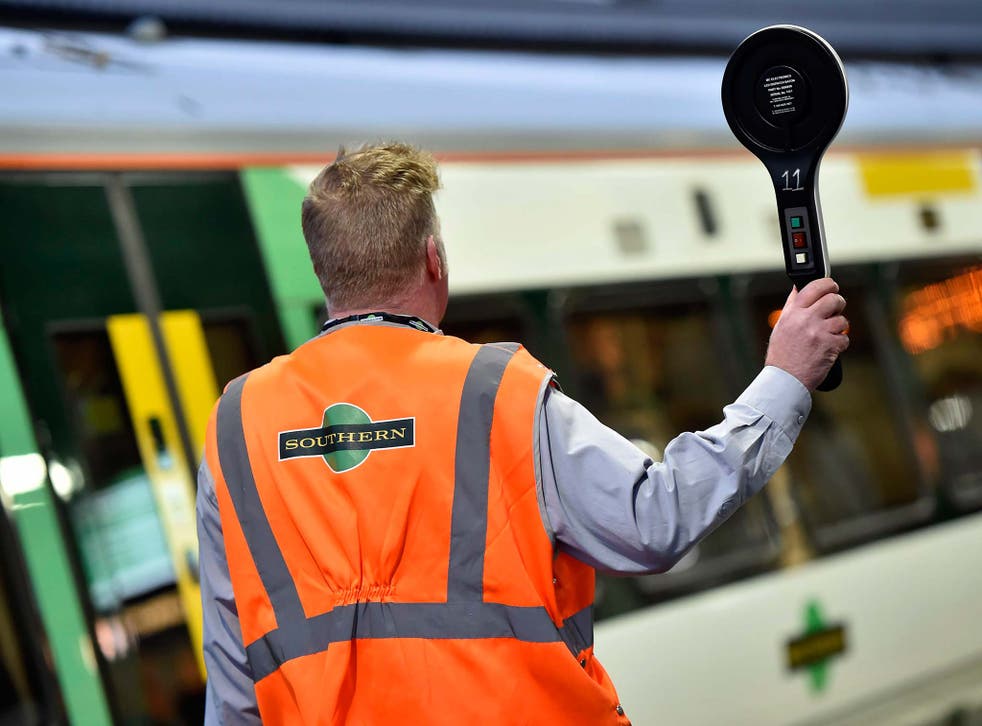 Workers at six train operating companies are to stage a series of 24-hour strikes in the new year in a long-running dispute over the role of guards.
Members of the Rail, Maritime and Transport union at South Western Railway, Greater Anglia, Merseyrail, Arriva Rail North and the Isle of Wight's Island Line will walk out on January 8, 10 and 12, while those on Southern will strike on January 8.
The RMT union said it had made "every single effort" to resolve the bitter disputes, which it insisted were about safety.
The long running row centres on the introduction of trains where drivers close the doors before departing stations. Usually a guard would be responsible for doing so.
RMT describe the guards as "safety critical", and say any plans for trains with driver only operation are in the name of increased profits for the rail companies.
But rail companies such as Southern have previously said that giving drivers responsibility for closing doors gives guards more time to help passengers and keep them safe. They also say it will allow trains to depart promptly when no guards are available.
RMT General Secretary Mick Cash said: "Every single effort that RMT has made to reach negotiated settlements in these separate disputes with the different train operating companies over safe operation and safe staffing has been kicked back in our faces and we are left with no option but to confirm a further phase of industrial action in the New Year.
"No one should be in any doubt, these disputes are about putting the safety of the travelling public before the profits of the private train companies."
He added: "It is frankly ludicrous that we have been able to negotiate long-term arrangements in Scotland and Wales that protect the guards and passenger safety but we are being denied the same opportunities with rail companies in England.
"RMT is in no doubt that it is the dead hand of the minority Tory Government that is interfering in these disputes and that their influence is a factor in preventing the union from reaching negotiated settlements.
"RMT stands ready for talks in each of these separate disputes."
Despite the RMT's concerns, in June 2016, the Rail Accident Investigation Branch said: "we have found no evidence to suggest that driver-only operated trains cannot be dispatched safely".
As the Independent's travel correspondent Simon Calder has previously noted, Southern trains still use guards to close the doors, while on Thameslink trains - part of the same franchise as Southern, drivers close the doors.
Shiki-Shima: The world's most luxurious train?

Show all 12
The strikes will cause fresh disruption to passengers just days after rail fare increases.
PA contributed to this report
Join our new commenting forum
Join thought-provoking conversations, follow other Independent readers and see their replies