Jean Charles de Menezes: Family say he will 'never be forgotten' 10 years on
They marked his death at the tube station where he was shot by police a decade ago
Tom Brooks-Pollock
Wednesday 22 July 2015 19:06 Comments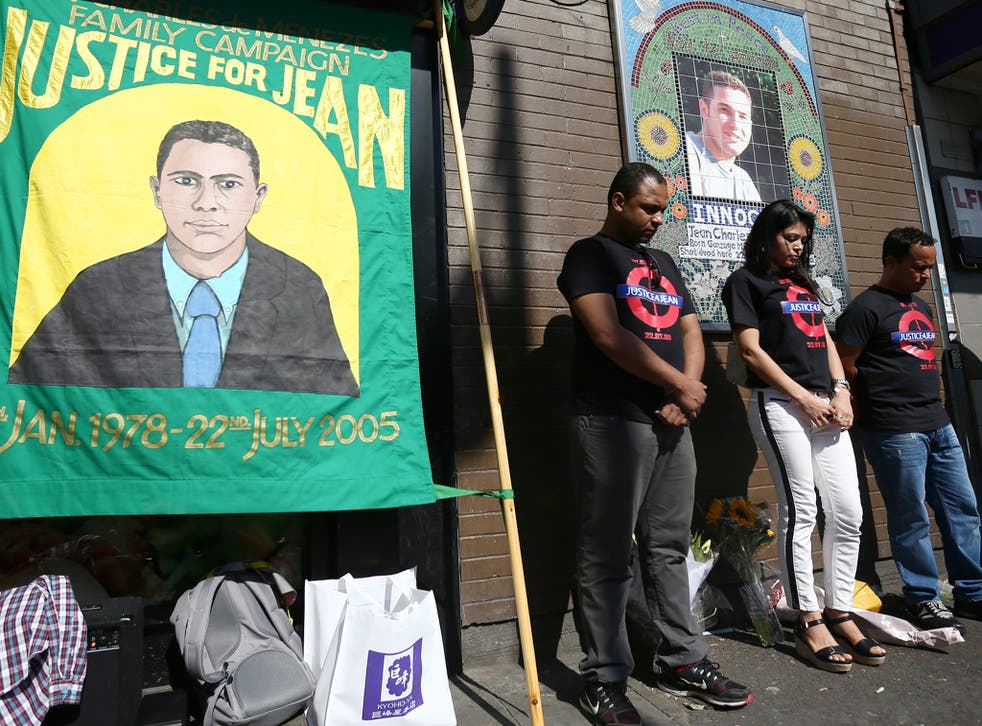 Relatives of the innocent Brazilian man killed by armed police on the London Underground 10 years ago have said his memory "can never be forgotten" as they marked the anniversary of his death.
The family of Jean Charles de Menezes gathered at Stockwell tube station, where the 27-year-old electrician was shot seven times in the head on 22 July, 2005, by officers who mistook him for a suicide bomber.
Friends and supporters laid flowers and held a short service and a minute's silence at 10.05am, the exact time Mr de Menezes was gunned down by officers as he tried to board a train to get to work.
His death came two weeks after the 7/7 bombings and police were hunting suspects of the failed 21 July tube bombings the previous day. Two of the suspects lived in the same building as Mr de Menezes.
Mr de Menezes' cousin Vivian Figueiredo called for "kindness, love and respect" and said: "Jean Charles's name cannot be forgotten."
"I really appreciate that the case was heard by the European Court of Human Rights and I hope it benefits other families as well."
Of those who gathered to remember Mr de Menezes, she added: "For me it means a lot. It means his memory is alive and that's not the end. Things can change."
The family has taken the case to the European Court of Human Rights, which is deciding whether the Crown Prosecution Service was wrong when it decided not to prosecute police officers over the killing.
The CPS fined the Metropolitan Police £175,000 for breaching health and safety laws.
On Tuesday, Maria de Menezes, mother of Mr de Menezes, told the BBC that the killing "tour my soul away".
"He spent a couple of months here with us. He did not want to go back. I did not want him to go back. It was the last time I saw my son," she added.
Speaking at her home in Gonzaga, Brazil, he told how, two days before her son died, she had dreamed about him and had told her husband that "something very bad is happening to Jean".
"I never thought I would see myself burying my son because this goes against the natural order of life. It still causes too much pain."
Register for free to continue reading
Registration is a free and easy way to support our truly independent journalism
By registering, you will also enjoy limited access to Premium articles, exclusive newsletters, commenting, and virtual events with our leading journalists
Already have an account? sign in
Join our new commenting forum
Join thought-provoking conversations, follow other Independent readers and see their replies